Patrick Mahomes has thrown Chiefs into NFL spotlight, with only Patriots in way of a super finish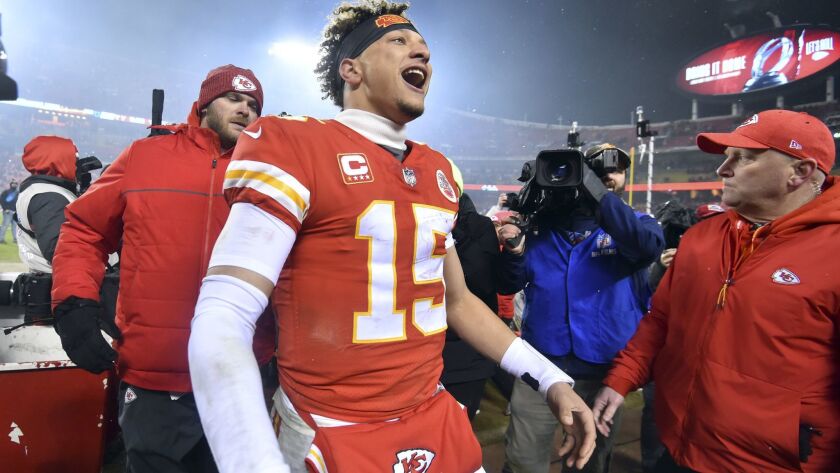 Reporting from kansas city, mo. —
The day after Patrick Mahomes was born, his father, Pat, then a relief pitcher with the Minnesota Twins, threw 3 1/3 scoreless innings to earn a save in the second game of a doubleheader at Kauffman Stadium in Kansas City.
On Sunday at Arrowhead Stadium, a short walk across the parking lot from Kauffman Stadium, the younger Mahomes, who has had one of the greatest seasons by a quarterback in NFL history, will lead the Kansas City Chiefs against Tom Brady and the New England Patriots in the AFC championship game.
If you ask some of his teammates, you can draw a straight line from Mahomes' baseball pedigree to his football success.
"The thing that struck me about Mahomes is just his calm and collectedness with any situation," punter Dustin Colquitt said. "He reminds me of a baseball player. His mentality and his love for the game turned football into a pastime in Kansas City.
"It would be hard to say otherwise."
It would be even harder to argue that Mahomes isn't the biggest reason the Chiefs are playing in their first conference title game in 25 years and are a win away from their first Super Bowl appearance in 50 seasons.
In his first year as a starter, Mahomes threw for 5,097 yards and 50 touchdowns in the regular season. Only Peyton Manning, who set NFL records with 5,477 yards passing and 55 touchdowns for Denver in 2013, topped both totals in the same season. Among second-year quarterbacks, only Dan Marino, who threw for 5,084 yards and 48 touchdowns for Miami in 1984, is even close.
Another thing Manning and Marino have in common? They won AFC titles and most-valuable-player awards in their best seasons but lost the Super Bowl.
He reminds me of a baseball player. His mentality and his love for the game turned football into a pastime in Kansas City.
Kansas City Chiefs punter Dustin Colquitt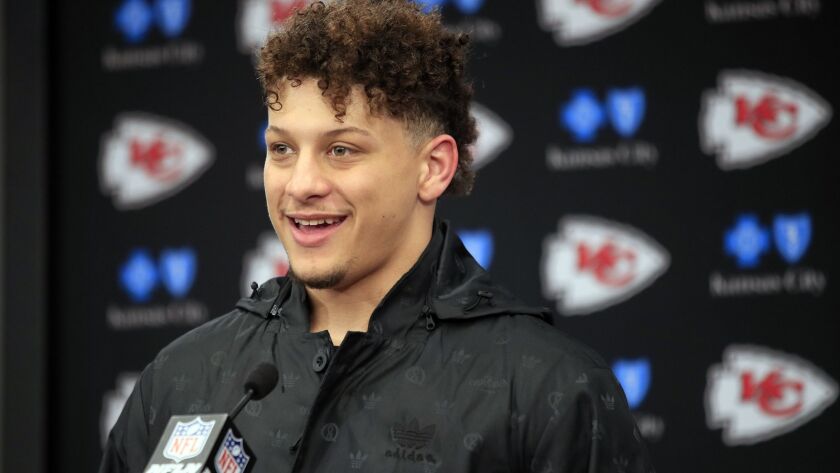 Now Mahomes finds himself a win away from a conference title and Super Bowl berth. And he's among a handful of people in the conversation for the MVP award.
"Just to be able to be mentioned [for] that award is amazing," Mahomes told NFL.com. "You think about that when you're a little kid. It's a credit to my teammates."
What he really wants is the prize that eluded Manning and Marino in their MVP seasons — a championship.
"We're trying to reach that ultimate goal," he said. "This whole city is hungry to get there again and then win it. This community deserves another Super Bowl.
Sign up for our daily sports newsletter »
Just to be able to give back to this community with a Super Bowl would be an extreme honor for me.
Kansas City Chiefs quarterback Patrick Mahomes
"Just to be able to give back to this community with a Super Bowl would be an extreme honor for me and I want to make sure we take advantage of the opportunity that we have."
Len Dawson took Kansas City to two Super Bowls in the 1960s, but 27 starting quarterbacks, including Joe Montana, have tried since then and failed to get the Chiefs back. Now Mahomes, who wasn't yet born the last time Kansas City made it to the AFC title game, has the Chiefs on the doorstep.
"He had become a leader after four or five weeks as the team's starting quarterback. Very, very hard to do as a 23-year-old," team owner Clark Hunt said of Mahomes, whose passer rating of 113.8 is the best for a quarterback younger than 24.
"But that's just his personality and the team has rallied around him. They believe in him and that's very important quality if you want to win that AFC championship game and go to the Super Bowl."
Mahomes had his pick of sports coming out high school in Texas. As a senior he averaged 19 points and eight rebounds in basketball, and in baseball played every position but catcher, throwing a no-hitter in which he struck out 16 batters.
His high school baseball coach told the Kansas City Star that Mahomes was the smartest player he'd ever had.
Manny Pacquiao, Philippines senator, is out to prove sports and politics do mix »
He didn't play football full-time until his freshman year at Texas Tech, but over the next two seasons threw for 9,705 yards and 77 touchdowns in 25 games. After his junior season, he declared for the draft and was the second quarterback selected, behind the Chicago Bears' Mitchell Trubisky, going to the Chiefs with the 10th pick.
Colquitt, who has spent 14 years with the Chiefs, says that uncommon success has given Mahomes uncommon confidence.
"God blessed him with a unique talent that you don't see in every arm or every quarterback," he said. "It's fun to watch him just play with those gifts and make everyone better around him.
"He feels like no matter what kind of hole that we're in he can get us out. He's not putting everything on his shoulders. He's just going out and doing exactly what the coaches tell him to do."
Well, not exactly. One of Mahomes' strengths is his ability to freelance, extending plays by scrambling out of the pocket before flipping the ball, either backhanded or across his body, to a receiver. In a game against the Baltimore Ravens, he was staring to his right when he side-armed a pass to his left, hitting Demarcus Robinson in stride for a 17-yard gain.
It was a schoolyard play, the kind that sometimes catches teammates, as well as opponents, by surprise
"You've got to get used to catching those," said fullback Anthony Sherman, noting that receivers and blockers can't give up on a play when Mahomes has the ball. "He does that stuff in practice to be prepared for a game. He's extremely calm. And he understands angles and where receivers are going to be.
"We just have to do a good job of being there for him when he's running around loose and he wants to get the ball out."
Added defensive tackle Xavier Williams: "It's amazing the kinds of throws he makes, how he doesn't hesitate. That's something that's really hard to see in a young quarterback.
"He looks like he believes he can make any throw. He hasn't been proven wrong very much yet."
But for Williams, who grew up a Chiefs fans in suburban Grandview, Mo., Mahomes' greatest sleight of hand was getting the Chiefs to the AFC title game. His next trick will be getting them past Brady, a three-time MVP and five-time Super Bowl champion.
"I never experienced it in my lifetime," Williams said of seeing the Chiefs so close to the NFL's promised land. "If you're not from here, you don't know. This is something they've been waiting for for a really long time."
kevin.baxter@latimes.com | Twitter: @kbaxter11
---
Get the latest on L.A.'s teams in the daily Sports Report newsletter.
You may occasionally receive promotional content from the Los Angeles Times.