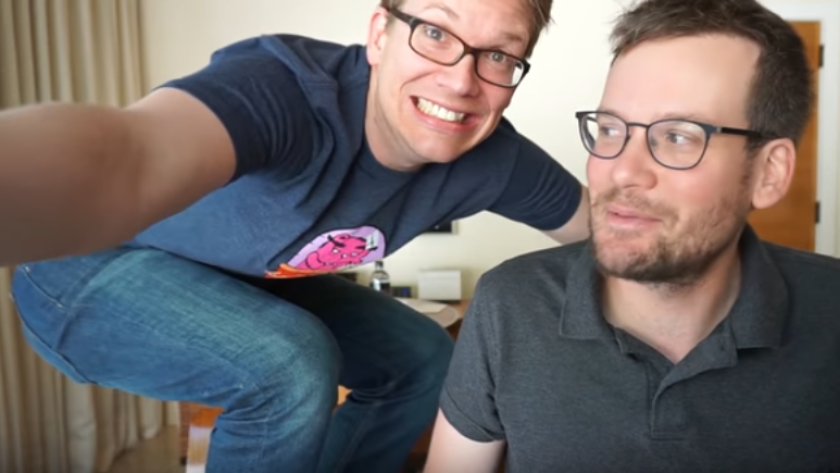 Hank Green, co-star of the Vlogbrothers YouTube channel with his brother, John, author of the bestselling book "The Fault in Our Stars," will release his debut novel next fall.
While John Green writes for young adults, "An Absolutely Remarkable Thing" is targeted at an older audience. Responding to a question on Tumblr, Green wrote that the protagonist, April, is bisexual, noting that "[t]he balance between recognizing that I'm a (fairly) straight dude and wanting to tell a story starring a bi woman is something I think a lot about."
Green's novel focuses on New York art student April, who discovers a large statue of a robot in Manhattan, and later finds out that similar statues have been randomly appearing in cities around the globe, Dutton said in a news release. "An Absolutely Remarkable Thing" will be published in 2018 and is the first in a two-book deal.
The brothers will appear in Los Angeles together Nov. 2 at the Alex Theatre in Glendale to talk about John's new novel, "Turtles All the Way Down."
John is an immensely popular young adult novelist, whose books "The Fault in Our Stars" and "Paper Towns" became bestsellers and spawned film adaptations. "Turtles All the Way Down" officially hits shelves Oct. 10.
The Green brothers are well-known on YouTube for their Vlogbrothers channel, which was established in 2007 and has more than 3 million subscribers. Hank Green is a host of its "SciShow," a popular series of educational videos on the site, and the co-founder of the merchandising company DFTBA Records.
In its release, Dutton writes that Hank Green's book "grapples with big themes, including how the social internet is changing fame, rhetoric, and radicalization; how our culture deals with fear and uncertainty; and how vilification and idolation spring from the same dehumanization that follows a life in the public eye."
"We're at a really weird moment in history, and April's story helps highlight several of those oddities that we're now seeing as more and more normal," Green said in the release. "It's a story I've wanted to tell for a long time that was seeded by a lot of my personal experiences, but it's April's story, and it's been a pleasure watching her live her absolutely remarkable life."
---