2012 electric Coda sedan: Not showy but packed with substance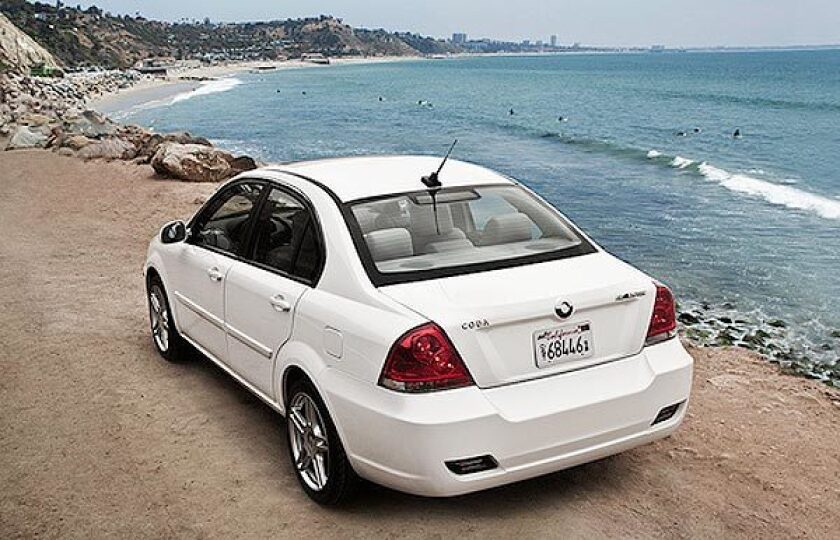 When electric car maker Coda Automotive Inc. introduces its first model this year, the independent Southern California manufacturer will pioneer a new EV profile: the unassuming four-door five-seater.
If cars came in flavors, Coda's debut would be classic vanilla. Understated by design, it's a car for do-gooders who don't need to flaunt their green credentials. Think Honda Civic, only all electric and homegrown.
Today, Coda is opening its first-ever storefront on L.A.'s Westside in the Westfield Century City mall. Located next to a Swatch shop and Godiva chocolatier, this nontraditional automotive sales outlet is geared toward getting curious passersby into its new car for a test drive.
The company let me preview a preproduction version of its sedan for a few hours in late August. I drove it from downtown to West L.A. in city traffic and back along Interstate 10.
Priced at $44,900 — $34,900 after applying federal and state incentives — the Coda is most notable for its range and quick charging. It can travel as far as 150 miles per charge and can recharge in about six hours with a 220-volt charger; that's twice as fast as the Nissan Leaf, Coda said.
It isn't, however, a car whose silhouette stirs the soul. Based on a chassis designed by Mitsubishi Motors Corp. in Japan, the Coda is a straightforward, compact sedan that strives to mimic the form and feel of a traditional gas-powered commuter vehicle.
For the most part, it succeeds. The Coda sedan isn't quite as refined as the Leaf, but it's about 90% of the way there. Its ride and finish are at least on par with better-known independent EV manufacturers including Tesla Motors Inc.
What's unique about Coda is its drivetrain. The car's 100-kilowatt motor is juiced with 36 kilowatt-hours' worth of lithium-ion batteries that are kept at a performance-optimizing temperature with the car's active thermal management system. In temperate climates, like L.A.'s, that temperature remains consistent even when the car is turned off and unplugged. In extreme climates, plugging in is advised to maintain the batteries' optimal temperature.
The batteries are spread across the car's undercarriage from axle to axle across the car's width. That keeps the weight low and centered, allowing for a fifth passenger in the rear. All told, the car weighs 3,670 pounds. That's slightly heavy for its size, but about 1,000 pounds of that comes from the batteries and battery controller.
The additional weight wasn't apparent during the test drive. The Coda moved sprightly off the line without being particularly sporty. On the preproduction version, the accelerator has been electronically tuned for a soft takeoff, but that could change. It's likely Coda will adjust the pedal for quicker response.
Likewise, the steering could be dialed in a bit better. The steering in the preproduction model required small but noticeable adjustments, and the car had a pretty wide turning radius. The four-wheel independent suspension with front MacPherson struts and rear shocks could also be softened for additional rider comfort.
Maxing out its top speed on the freeway, the Coda felt solid, stable and, for the most part, quiet.
Overall, the Coda stacks up well against EVs made by mainstream manufacturers, especially for the price. What remains to be seen is whether prospective buyers will be willing to take a chance on an untested independent carmaker.
The Coda's interior is trimmed in black leather. The seats are comfortable, and there is a good amount of legroom for both front and rear passengers. The trunk offers a spacious 14 cubic feet of space — 23.6 feet when the rear seats in the car are folded forward.
I found the controls to be uncluttered, straightforward and intuitive. The single-speed transmission is operated with a knob in the center stack to switch between park, drive and reverse. Although there are no steering wheel controls for cruise control or Bluetooth and the key ignition seems retro for such a forward-thinking car, the displays, at least, are digital. Three circular gauges set directly in front of the driver indicate the car's traveling speed, the percentage of charge remaining in the battery and whether the car is drawing power from the battery or adding to it with regenerative braking.
My test car was finished in "fathom gray" — one of five colors in a predictable palette that also includes white, black, blue, red and light silver. The handle pulls were unobtrusive chrome. The car's lines were pleasant but otherwise unremarkable.
The Coda is, by design, quite the opposite of automotive eye candy. Although it still needs some tweaking to be ready for prime time, the Coda sedan is almost there and moving in the right direction.
---
Your guide to our new economic reality.
Get our free business newsletter for insights and tips for getting by.
You may occasionally receive promotional content from the Los Angeles Times.