Consumer groups seek probe into CarMax sales of unrepaired recalled cars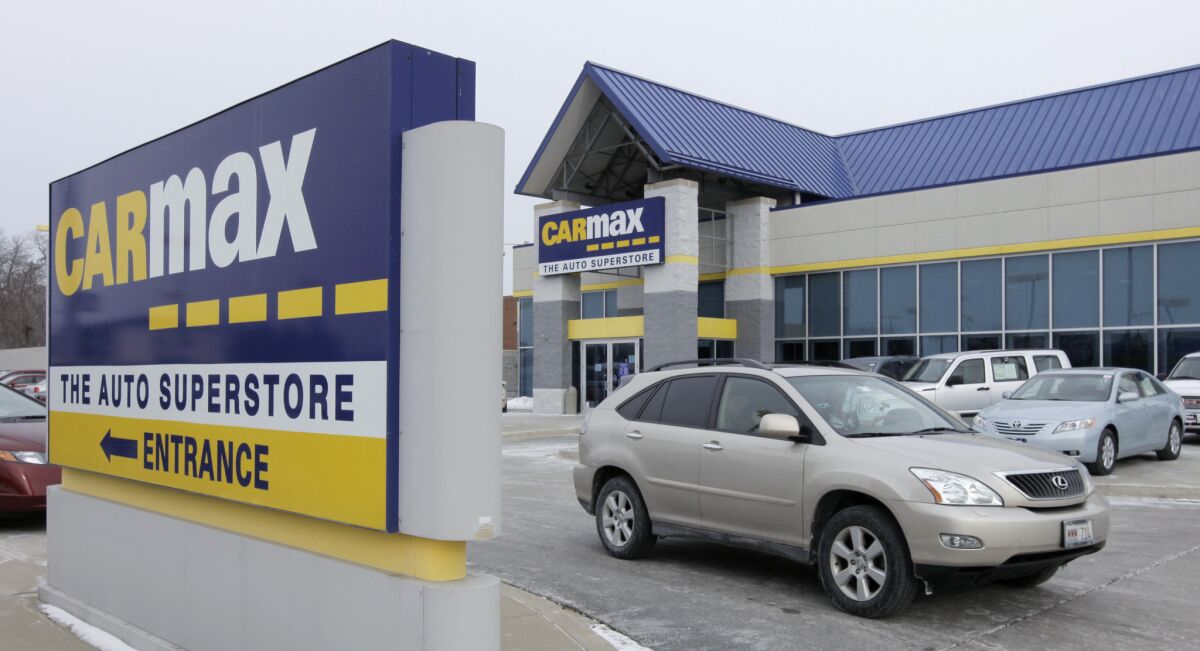 Two consumer groups have asked California's attorney general and the Department of Motor Vehicles to investigate the sales practices of used car giant CarMax.
The California Public Interest Research Group and the Consumers for Auto Reliability and Safety Foundation said the auto retailer regularly sells used vehicles that have been recalled but not repaired -- despite advertising that its autos undergo rigorous "quality" inspections.
Researchers visited two of CarMax's 18 stores in California, one in Oxnard and the other in Sacramento, and cross-checked vehicle identification numbers with a federal database that tracks whether a vehicle has been recalled and if it has been repaired.
They found that more than 10% of the 455 cars at the Oxnard CarMax had unrepaired recalls. Seven were subject to two or more recalls. In Sacramento, 9% of the 386 vehicles had unrepaired recalls.
The more than a dozen safety defects included: springs that can break and puncture the fuel tank, causing a fire; doors that can unlatch without warning and slide open in traffic; bolts that might break, causing an engine stall in traffic; and air bags that may fail to inflate in a crash.
"All of these safety defects pose serious risks to CarMax customers and the general public when the defective cars are driven on California roads," the consumer groups said in a report released Wednesday.
Though federal law prohibits auto dealers from selling new cars that are under a safety recall, no such restriction applies to used cars. California does not bar used car dealers from selling unrepaired vehicles.
But CarMax's practice of selling "certified" vehicles with known defects could violate a variety of California laws and motor vehicle regulations, the consumer groups said in calling for a state investigation.
CarMax makes full disclosure of any outstanding recall work to customers before they purchase a vehicle, said Casey Werderman, spokesman for CarMax.
Every vehicle advertised on CarMax's website and mobile app has a link to the National Highway Traffic Safety Administration's recall information website, which customers can use to obtain open recall information on the specific CarMax vehicles they are researching. Prior to signing documents, the CarMax sales staff member and buyer review the vehicle's NHTSA recall report and the customer signs a form acknowledging receipt of the information, Werderman said.
Automakers must make recall repairs free of charge to the owner of the vehicle. But the manufacturers have not authorized CarMax to complete recall repairs and close out recalls.
"Customers are in the best position to act on recall information directly with a manufacturer-authorized dealer," Werderman said. "We have found that dealers are often more likely to provide timely recall repair to customers rather than to a competitor, like CarMax, so we encourage customers to have recalls repaired at a manufacturer-authorized facility."
Previously, CarMax said it was impractical for the used car seller to manage the repairs, because the company would have to devote staff time to taking a recalled car to the nearest dealer of that make for the repairs.
The consumer groups, however, claim CarMax's sales system might have potential violations of California regulations, including "bait and switch" infractions, where a consumer is lured to the dealer with the promise of a car that is safe and reliable and then is switched to a defective, unsafe vehicle.
Other infractions might include false and misleading advertising and violations of vehicle code provisions that prohibit sales of vehicles that fail to comply with Federal Motor Vehicle Safety Standards, they said in their report.
They said the state should seek fines, restitution for victims and injunctive relief, such as barring CarMax from selling unrepaired recalled cars.
Automotive recalls have grown in recent years as federal regulators have cracked down on manufacturers that were slow to react to safety issues. Automakers recalled about 64 million vehicles in the United States last year -- a record number that equaled about one out of every four cars on the road.
CarMax, based in Richmond, Va., sells about 580,000 used vehicles annually in the United States through its network of 147 stores.
Follow me on Twitter (@LATimesJerry), Facebook and Google+.