Consumer Reports names Tesla top pick in annual car rankings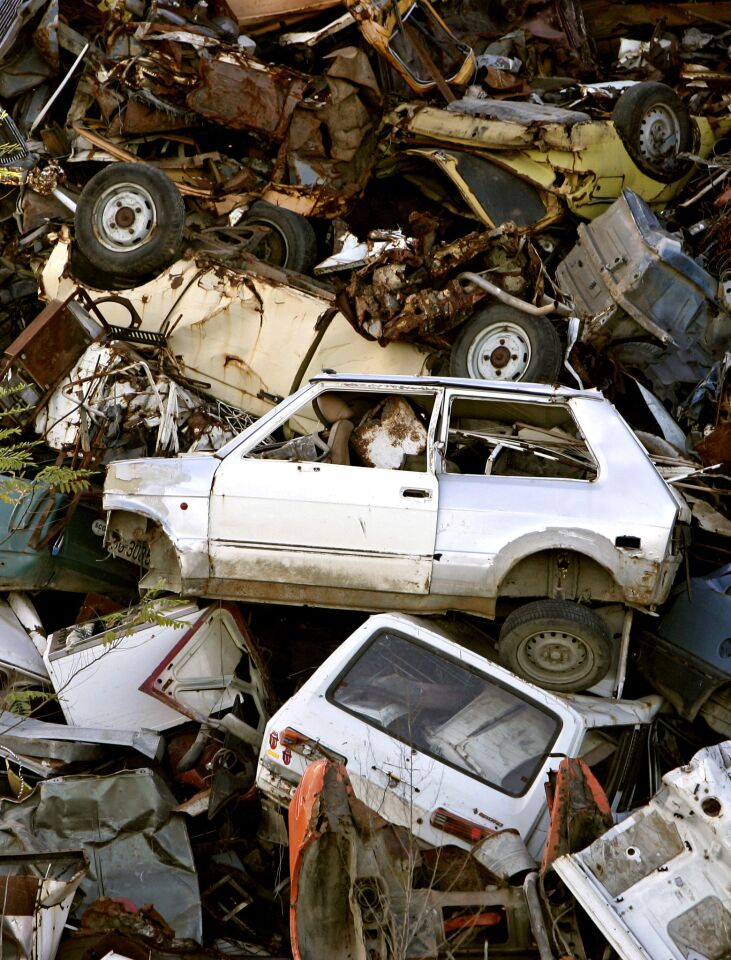 A Serbian-made version of the Fiat 127 that people thought couldn't possibly be as awful as its low price suggested. But it was!
(Darko Vojinovic / Associated Press)
Consumer Reports named the Tesla Motors Model S electric car the best vehicle on the road Tuesday.
The magazine called the luxury sports sedan its top pick of all 2014 model year autos. This was the first time since 2010 that Consumer Reports named a top overall pick. The last was the Lexus LS 460L.
Five of the magazine's 10 top picks this year were Japanese nameplates, including Honda's Accord and Odyssey, Subaru's Impreza and Forester, and Toyota's Prius hybrid.
PHOTOS: See Consumer Reports' 10 top car picks
German car companies placed two vehicles on the "Top Picks" list, including the BMW 328i and the Audi A6.
American manufacturers were represented by Tesla and Chrysler, with its Ram 1500 pickup truck. This was the first time that a Chrysler vehicle made the list since 1998, when the Jeep Grand Cherokee achieved top pick honors.
South Korean automaker Hyundai rounded out the list with its Santa Fe sport-utility vehicle.
Consumer Reports names a best overall vehicle infrequently but its staff was wowed by the $89,650 Tesla it tested, said Jake Fisher, the magazine's automotive test director. He said it could have won in several of the segments, including the top green car and top luxury car.
"This electric luxury vehicle offers blistering acceleration, razor-sharp handling, a compliant ride, and a versatile cabin with room for a small third-row seat," the magazine said. "This technological tour de force, while pricey, is brimming with innovation and offers a 225-mile driving range."
Japanese brands have dominated the magazine's list for years, but their lock on the recommendations is starting to decline, said Rik Paul, Consumer Reports' automotive editor. Japanese brands took five spots—the fewest in the 18-year history of the ratings.
"The competition in the marketplace has grown fierce," Paul said. "There was a time when a handful of brands dominated our Top Picks list, but in recent years we've seen a more diverse group make the cut."
One factor is Toyota's decline in Consumer Reports annual ratings, Fisher said.
"Others are getting better and Toyota is not necessarily getting better and in some ways is staying the same or getting worse," Fisher said.
Toyota, including its Lexus and Scion brands, regularly places most of its models on Consumer Reports' list of recommended vehicles but this year only 14 of its 28 cars made that list. While that was still the most of any manufacturer, that compares to 20 to 22 in each of the previous four years.
"The Scion models are selling such small quantities that we don't have data on them and the Scion FRS isn't reliable enough to recommend," Fisher said. "There are some vehicles like the Lexus IS 250 that tested so poorly that we don't recommend it."
But it was not all bad news for Toyota. Lexus earned the highest marks – 79 points - for the second straight year in Consumer Reports' annual Brand Report Card, also released Tuesday.
The magazine said most Lexus models are "quiet, comfortable, and fuel-efficient."
Lexus was the only brand to achieve an excellent average overall reliability score.
The Acura and Audi brands were close behind.
"Acura earned a score of 75 with reliable, well-finished and somewhat sporty models," Consumer Reports said. "Audi's score of 74 has trended upward in the past two years due to improved reliability."
It also praised Audi for well-crafted interiors, nice handling and good gas mileage.
The Japanese brands continue to dominate this set of Consumer Reports the rankings, taking seven of the top eight spots. Following the three highest-scoring spots were Subaru, Toyota, Mazda, Honda, and Infiniti, the magazine said. Only Nissan was missing, ranking just 18th out of the 23 makes in Consumer Reports' analysis.
American brands did not do well.
Jeep and Ford tied for the lowest score – 50 points.
Jeep suffered from spotty reliability and mediocre road-test results.
Consumer Reports likes the way recent Ford models drive but is concerned about reliability involving the MyFord Touch infotainment and electronic controls system.
"This is one of the biggest differentiators in cars now -- the electronics," Fisher said. "Doing it wrong can really hurt your product line."
Before it was tripped up by electronics, Ford "had a very reliable product line and they were distancing themselves from the other domestic brands, but that has all stopped," Fisher said.
Three other Detroit brands, Dodge, Cadillac and Chevrolet, round out the bottom five.
The top domestic makes were Buick, GMC and Chrysler, all scoring mid-pack. Cadillac has previously done well in the rankings, but like Ford it has been tripped up by overly complicated and poorly functioning electronic controls, Fisher said.
ALSO:
Five Elon Musk Tesla takeaways
Mexico becomes driving force in auto production
California auto buyers favor Toyota Prius; rest of U.S. prefers trucks
Follow me on Twitter (@LATimesJerry), Facebook and Google+.
---