Automakers struggle to bring affordable diesel cars to U.S. market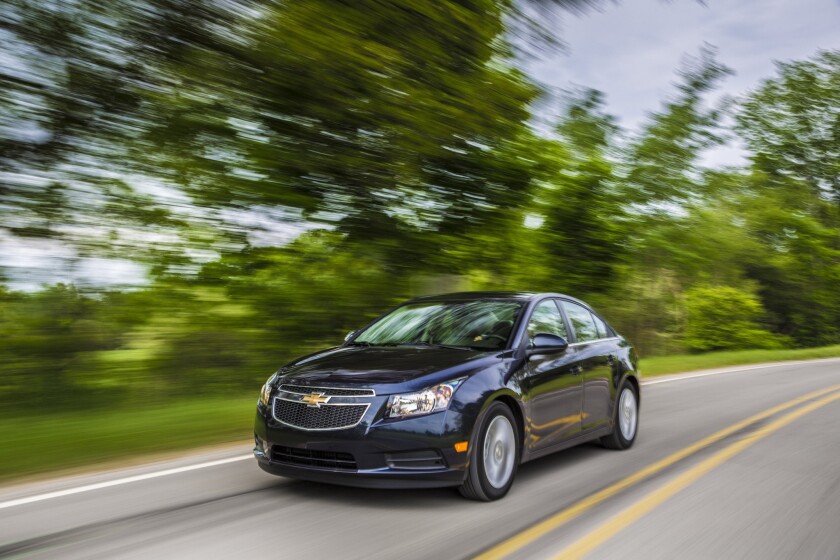 In hindsight, it's clear how Volkswagen, in the 2009 model year, seemed to have nailed the elusive formula for affordable, sporty diesel cars — when none of its competitors could crack the code.
At the time, U.S. regulators had been tightening pollution controls on diesels and diesel fuel for years, culminating with the demand to cut smog-forming nitrogen oxide emissions 90% by 2010.
Other automakers, including Honda and Nissan, had tried and failed to pull off what regulators now know that VW accomplished only by cheating — an affordable and fun-to-drive car, with fuel mileage rivaling that of hybrids. The automaker passed U.S. emissions tests with illegal software.
The difficulty and expense in producing a legitimate "clean diesel" raises the question of whether the technology is viable at all for affordable cars.
Currently, only Chevrolet offers a relatively inexpensive alternative to VW's now-disgraced diesels. And the brand's Cruze starts at a not-so-cheap $25,660 — a big premium over the gasoline version of the same small sedan. Its sales are a tiny fraction of those of its gasoline-powered counterpart.
The rest of the market is limited to pricey pickup trucks as well as luxury sedans and SUVs from Audi, BMW, Mercedes-Benz and Porsche. Their sticker prices can more easily absorb the high cost of diesel engines and emissions-control equipment.
Mazda is the sole remaining automaker talking about bringing an affordable diesel passenger car to the U.S. market, but the project has run into years of delays as the Japanese company struggles to make a U.S.-compliant vehicle that blends efficiency with the zippy performance that is the brand's hallmark.
SIGN UP for the free California Inc. business newsletter >>
Mazda's experience illustrates why so few automakers have challenged Volkswagen's diesel dominance in the U.S.
The small Japanese automaker likes diesels since they are quick from a stop — because of ample torque, the same quality that makes them attractive in trucks towing big loads. More than 4 in 10 of Mazdas sold in Japan are diesels, as well as about a third of sales in Europe.
Mazda said it would get a diesel Mazda6 sedan to dealers in late 2013, but still hasn't delivered. Despite the VW diesel scandal, Mazda still believes it can tap a diesel market in the U.S.
The automaker sees diesel as offering a good fit for its customers, who lean to sporty cars with slick handling and plenty of power but still have good fuel economy.
Others ask whether there will be much of a market left for affordable diesel cars in the U.S. by the time Mazda gets the formula correct.
Even before VW's problems, consumer demand was low.
"I don't think this will help," said Jeff Hill, an auto industry expert at Boston Consulting Group. "There will be some percentage of the people who have an affinity for diesel and German cars, but it will be a sliver of the market."
The hurdle is U.S. emissions standards.
Other automakers have eyed the market, thinking the U.S. with its long highways and increasing fuel economy rules would be ideal for peppy, diesel passenger cars. Nissan considered using engines from its Renault corporate sibling to bring out diesel versions of the Maxima and the Juke.
But the extra expense of the engines combined with the cost of the emissions equipment — the U.S. has the strictest rules in the world — doomed the project.
Honda scuttled plans to launch a diesel version of an Acura sedan.
Although diesel cars are profitable elsewhere, most automakers don't see the payback in the U.S., said Mark Wakefield, head of the automotive practice at consulting firm AlixPartners.
"The EPA goes after soot and smog more aggressively than regulators in Europe," Wakefield said.
It about 40% more stringent on nitrogen oxide and particulate emissions, and that's expensive to control, he said.
Most Japanese automakers took a look at the standards and decided to invest instead in hybrid versions of the vehicles sold in the U.S., said Margo Oge, former director of office transportation and air quality at the Environmental Protection Agency. Automakers have also looked to other fuel-saving technologies to pair with gasoline engines, including turbocharging, more efficient transmissions and weight savings.
Those attempting diesel embarked on two approaches to meet the regulations.
The less expensive approach — which until recently VW used in its smaller diesel cars — is known as a "lean NOx trap." It collects nitrogen oxide in a device resembling a catalytic converter. Software instructs the car to shoot fuel-rich exhaust into the trap every few minutes, creating a chemical reaction that reduces the nitrogen oxide to plain nitrogen.
The other German manufacturers, along with American pickup truck builders, decided that such systems couldn't meet U.S. requirements. They went with a more expensive method called "selective catalytic reduction," which injects an ammonia-rich urea solution into the exhaust system. The ammonia and exhaust mixture flow into a catalytic converter, where nitrogen oxide emissions are converted into harmless nitrogen and oxygen.
But there are drawbacks. The cars run out of the urea fluid every 10,000 miles or so and need to be serviced, meaning extra maintenance expense and hassle. If the driver fails to refill the tank a certain number of miles after it runs dry, the cars are set not to restart after they are parked. That's a concession to regulators who worried people would bypass the systems.
As Mazda engineers started work on a new series of engines about a decade ago, engineers aimed to build a global diesel motor — one that could be sold in many markets, including the U.S.'
They came up with the SkyActive-D four-cylinder engines. It was clean enough to run in all markets without a costly urea injection system — an important consideration beyond the expense. Designers would not have to carve out room for a tank and pump system for the urea fluid. Drivers wouldn't need periodic exhaust system service to refill a urea fluid tank.
Mazda solved the problem by recirculating exhaust into the engine. The low oxygen content of the exhaust helped lower the ignition temperature of the engine. The high temperatures of diesel engines are one of the reasons they produce more nitrogen oxide than their gasoline counterparts.
"We are trying to make the combustion cleaner so that there is less work cleaning it up," said Dave Coleman, a Mazda engineer.
The technique works from an emissions perspective — but isn't a great driving experience, he said.
Now Mazda is looking at alternate ways to pass emissions regulations without sacrificing too much performance, Coleman said.
But the automaker is making no predictions about when it might finally have the car in showrooms.
"Given the program is a number of years of delayed already, we are not speculating," said Mazda spokesman Jeremy Barnes. "It is most important to get it right."
Twitter: @latimesjerry
ALSO
Las Vegas outs its water hogs -- at least when asked
Can the 'worst kid ever' survive probation camp and thrive?
Former Trojan Riki Ellison says he warned USC about Sarkisian in 2013
---