China's Geely buys $9-billion Daimler stake, becoming the automaker's top shareholder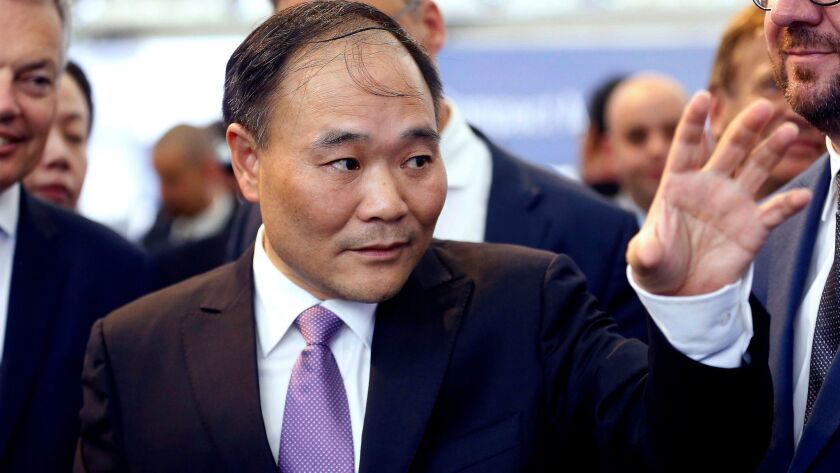 Chinese manufacturer Zhejiang Geely Holding Group Co. has acquired an approximately $9-billion stake in Daimler AG to become the largest investor in the German automaker.
Daimler confirmed the holding in a regulatory filing, shortly after Bloomberg News reported that Geely has been building up a stake of just under 10% through purchases in the stock market in recent weeks. The German company said it welcomes another major investor.
Buying a stake in the parent of Mercedes-Benz furthers Geely's foray into the European premium automotive market and ends months of speculation. The company, controlled by billionaire Li Shufu, already owns Volvo Cars AB, whose refreshed lineup of vehicles has made it a popular alternative to the German luxury stalwarts.
"A Geely stake in Daimler would underscore their push for cooperation that'll help them get more expertise, like electric cars," said Frank Biller, a Landesbank Baden-Wuerttemberg analyst based in Stuttgart, Germany. "At the same time, this opens another path into China for Daimler."
Daimler has been on an upward trajectory, reclaiming the No. 1 crown in luxury cars from BMW AG and broadening its offerings to include more SUVs and overhaul its lineup with sportier designs. Daimler is looking forward to another long-term investor recognizing the company's innovative strengths, spokesman Joerg Howe said by phone.
"Li Shufu is a Chinese entrepreneur Daimler knows well and regards highly in terms of his competency and focus on future developments," Howe said. "Daimler already has a strong footing in China. We have a very strong partner with our existing cooperation with BAIC Motor."
Representatives at Geely couldn't immediately be reached outside business hours in Asia.
Chinese companies have been more active in buying into German companies in recent years. HNA Group Co. has a stake of about 8.8% in Deutsche Bank, and a few years ago industrial-robot maker Kuka was bought by Midea, the world's largest appliance maker.
Expansion ambitions
In December, Li became the biggest shareholder in Sweden's Volvo AB, the world's second-largest maker of trucks, after a $3.9-billion deal with activist investor Cevian Capital AB. In 2010, he acquired Volvo Cars from Ford Motor Co., and last year he won control of British sports-car maker Lotus Cars Ltd.
The Chinese firm, which controls Hong Kong-listed Geely Automobile Holdings Ltd., has ambitious expansion plans for both its home market and overseas as it takes on global car majors. Geely plans to start selling a compact five-seat SUV, currently marketed under the Lynk & Co. brand, outside China from mid-2019. It's likely to look first at Europe.
Eventual split?
As Geely has made an unprecedented foray into Europe, Daimler is also undergoing significant change. The carmaker plans its biggest corporate overhaul in a decade to break up its conglomerate structure to create a holding company.
Daimler firmed up plans toward the end of 2017 to break up its rigid conglomerate structure, instead creating a holding company with three separate units: Mercedes-Benz Cars & Vans, Daimler Trucks & Buses and the financial services division. Although Daimler said the move isn't a prelude to a spinoff of any of the businesses, some investors have called on the company to consider an eventual split on the back of the clearer delineation between the units.
Kuwait's sovereign wealth fund, which has been an investor in Daimler for decades, was the largest stakeholder in the automaker as of the end of December, with a 6.8% holding.
Daimler isn't the only German automaker to have a big anchor investor: Volkswagen AG is essentially controlled by the Porsche-Piech billionaire clan, and it also counts the government of Qatar as a major stakeholder. BMW is controlled by the Quandt-Klatten family, whose billionaire siblings boosted their personal holdings in the second-largest luxury carmaker this year after equally dividing their late mother's stake.
---