Porsche's L.A. Experience Center is a theme park for grown-ups who love to drive
Last weekend, I drove to Los Angeles from my Bay Area home. My wife and 12-year-old daughter visited Disneyland. I headed to my ideal theme park: the Porsche Experience Center in Carson.
There are no lines at the Porsche Experience Center. There are 77 shiny near-new Porsches, one of which was reserved for me: a beautiful cobalt blue 911 GTS.
Anyone 21 or over with a driver's license valid in any state or foreign land — plus $585 — can do the same. (Different cars and packages are offered at different prices.)
The money's good for 90 minutes with a Porsche and private coach at what the company calls a "53-acre sports car playground."
There's a twisty-turny 1.3-mile "handling circuit." There's an "acceleration straight" that functions as a drag strip. There's an ice hill, an off-road zone, a soaking-wet, slippery skid pad and more.
My GTS rumbled at the starting line of the acceleration straight. I had the fully loaded model, with 450 horsepower, 405 pound-feet of torque, a 3.9-second zero-to-60-mph time and a price tag well north of $150,000. The base car comes with a manual shifter, but this one was equipped with the Porsche Doppelkupplung setup, which smoothly combines manual and automatic modes.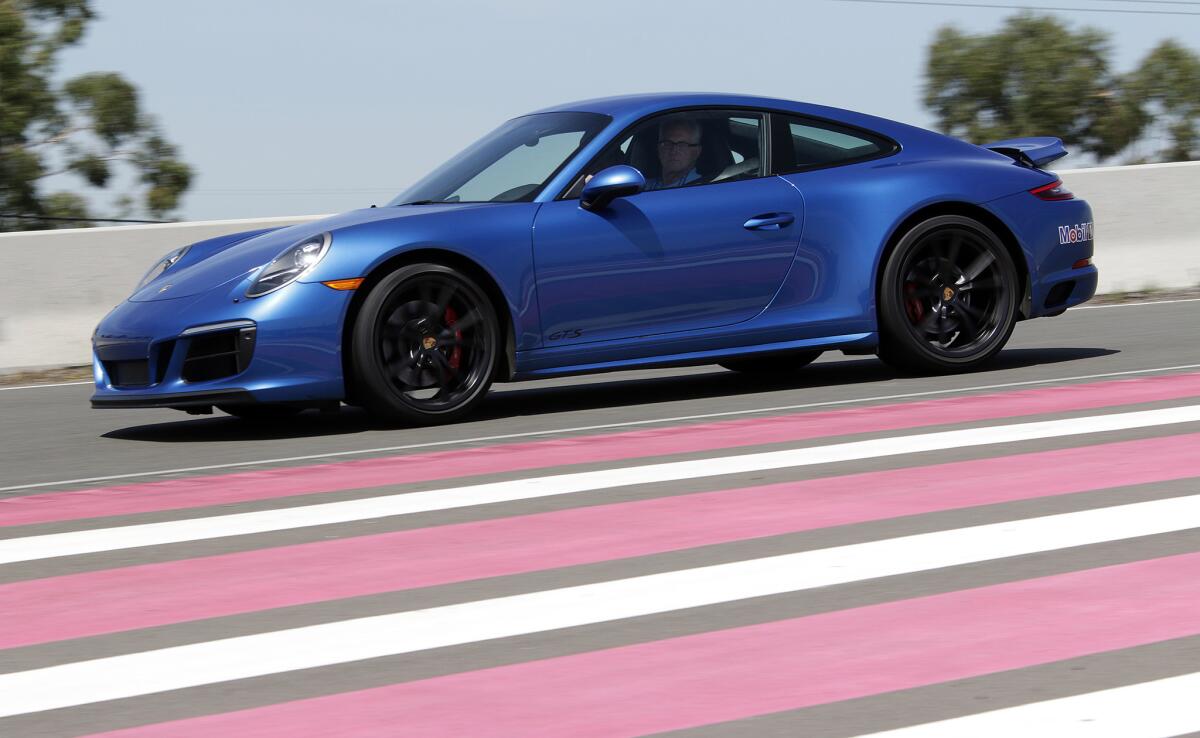 The strip runs nearly a mile before reaching a 33% banked curve modeled after a freaky turn at the famed Nürburgring racetrack in Germany. My coach was an amiable young man named Ricky Downton. He grew up in a rural patch outside Atlanta fixing cars with his older brother. It's said that millennials aren't into automobiles, but Downton's a reminder against generalizations.
"OK, we're in launch mode," he shouted at me from the passenger seat. "Press hard on the brake with your left foot. Push the gas pedal flat to the floor. Flat!"
I released the brake. The car rocketed forward. Ironically, the track runs parallel to the 405, where traffic, of course, was crawling. G-forces thrust my back into the seat while the highway traffic blurred into gray mist in my peripheral vision.
I heard Downton yelling at my right foot. "Keep it flat! Keep it flat!"
OK, we're in launch mode.

— Driving coach Ricky Downton
My spirit was willing but my body betrayed me. A rush of adrenaline was accompanied by a tiny twinge of fear. Before I could beat it, my foot involuntary lifted itself a mere millimeter off the pedal for a nanosecond.
I willfully mashed it down again, but that little twitch was enough to slow me considerably. "How fast?" I asked.
A disappointing 110 mph. But a heart-pumping thrill ride nonetheless.
On the handling circuit, it became clear that the Porsche Experience wasn't just a place to drive a hot car. In 90 minutes, you can learn to drive more like a pro and, if you're lucky enough to afford a Porsche, get a lot more out of what the car has to offer.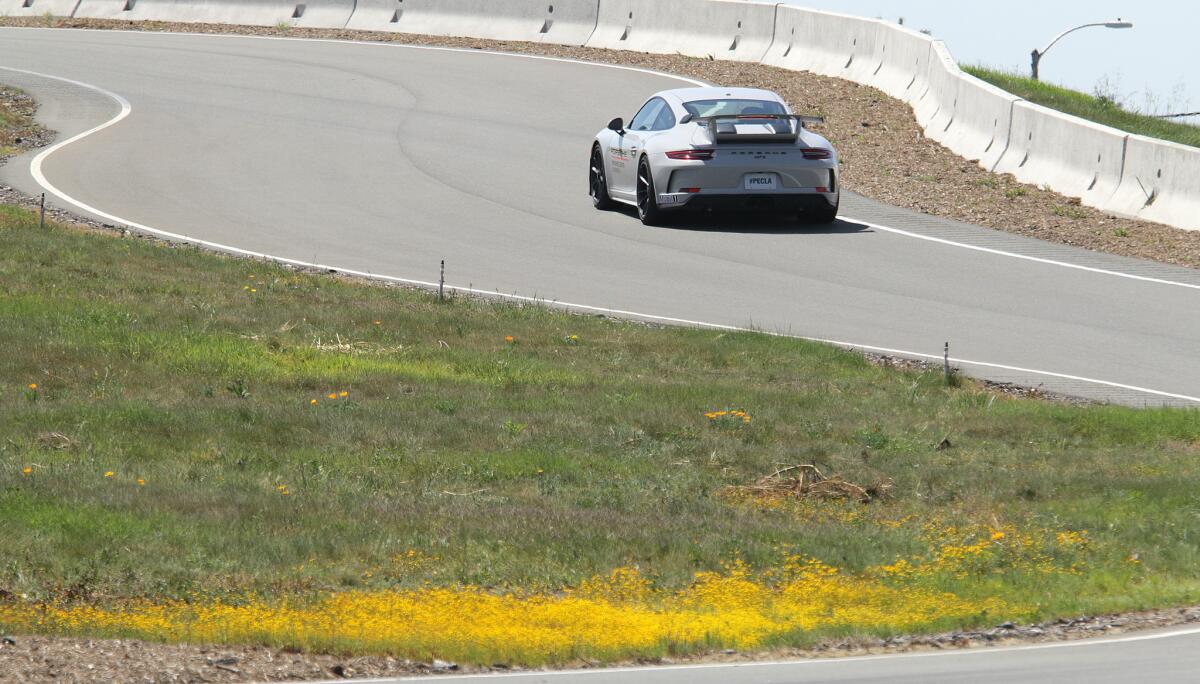 I've always thought of myself as a good driver. But my coach humbled me in no time.
He took the wheel and rumbled along to give me a close look at the course, then again at high speed and with meticulous precision.
As soon as it was my turn, I realized how much I had to learn. I hit the corners too fast. I hit the corners too slow. I hit the brakes too heavy, or too light or not quite at the right time. Same with the gas. I under-turned, and I over-turned.
It was not a dorkish performance. A colleague who'd been watching later said it looked like I knew what I was doing, and he's a guy who doesn't say such things to be nice. But the skill gap between Downton and me was immense.
My biggest problem is a common one, even among sports car owners, Downton told me. It involved my eyeballs.
Instead of following the road hundreds of feet ahead where the twists and turns would be taking me, my eyes too often were drilled into the curve I was headed directly into. That forced me to brake too hard, adjust my steering to compensate, lose speed and look clumsy while I got back on track.
In ball sports, when you're throwing or kicking, you look where you want the ball to go. Same in everyday driving. Most people, Downton said, stare at the car in front of them (when they're not staring at their phone).
It's especially true in places like Los Angeles, San Diego and San Francisco-Silicon Valley, where commuter traffic is slow and dense.
"They're all looking at the bumpers of the car in front of them," he said. "You've got to train yourself to pick up your eyes, look what's happening ahead of you." Whether on the track or the highway, he said, "I'm always looking ahead, always planning. If you're reacting to brake lights in front of you, you're not really prepared."
Simply by raising my eyes, I improved my circuit performance considerably, moving through it smoother, and faster, with more confidence.
The eye trick was crucial on the kick plate, as well. The kick plate leads into a skid pad, a wide epoxy-treated surface, kept soaking wet and super slick. You approach at 20 to 30 mph, and a horizontal plate underneath the car kicks it randomly to the left or right. The car quickly seems to lose gravity, and you're floating out of control.
The key is to look where you want the car to go, even if you have to twist your head backward, and quickly move the steering wheel that way. You need to prepare for it. The move is not intuitive.
These sorts of lessons are available at driving schools across the country, of course. The skills learned here are transferable to the public highways, and used responsibly, make for safer driving.
But the center is meant more than anything to boost the Porsche brand and sell more cars.
At the "low friction circle," Downton showed off the Porsche Stability Management system. The circle's surface is similar to the skid pad's. Try to speed around it, and most people will spin out of control. Turn it on, and you stick to the slimy surface almost like you're on railroad tracks. Some people like big-touch screens in their cars with video-game style Easter eggs. Some like technology that improves a car's driving performance. There's room in the market for both.
Opened in 2016 on an old golf course at a cost of $60 million, the Porsche center is one of five worldwide, joining Atlanta; Leipzig, Germany; Silverstone, England; and Le Mans, France. Shanghai is next on the list.
We live in a branded world, and there's more at the experience center than driving tracks. There's a Porsche store on site, of course, with Porsche hats and shirts and sunglasses; a cafe; and a high-end restaurant called 917 run by chef Matt Lee, former executive chef at the Getty, who serves food that's beautiful and delicious.
The center's lobby serves as a museum showing off historic Porsches, including a version of the famed 1,580-horsepower 1973 Porsche 917/30 race car, the one with the gigantic rear spoiler wing that looms over the vehicle like some comic book creation.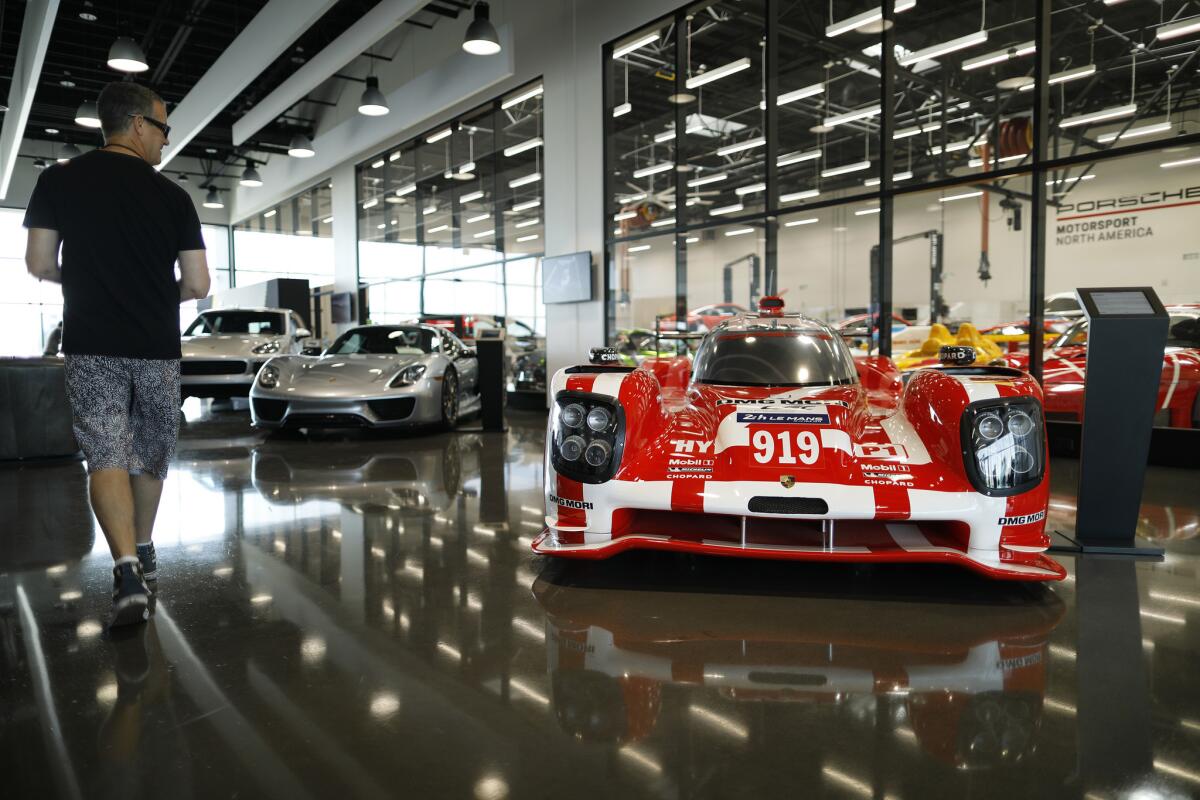 Behind a glass wall, visitors can watch race cars being tweaked by workers at Porsche Motorsport North America, a racing division of Porsche. A "simulator lab" features a row of high-end arcade-style driving stations that digitally replicate more than 20 of the most famous racetracks around the world and a similar number of Porsche models rendered to be true to their individual performance characteristics, including engine sounds.
The center is able to host private events for parties of five to 500. More than 60,000 visitors showed up last year, Porsche said.
California is one of Porsche's top markets. The state accounts for 10% of the U.S. population but 24.7% of Porsche's U.S. car sales (27% for the 911). If it were a country, California would represent Porsche's fifth-largest market. The metropolitan L.A. market alone would count as the sixth, said Klaus Zellmer, chief executive of Porsche Cars North America.
Californians "embrace design and innovation and the pleasure of driving these cars," Zellmer said. In this case, I have to agree.
Twitter: @russ1mitchell