Tesla Model X on track to ship; carmaker is winning N.J. dealer fight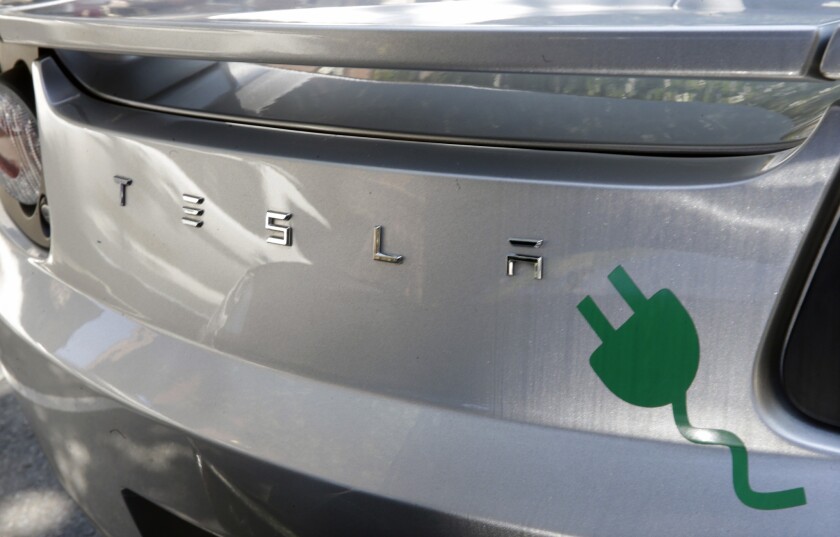 Tesla Motors Inc. is on the verge of winning its fight to sell its electric cars directly to the public in New Jersey, as the company says it is on track to start on its deliveries of its Model X electric sport utility vehicle next year.
The Palo Alto automaker has been fighting dealers and their lobbyists in multiple states over its efforts to sell electric cars through company-owned Apple-like stores rather than through traditional dealer franchises. Some local dealers see the efforts by automakers to sell through company-owned stores as a threat to their businesses.
The New Jersey assembly voted 77 to 0 on Monday to allow Tesla to sell its electric cars directly to the public at up to four showrooms as long as it also operates at least one service center. The legislation, which still must be approved by the state's Senate, allows sellers of zero-emission vehicles that were licensed by the State Motor Vehicle Commission before Jan. 14, 2014, to operate on a limited basis in the state.
The legislation was written in a way to only apply to Tesla. Traditional franchised auto dealers in New Jersey won't be seeing a rush of auto companies opening up stores to sell their cars --emission free or otherwise -- to the public.
Some states, including California, allow automakers to open their own outlets if they don't already have existing franchises for their brand. But others, including Texas, Arizona and New Jersey, prohibit direct sales. Ironically, Texas is competing against California and other states for the location of a giant Tesla battery factory even though it prohibits Tesla's car sales model.
Elon Musk, Tesla's chief executive, is pushing direct sales to consumers because he believes company-owned stores will do a better job than traditional car dealerships selling new technology vehicles such as electric cars.
Car dealers focus on vehicles with gasoline engines, which make up more than 99% of their sales, and won't take the time to educate consumers about electric cars, he said.
Company-owned stores also enable Tesla to keep control of its sales channel and the marketing process, he has argued.
At the urging of dealers, the New Jersey Motor Vehicle Commission forced Tesla to close two stores this year, reversing a previous decision that allowed the electric car company to sell directly to consumers. Tesla converted the showrooms in Paramus and Short Hills to information centers but once the legislation is approved is expected to resume sales at the sites.
Wedbush Securities analyst Craig Irwin said it was a good resolution to Tesla's fight with dealers in New Jersey and will pave the way for the company opening up two additional stores in the region. He said there will be "strong support" for the bill in New Jersey's Senate and that Gov. Chris Christie is expected to sign the legislation.
Irwin believes Tesla shares will climb to $275. In midday trading Tuesday, Tesla's shares were up 2% to $233.77 on news of the New Jersey legislation and the automaker's announcement on Model X.
Development of Tesla's second model had suffered through some delays the company worked on the design of the vehicle's distinct gullwing doors and other features.
The Model X will give Tesla a much-needed second model while it develops a less expensive, smaller electric car that expects to help the automaker ramp up its sales to hundreds of thousands of vehicles annually, Irwin said. Tesla currently sells only the Model S, an electric sports sedan that starts at about $71,000 and climbs above $100,000 depending on options and features.
The New Jersey legislation comes at the same time the National Automobile Dealers Assn. has rolled out a new publicity initiative touting the benefits of the franchised dealership sales model.
"Franchised new-car dealers provide the best, most efficient and most cost-effective way to sell and distribute new cars in America, and we're proud of our businesses and business model," said Peter Welch, president of the trade group.
The association issued a report Tuesday by auto industry consultant Maryann Keller that defended dealers.
"Past experiments by factories, such as Ford Motor Co. and General Motors, to sell directly have proved unsuccessful, and the results have only reinforced the need and value of having a network of franchised new-car dealerships," Keller said.
"The franchised dealer network benefits consumers and manufacturers alike by providing fierce price competition among dealers and an extremely efficient distribution network that is acutely sensitive to local markets," Keller said.
Follow me on Twitter (@LATimesJerry), Facebook and Google+.
---