As Tesla struggles to exit 'production hell,' buyers complain of delivery limbo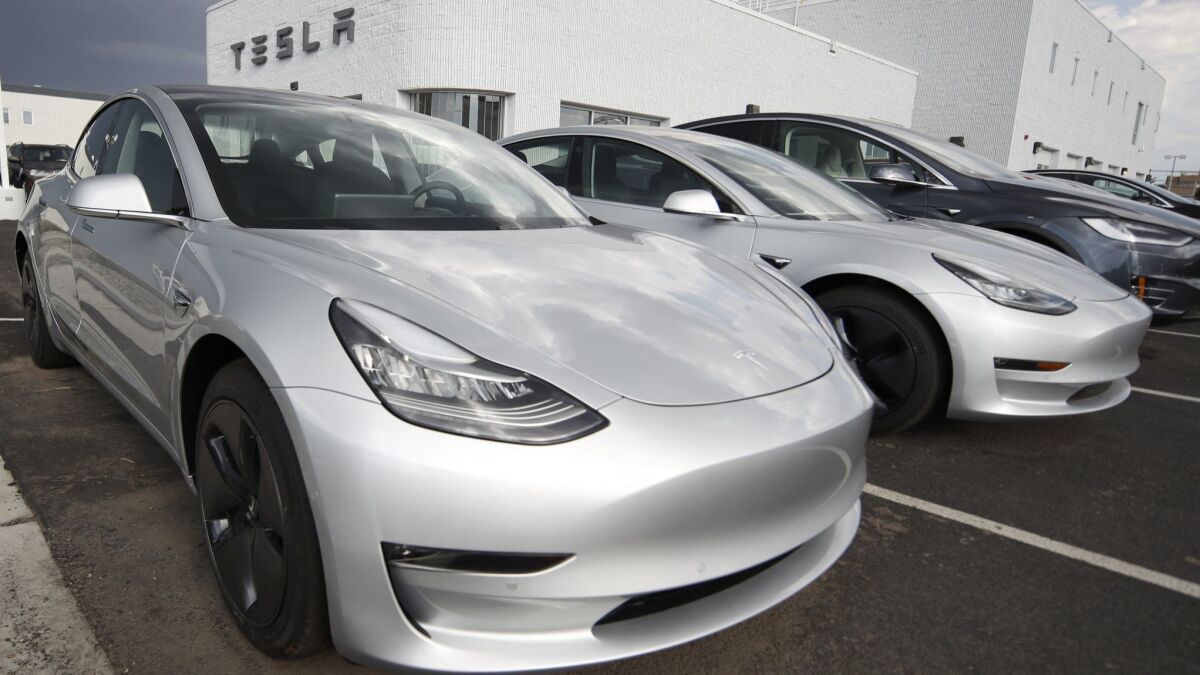 Reporting from San Francisco —
There's no doubt in Richard Lam's mind: When he takes the wheel of his Tesla Model 3, he'll be thrilled with it. "I hear that owners, once they get their cars, are very happy," said Lam, 31, an electrical engineer from Diamond Bar.
Getting it is the problem. Lam has been waiting more than two months. He's already paid Tesla for the highest-end Model 3 available, which costs $79,500. He's paying principal and interest on his loan. But for now he's left driving a 1999 Mustang, a loaner from his brother.
"I'm not very happy with the current situation," he said.
He's not alone. Complaints about Tesla taking people's money while they wait weeks for the cars, often with no firm delivery dates, are all over Twitter, Facebook and the Tesla Motors Club user forum. Owners who try to contact delivery representatives say voicemail boxes are full, and calling around to different Tesla numbers yields conflicting information.
Tesla's service issues go beyond delivery glitches. Many of those who have cars complain that repairs can take weeks or months, and email and phone inquiries often don't get returned.
Tesla Chief Executive Elon Musk acknowledged the depth of the customer-service problems Wednesday in a tweet: "Due to a large increase in vehicle delivery volume in North America, Tesla customers may experience longer response times. Resolving this is our top priority."
A Tesla spokeswoman declined to make a company executive available to discuss what Tesla is doing to resolve the problems. She did say, however, that she spent Wednesday "volunteering at one of the delivery centers." She declined to elaborate.
Lam said that since he was promised a specific Model 3, two delivery dates have been broken. On Aug. 8, he was told 45 minutes before scheduled pickup that the car wasn't available. Then, on Aug. 30, one Tesla representative told him his car hadn't yet been put on the delivery truck, and another told him the car had not yet been built.
The Aug. 8 delivery was canceled, Lam was told, because the car hadn't passed quality inspection. Social media is filled with customers complaining about Model 3 quality, including paint bubbles, dents, dirt, dead batteries, broken bumpers and cars delivered in the wrong color.
Tesla had cranked up production volume in late June, bent on meeting Musk's goal of 5,000 cars a week, even though the company was still working to repair bottlenecks on the Model 3 line caused by installation of robot-heavy technology that didn't work as planned. A new assembly line was built under a tent in the parking lot of the company's Fremont, Calif., factory to handle the load.
Business Insider in August revealed an internal Tesla document that said 80% of the 5,000 cars built in the Model 3's "burst week" in June required rework. Tesla reminded the news site the document was confidential, Business Insider said. Tesla also said that "rework" can include minor repairs, and that "our goal is to produce a perfect car for every customer."
What percentage of currently produced Model 3s require rework is unknown outside Tesla.
Lam figures the rework disrupted delivery logistics.
"Their production hell has translated into delivery hell, essentially," he said, referring to Musk's "production hell" description of the manufacturing push. Musk insists that situation is being resolved, in large part by abandoning the aggressive automation effort that Musk had said was intended to make Tesla the "best manufacturer on Earth."
While some paid-up customers wait for their vehicles, thousands of Model 3s are being stored on huge lots, including one near the Burbank airport. The company has said that's part of a normal logistics process. Some industry observers say it also reflects quality issues that require repair, and lack of demand for some versions of the Model 3.
"My guess is demand is a tiny fraction of what they thought it was going to be," said former General Motors Vice Chairman and frequent Tesla critic Bob Lutz. "The key question is how many deposits have they had to refund."
Tesla, which once promised to be making Model 3s at a 400,000-a-year pace by now, said it delivered 18,440 in the second quarter with an additional 11,166 "in transit." Musk recently said the third quarter would see double the number delivered. As of the end of June, Tesla reported it had delivered a total of 28,390 of the cars since Model 3 production began in July 2017.
The company said earlier this year it had reservations for 420,000 Model 3s, but it has not updated the number in months and has never revealed refund statistics.
A sales representative at a Southern California Tesla retail store said big fixes in the delivery system are needed, but employees are reeling from constant change and inconsistent messages from management.
"We've grown too fast," said the rep, who asked not to be named to protect his job. The company requires workers to sign nondisclosure agreements that bar them from speaking to the media.
"Every quarter we have a meeting to figure out how we're going to make delivery work this time, and it never does," he said. "By the time we actually come up with a plan, the plan is outdated. They change their mind all the time."
Asked whom he meant by "they," he said, "Elon."
"I do believe in the company and its mission, but the execution is very poor," the employee said.
Like many Tesla employees, he had pinned his hopes on Jon McNeill, the highly regarded head of global sales and service who many considered a potential successor to Musk. McNeill left Tesla in February to become chief operating officer at Lyft. In June, Karim Bousta, head of worldwide service at Tesla, also quit.
Now the executive in charge is Dan Kim, head of global sales and delivery. He joined the company in January after leaving Solera Inc., an automobile insurance data company, where he worked as global head of innovation.
Kim must find fixes for problems such as those encountered by Anandhi Bharadwaj, a professor of information systems and operations management at Emory University in Atlanta.
Bharadwaj said she wired Tesla about $60,000 early Aug. 22 to pay for a Model 3. She was told the car was ready for pickup that day; a few hours later, though, she was told her car wasn't ready after all but would be delivered Sept. 9. That delivery was canceled as well.
"It was extremely difficult to get hold of anyone, and even when I did, I never got the same story," Bharadwaj said.
Bharadwaj, whose papers about innovation appear in publications such as the Harvard Business Review, put down a $1,000 deposit in 2016, when Musk was describing the Model 3 as a $35,000 car. Earlier this year, though, he tweeted that Tesla "would lose money and die" if it tried to make a $35,000 car before mass production was humming. The company has focused on producing more expensive, and more profitable, versions. (The floor price on a Model 3 is now $50,000.)
Bharadwaj said she was willingly "upsold" to a more expensive version. She had grown anxious waiting because her three-year lease on a Lexus was about to run out Wednesday. But when she called Lexus, it gave her a 10-day grace period.
"I'm a departing customer but they [Lexus] are still being very nice," she said. "I'm a new customer at Tesla. You'd expect the red-carpet treatment."
Late Tuesday, after The Times began making inquiries at her Tesla retail store, the company contacted Bharadwaj to say it had found another vehicle that fit her specifications. She picked it up Wednesday.
The car had a small rip in the rear seat, Bharadwaj said. Her Tesla rep told her she'd need to bring the car in to have the seats replaced. No timeline was given.
Twitter: @russ1mitchell