Tesla is building Model 3s in a tent. Elon Musk says it's 'pretty sweet'; expert calls it 'insanity'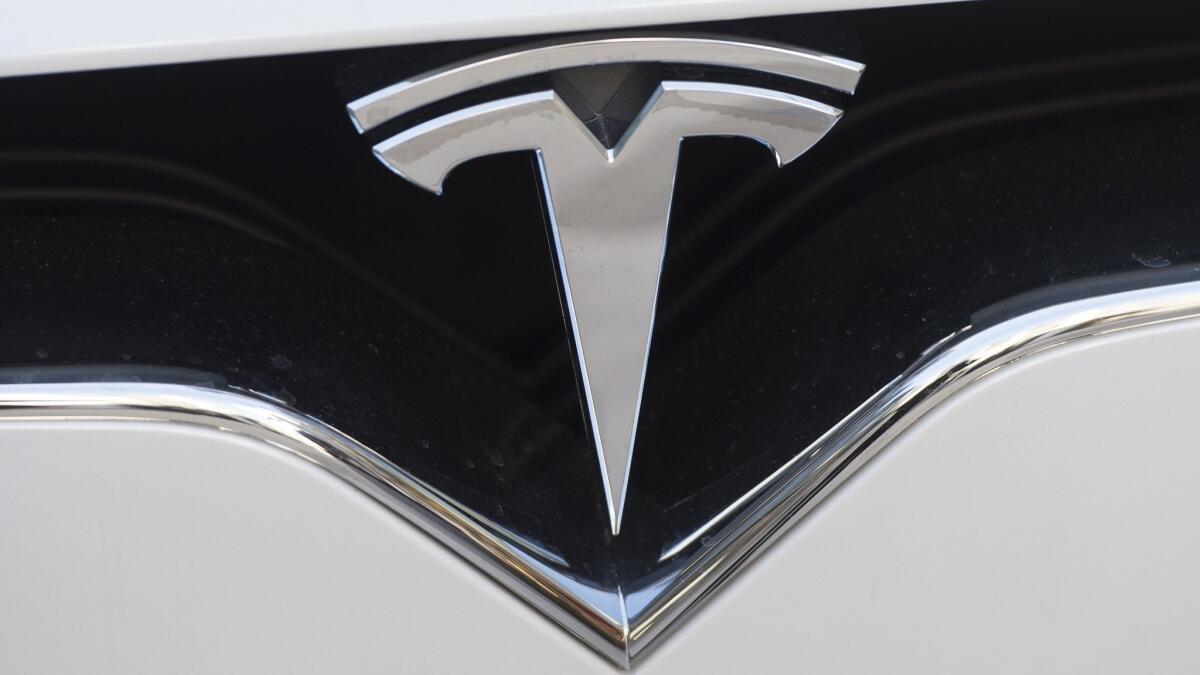 Bloomberg
Elon Musk has six days to make good on his pledge that Tesla Inc. will be pumping out 5,000 Model 3 sedans a week by the end of the month. If he succeeds, it may be thanks to the curious structure outside the company's factory. It's a tent the size of two football fields that Musk calls "pretty sweet" and that manufacturing experts deride as, basically, nuts.
"Words fail me. It's insanity," said Sanford C. Bernstein & Co.'s Max Warburton, who benchmarked auto-assembly plants around the world before becoming a financial analyst.
Inside the tent in Fremont, Calif., is an assembly line Musk hastily pulled together for the Model 3. That's the electric car that is supposed to vault Tesla from niche player for the wealthy to high-volume automaker, bringing a more affordable electric vehicle to the masses.
Tesla has had a heck of a time making the leap. Musk's expectation two years ago was that 100,000 to 200,000 Model 3s would be produced in the second half of 2017. Just 9,766 rolled out last quarter — a weekly output rate of roughly 750.
Hence, apparently, the tent. Musk announced it on Twitter on June 16, saying the company had put together an "entire new general assembly line" in three weeks with spare parts; the building permit was issued June 13, though the company could have started working on aspects of the project before then.
Tesla uses cash from Nevada casinos to boost its bottom line »
Whether this new line is fully operational is unclear. Company officials declined to comment. The Tesla-obsessed users of Twitter and other internet forums have posted photos, videos and comments either praising or ridiculing the structure. Apparently in response to the intense interest, the tent has recently been surrounded by very large trucks, which obstruct the view.
When Tesla releases second-quarter production and delivery figures in early July, the hundreds of thousands of customers who have been waiting since March 2016 for their Model 3 sedans, having put down $1,000 deposits, will get a better sense of how much longer they'll be in the queue. "The question is: How much rope Musk will get from customers who have had to wait years for delivery?" said Jeff Liker, a University of Michigan engineering professor who has written books on Toyota Motor Corp.'s vaunted production system.
What gives manufacturing experts pause about Tesla's tent is that it was pitched to shelter an assembly line cobbled together with scraps lying around the bricks-and-mortar plant. It smacks of a Hail Mary move after months of stopping and starting production to make on-the-fly fixes to automated equipment, which Musk himself has said was a mistake.
"The existing line isn't functional, it can't build cars as planned and there isn't room to get people into work stations to replace the non-functioning robots," Warburton said in an email. "So here we have it — build cars manually in the parking lot."
An admission in April that he erred by putting too many robots in Tesla's plants was a humbling moment for Musk. The chief executive had boasted in the past that his company would build an "alien dreadnought," sci-fi bro code for a factory so advanced and robotic it would be incomprehensible to primitive earthlings.
During a February earnings call, Musk told analysts that Tesla had an automated-parts conveyance system that was "probably the most sophisticated in the world." But by the spring it had been ripped out of the factory.
"We had this crazy, complex network of conveyor belts," Musk told "CBS This Morning" in April. "And it was not working, so we got rid of that whole thing."
James Womack, founder of the Lean Enterprise Institute in Cambridge, Mass., called Tesla's haphazard approach worrisome. "The chaos of how Musk is going about this makes it difficult for him to provide the standardized, repeatable work routines that allow people to function," said Womack, author of "The Machine That Changed the World," which sprang from an influential study of Toyota's production techniques. "He's going to need a second tent for repair and rework."
The word "temporary" may be in Tesla's tent permits with Fremont, but Musk has suggested the tent could stick around awhile. He told one Twitter follower last week that he's not sure Tesla actually needs a building anyway. He described the new assembly line as "way better" than the one in the plant that cost the company hundreds of millions of dollars.
That tweet spoke volumes to Dave Sullivan, an analyst at research firm AutoPacific who used to supervise Ford Motor Co. factories. "To say that it's more efficient to build this with scrap pieces laying around means that either somebody made really bad decisions with the parts in the plant inside, or there are a lot of other problems yet to be discovered with Tesla's efficiency."
Fremont is working closely with Tesla to make sure that the tent is in compliance with building and fire codes, said Gary West, an official for the city. Tesla applied for a building permit to erect the tent June 7, according to municipal records. A permit has been issued for equipment installation, and one for an overhead fire sprinkler system is pending. The tent doesn't have air conditioning, according to the city documents.
The tent was supplied by a company called Sprung, which refers to its products as "high performance tensioned membrane structures" and constructed the facility that housed the NASA Space Shuttle in the 1980s. The one at Tesla covers 137,250 square feet. Building plans show that it's adjacent to the factory's north paint shop; it's visible from the platform of the Bay Area Rapid Transit system's Warm Springs station.
The assembly line inside will start out as fully manual and gradually convert to automation in steps, according to Brian Johnson, an analyst at Barclays Plc who met with Tesla's investor relations department last week.
"It's preposterous," Bernstein's Warburton said. "I don't think anyone's seen anything like this outside of the military trying to service vehicles in a war zone. I pity any customer taking delivery of one of these cars. The quality will be shocking."
Hull, Lippert and Gardner write for Bloomberg.