Uber pulls its self-driving cars off the streets of San Francisco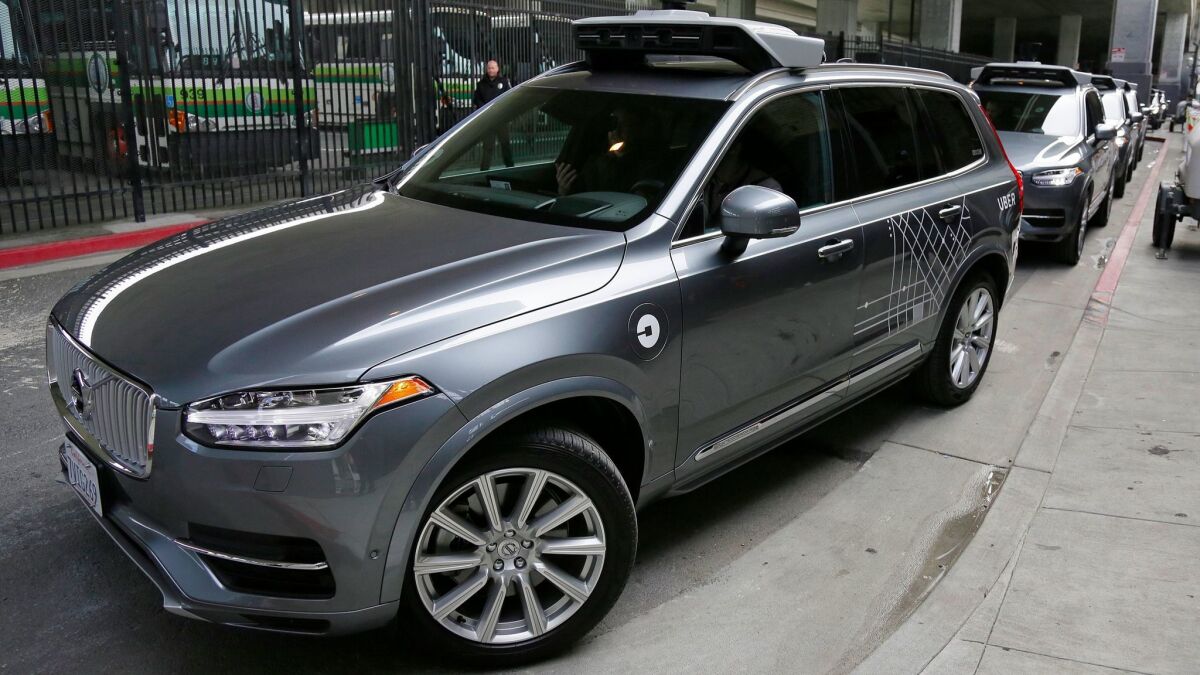 Reporting from San Francisco —
In a rare occurrence, Uber submitted to state authorities and pulled its self-driving cars off the streets of San Francisco.
The state Department of Motor Vehicles on Wednesday revoked the registration of 16 Uber cars being used commercially as test vehicles for self-driving technology. Although a human driver employed by Uber inhabited each vehicle, the cars are equipped with artificial intelligence able to drive the car robotically without, in many circumstance, human input.
The DMV said Uber's registrations were "improperly issued" because "they were not properly marked as test vehicles."
Jean Shiomoto, director of the DMV, sent a letter to Uber that said: "I appreciate the action that Uber has taken in the interest of public safety." She offered to personally help the company apply for required permits.
The DMV supports the advancement of autonomous technologies, she said. California, however, has drawn criticism from those who believe the state's self-driving regulations are stricter than in some other states and that California risks losing its position as the global center of the autonomous vehicle industry.
In any event, "We have stopped our self-driving pilot in California as the DMV has revoked the registrations for our self-driving cars," Uber said in a statement. "We're now looking at where we can redeploy these cars but remain 100% committed to California and will be redoubling our efforts to develop workable statewide rules."
Uber, which has long assumed a pugnacious approach to government regulation of its ride-hailing services, had ignored state requirements to apply for state permits that require permit holders to share crash data and other information.
Although about 20 other companies, including Tesla, Google and Mercedes-Benz, have been granted such permits, Uber argued that the law didn't apply to its own self-drive technology, reasoning that because a human was needed to take control if the robot driver failed, its cars were not autonomous under state law.
The standoff received close media attention, partly because on the day Uber stood up to the DMV, a video of a self-driving Uber Volvo running a red light in San Francisco went viral.
Uber said Thursday it is transporting the cars to Arizona, where in the coming weeks the company will be "expanding our self-driving pilot," according to VentureBeat.
Twitter: @russ1mitchell
---
UPDATES:
Dec. 22, 12:45 p.m.: This article was updated to include news that Uber is transporting the vehicles to Arizona.
This article was originally published Dec. 21 at 6:25 p.m.