Review: New wagons from Volvo and Jaguar offer agile alternatives to the lumbering SUV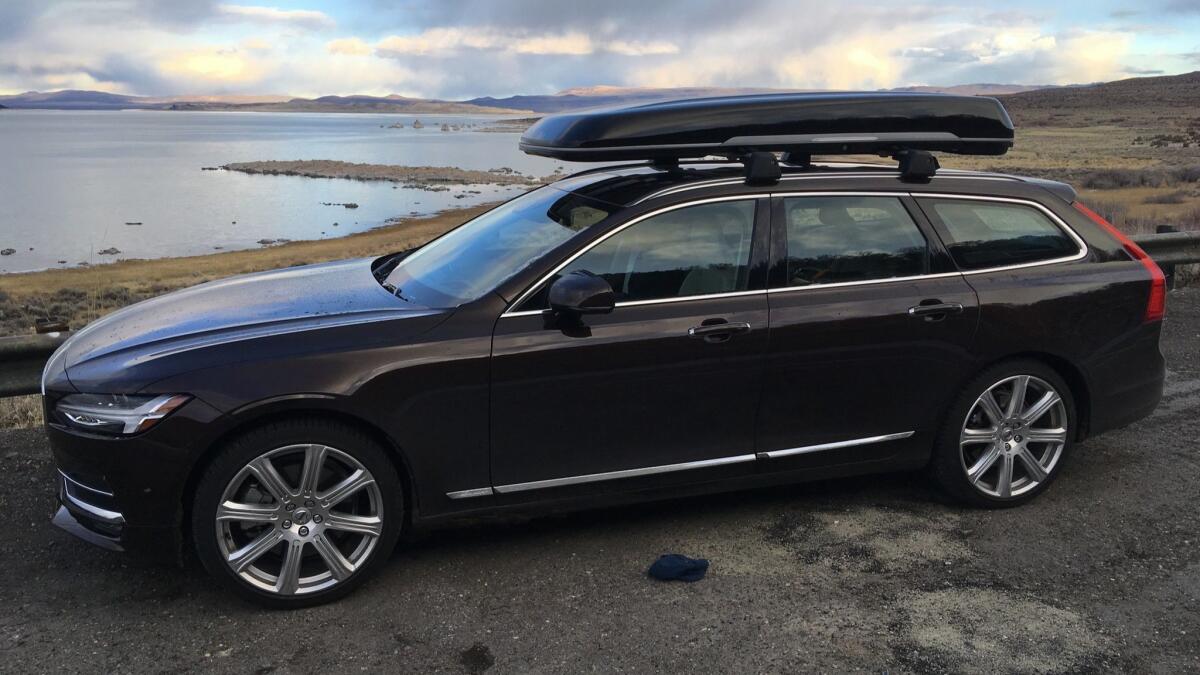 Reporting from San Francisco —
The station wagon is back!
Supposedly.
A rolling symbol of family mobility in the baby boom years, when interstate highways and suburban sprawl grew hand in hand, the station wagon has long since faded to irrelevance. Of the 17 million motor vehicles sold in the U.S. each year, wagons account for barely more than 1%. Most are Subaru Outbacks.
The first blow to station wagon sales was the capacious minivan in the early 1980s. As unattractive as it was practical, the minivan provided room aplenty for broods of noisy children, with ample storage space for ice chests, soccer balls and baseball bats.
Then came the sport utility vehicle, with a muscular body style that successfully fed off-road macho fantasies to family men who feared they'd locked themselves into a life of permanent dweebdom.
Today, trucks, sport utilities and crossovers dominate the market. As such, they've become ubiquitous, ho-hum, nothing special.
Could the re-introduction of the station wagon — this time with a bit of sex appeal — attract would-be SUV buyers?
Volvo, Jaguar, Mercedes, Volkswagen and even Buick think so. Those companies and more are selling station wagons in the U.S., prompted in part by the steady success of the Outback.
Two of the latest examples are luxury models from Jaguar and Volvo — the Jaguar XF Sportbrake and the Volvo V90.
I took separate trips in each from my Berkeley home to the mountains with my wife and 12-year-old daughter.
We own a Lexus SUV, but I've always been partial to station wagons, and I'm glad to see more of them hitting the market. I enjoy driving, and station wagons, being lower to the ground, cruise more smoothly and handle curves with far more agility than a top-heavy SUV. Both cars hold the road like a sports sedan, but unlike with a sedan, I can fit a lot more junk in the back.
Both vehicles drew looks and attracted strangers who walked up to ask, "What is that? Looks nice." Unlike the family wagons of the past, or the modern-day Outback, for that matter, neither is a utilitarian box. The designers, each in their own way, have created expensive-looking, eye-appealing vehicles that perhaps help justify their high prices. (Our options-loaded V90 Inscription carried a $69,340 price tag. The XF Sportbrake S, $84,815. Both are all-wheel drive.)
The V90, which we drove to Mono Lake and back, is the plusher of the two. The Frank Sinatra station on satellite radio fit it best. (That's a compliment, I'm a big Sinatra fan.) The buttery leather seats were supportive and comfortable.
The interior design is a bit unusual, but attractive, with plenty of walnut paneling set off by what Volvo calls "touches of chrome elevating the car's elegance." Volvo is a Swedish company owned by a Chinese company, and it seems the designers had added a bit of Chinese flash on top of Volvo's usual minimalist Scandinavian treatment. To my wife and me, it spoke luxury but wasn't trying too hard — a lesson that could be learned by, say, Cadillac.
The steering and cornering were tight enough to please, but nowhere near sports-car territory. The eight-speed automatic transmission was smooth. The engine, a turbocharged and supercharged 2.0-liter four cylinder, has plenty of power for any need short of "thrill ride." With 316 horsepower and 295 pound-feet of torque, it reaches 60 mph from a dead stop in 5.8 seconds — but sometimes feels like it's struggling to do so.
The Bowers & Wilkins premium sound system was crisp, clean and powerful. Is it worth an extra $3,200? I'm not currently shopping for a car, so I don't have to decide.
As is true for almost every late-model vehicle on the road, the touch screen and the electronic system ergonomics in general could use big improvement, in dozens of small ways. Automakers: Please check out the system ergonomics in the brand-new Porsche Panamera and Cayenne for clues on how to do it better.
(Side note: U.S. dealers carry a version of the V90 called the Cross Country, more of a crossover than a true wagon, since it's elevated an extra few inches. It's easy enough to get the V90 wagon we drove, but it has to be special ordered.)
The V90 and the XF Sportbrake S are similar-size luxury wagons, but with completely different personalities. We drove the Jaguar to Yosemite along California State Route 120 and had a blast.
The core of the Jaguar's personality is its engine: bigger, faster, more fun. It also burns more gasoline and pushes the price tag far higher than on the Volvo. Its 380 supercharged horses and 332 pound-feet of torque, and a zero-to-60 time of 5.3 seconds, nudge it into thrill-ride territory.
Although Jaguar is an English company owned by an Indian company, the interior design, aside from a few versions of a big silver cat, is dark and Germanic. The car's precise steering and road holding are Germanic, too. The seats have side bolsters, as any fast car should. Although the vehicles' dimensions are similar (both claim about 69 cubic feet of space with rear seats down) the Jaguar feels smaller and more cramped. Sliding back the partition to expose the huge moonroof helps a lot.
It's too early to judge the quality of either of these vehicles, although Jaguars and Volvos draw generally middling quality ratings by Consumer Reports, with Volvo the slightly better of the two.
Each of the vehicles is impressive in its own way. If your personality fits the vehicle's, I'd guess you'd be happy, assuming you've got the money to pay for it. And if you don't, the Subaru Outback — at $20,000 to $30,000 less — is a very nice vehicle.
2018 Volvo V90 Inscription
Times' take: A fine-driving family wagon with an elegant personality
Highs: Beautiful inside and out, comfortable drive
Lows: Some drivers will want a smoother power output. Electronic system ergonomics need improvement.
Vehicle type: Station wagon
Base price: $57,950
Price as tested: $69,340
Powertrain: 2.0-liter, turbocharged and supercharged four-cylinder gasoline engine
Transmission: All-wheel drive
Horsepower: 312
Torque: 295 pound-feet
EPA fuel economy rating: 22 miles per gallon city equivalent / 31 highway / 25 combined
2018 Jaguar XF Sportbrake S
Times' take: A station wagon with a sports car personality
Highs: Fast, tight, thrilling
Lows: Feels cramped inside
Vehicle type: Station wagon
Base price: $70,450
Price as tested: $84,815
Powertrain: 3.0-liter, supercharged six-cylinder gasoline engine
Transmission: All-wheel drive
Horsepower: 380
Torque: 332 pound-feet
EPA fuel economy rating: 18 miles per gallon city equivalent / 25 highway / 21 combined
Twitter: @russ1mitchell