With sales flagging, Toyota unveils a sportier Prius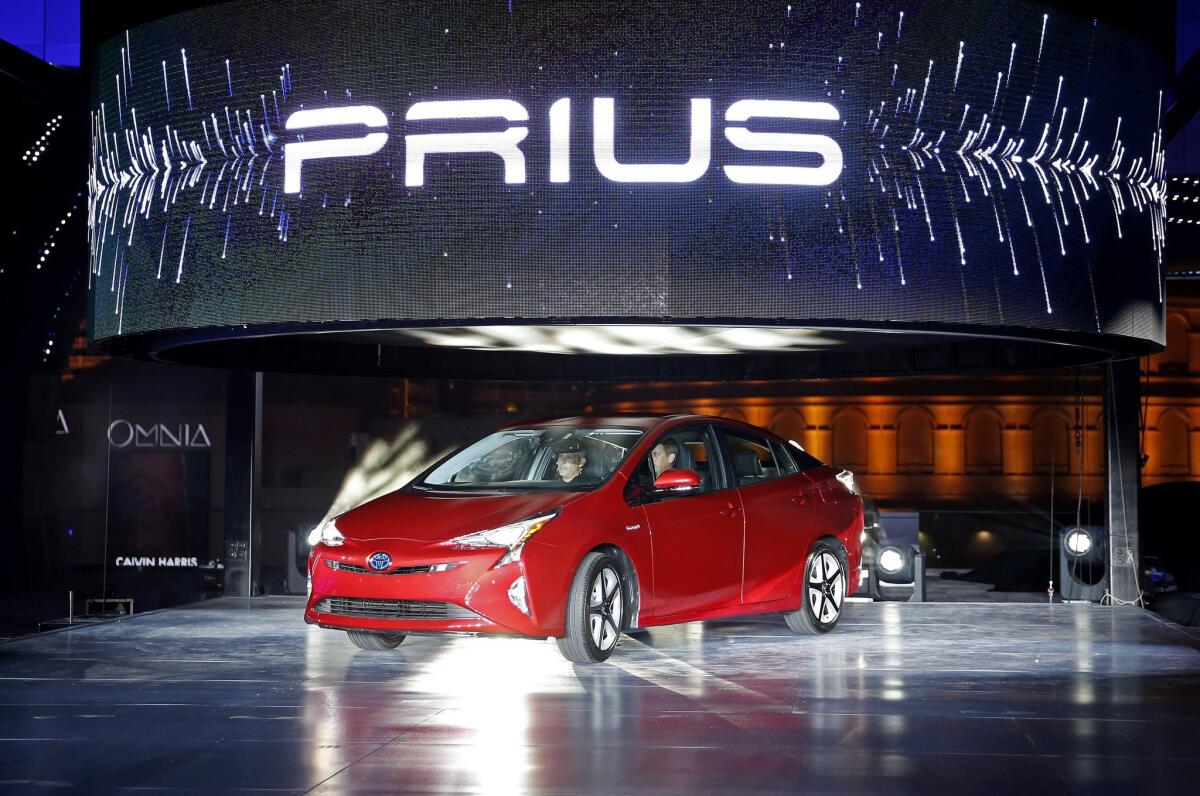 With all the fanfare of a Las Vegas show, Toyota unveiled the fourth generation of its Prius hybrid on the rooftop deck of the Linq Hotel & Casino on the Strip on Tuesday night.
The automaker estimates a 10% jump in fuel economy, to about 55 mpg, but that may be less important to sales growth than improved driving dynamics and normalized styling.
The egg-shaped profile has been flattened and sharpened, and the handling stiffened, reflecting the need to compete on performance and style as well as efficiency. The current Prius, launched as a 2010 model, has faced increasing competition from both conventional cars and an array of plug-in hybrid and all-electric models.
The car's pricing, not yet released, will be another important factor. The outgoing model's base price of about $25,000 represented a significant premium over comparable conventional vehicles, which have narrowed the fuel efficiency gap.
SIGN UP for the free California Inc. business newsletter >>
One version of the Honda Civic — which last year displaced the Prius as California's top-selling car — now achieves up to 41 mpg on the highway and starts at about $20,000.
Final pricing and fuel economy figures for the next Prius will be released before it hits dealer showrooms in January.
"With the aged outgoing model and low gas prices dragging down sales, the 2016 Prius will be a much-needed shot in the arm for not only Toyota, but the entire green car segment," said Jeremy Acevedo, an analyst with Edmunds.com.
In its redesign, Toyota focused on addressing complaints about its appliance-like driving experience. The setting for the unveiling — with a live rock band on a neon-lit rooftop stage, with Caesars Palace and the Bellagio as backdrops — seemed fitting given the effort to inject excitement into a car that has taken pride in being slow and stodgy.
The new design acknowledges that pitching the car as a "rational purchase," based on efficiency alone, was no longer enough, said Bill Fay, Toyota's group vice president and general manager. The Prius needed to appeal to the emotional component of driving, he said.
"The new Prius is a no-compromise vehicle. It has style, fuel economy and great driving dynamics, and it will appeal to a much broader range of customers," Fay said in an interview before the Las Vegas unveiling.
The new car is sportier, with a low snout, stretched windshield and wraparound headlights. It's 2.4 inches longer. Designers added 0.6 inch to the width to give it more room for people and cargo. Handling should be helped by a lower center of gravity and a more rigid body structure.
The Prius remains a hatchback but looks more like a sedan, with a sharp crease tracing its lower profile backward from the rear doors. Designers have blacked out the rear pillars, making the roof appear to float over the rear deck.
The creases proved controversial among auto critics at the debut. Toyota marketing manager Brian Coleman said they serve dual purposes.
"They are elements that actually help with the aerodynamics and give the car a sportier look," Coleman said. The automaker "had to break new ground by adding some style and fun new driving dynamics. That is the way we are going to get new customers to buy the Prius."
The edgier Prius design follows other recent Toyota efforts — the latest Camry and Corolla models, for instance — to liven up the brand's traditionally bland styling.
Efficiency, however, remains at the core of the Prius franchise. Toyota said the Prius would have the best fuel economy of any vehicle that doesn't plug into an electrical socket, achieved through smaller, lighter hybrid system components, higher-energy density in the batteries, and a more efficient internal combustion engine. A soon-to-be-unveiled Eco model will achieve even greater fuel economy.
The Prius will also be the first Toyota model to offer a new safety package. It includes a forward collision alert and pedestrian detection system; lane departure alert with automatic steering assistance; cruise control that speeds and slows with traffic; and high beams that automatically switch on in the absence of oncoming cars.
All the improvements will be needed to rejuvenate sales that have dived this year for the outgoing model. Through August, sales — including the compact and wagon versions — have dropped more than 17% to 125,830, according to Autodata Corp.
Analysts have attributed the decline to lower gas prices nationally, a market shift favoring crossovers, and Toyota loyalists delaying Prius purchases until the new model is out.
Still, the Prius remains by far the bestselling hybrid in U.S. history, having sold almost 1.9 million units since its debut fifteen years ago.
NEWSLETTER: Get the day's top headlines from Times Editor Davan Maharaj >>
First sold in 1997 in Japan, the car reached U.S. shores in 2000. The first generation was small, stubby and slow. Toyota tried to give it some sex appeal by bragging that early buyers included such celebrities as Leonardo DiCaprio, Donny Osmond and Seinfeld co-creator Larry David.
The starting price was $19,995 and it came in one trim level with basic amenities and, for the time, an eye-popping federal fuel economy rating of 41 mpg. With the second generation, Toyota refined the car and brought it more upscale, with an awkward, bulbous profile that became an icon for environmentalism.
In 2012, Toyota expanded the car into a sub-brand "family" of models, introducing the Prius V wagon version and Prius C sub-compact.
The first Prius was an engineering breakthrough, said Leslie Kendall, curator of the Petersen Automotive Museum. The technology stands with such achievements as the dual overhead cam engine in the Grand Prix Peugeot of the early 1900s, and the 1954 Mercedes Benz 300 SL, the first production car with fuel injection.
For a century, various automakers and developers — including Ferdinand Porsche and Briggs & Stratton — attempted hybrid vehicles, but none were a success until the first Prius hit Japan's roads in 1997, Kendall said.
"Every other attempt stumbled," he said. "They got everything right with the Prius."
Modern computing was crucial.
"It's all in the software," Kendall said. "You need an onboard computer brain to coordinate the gas and electric drive trains."
Eco-conscious consumers jump-started Prius' success, but high gas prices made it ubiquitous, said Simon Mui, the automotive expert at the Natural Resources Defense Council. Toyota deserves credit for making hybrids a household name and forcing other automakers to compete, he said.
It remains one of the better-selling passenger cars nationally, with numbers generally comparable to such mainstream models as the Ford Focus and Chevrolet Malibu.
"When your car is spoofed on South Park, you know it has become a cultural icon," Mui said.
The Prius came out at a time when other manufacturers backed out of plans to develop hybrids, said Devin Lindsay, a powertrain expert at industry research firm IHS Automotive.
Those that tried failed to match Toyota's marketing prowess. Honda actually beat Toyota to the U.S. market with a hybrid, the Insight, by about six months. But the car never caught on, even through two generations, and Honda scuttled the vehicle last year. Honda sells hybrid variants of its popular Accord and Civic sedans, but at only 10% of the volume of the Prius.
Now Ford and other automakers talk about building a "Prius fighter," a testament to the hybrid's effect on the industry, he said.
Toyota also has serious competition from automakers pushing more advanced technology. Chevrolet plans a new Volt plug-in hybrid — with a 53-mile electric range before a gasoline engine kicks in, along with an all-electric Bolt model with a 200-mile driving distance priced in the $30,000 range. Tesla Motors has long been promising a more affordable electric car with a similar range, and Nissan is prepping a new version of its Leaf electric car.
"Their green technology mantle is not permanent," Mui said.
With the launch of Toyota's Mirai hydrogen fuel cell car later this year, Mui observed, "the Prius isn't even the greenest vehicle at Toyota."
Twitter: @latimesjerry
MORE AUTO NEWS
Dawn is 'the sexiest Rolls-Royce ever built,' company says
Tesla CEO Musk plans Model X deliveries this month, Model 3 orders in March