U.S. taxpayers duped into shelling out $51 million in green subsidies for 'clean' VW vehicles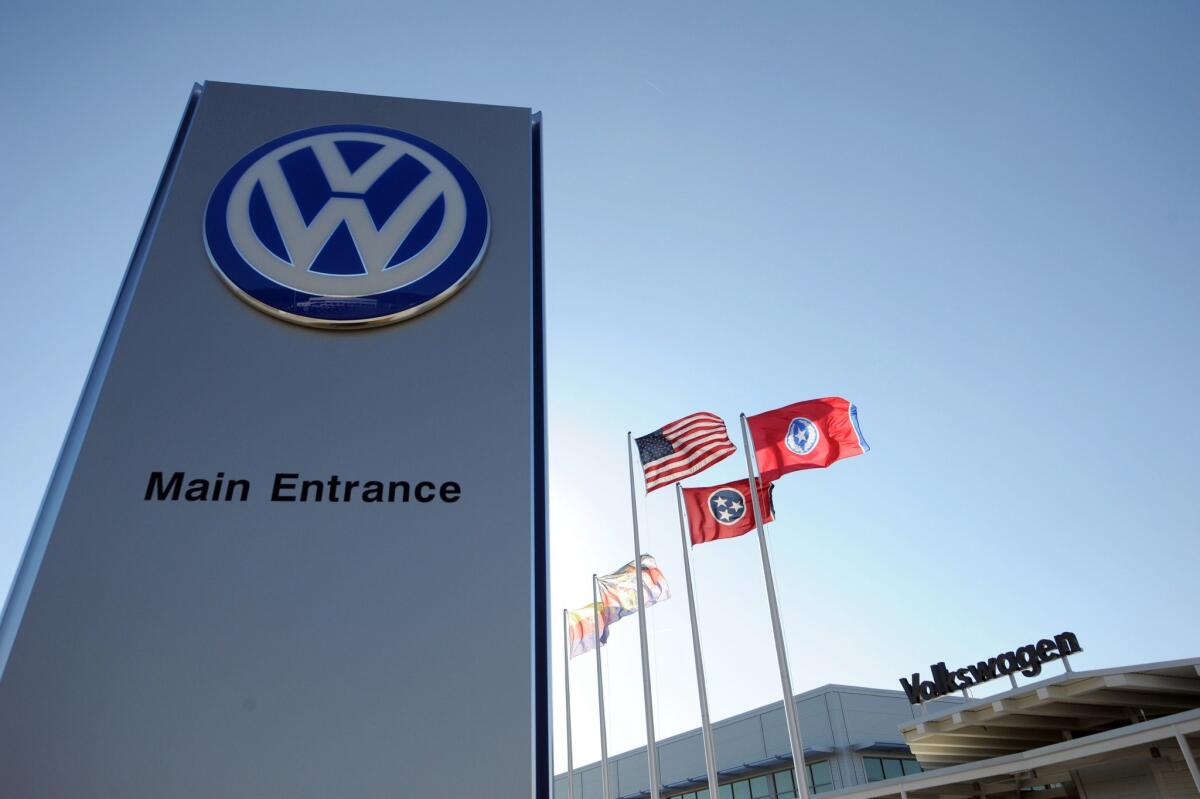 The federal government paid out as much as $51 million in green car subsidies for Volkswagen diesel vehicles based on falsified pollution test results, according to a Times analysis of the federal incentives.
On Friday, federal and state regulators said the German automaker used software in 482,000 of its diesel vehicles since the 2009 model year to cheat on U.S. emissions tests. Environmental Protection Agency officials said Monday that the U.S. Department of Justice is also investigating.
The Times analysis matched Internal Revenue Service data with Volkswagen sales figures to determine the value of subsidies VW diesel buyers were eligible to collect in 2009, the first and only year the vehicles qualified. The $1,300 tax credit would have been available to buyers of about 39,500 Jetta and Jetta Sportwagen models that sold that year, according to Motor Intelligence, an industry research firm.
"It is really unfortunate," said Luke Tonachel, director of clean vehicles and fuels project at the Natural Resources Defense Council. "The government has been effective to help advance clean technologies, but it is a waste of taxpayer dollars when they aren't actually helping to clean the environment."
He said regulators should factor in the $51 million in subsidies when determining penalties for Volkswagen's Clean Air Act violations.
Such green car incentives have also gone to buyers of hybrid, electric and hydrogen fuel cell cars. But the EPA does not track aggregate figures for incentives paid out to buyers of specific models or brands.
The Volkswagen diesels qualified for the federal incentives in the same year the automaker first installed the software trick it used to cheat on emissions tests. The so-called defeat device employed an algorithm that automatically detects when the vehicle is undergoing pollution tests and changes the way the engine performs.
NEWSLETTER: Get the day's top headlines from Times Editor Davan Maharaj >>
The algorithm senses whether the car is in a testing environment by analyzing a variety of data — steering position, speed, duration of engine operation and barometric pressure.
Away from the laboratory, during everyday driving, the cars emit up to 40 times the legally allowed amount of nitrogen oxide, environmental officials said.
The Environmental Protection Agency and the California Air Resources Board discovered the software. The EPA said Monday it will coordinate with federal prosecutors on further enforcement and penalties.
"Determinations regarding potential penalties and other remedies will be assessed as part of the investigation EPA has opened in conjunction with the U.S. Department of Justice," said EPA spokeswoman Liz Purchia.
The Justice Department has lately taken on a leading role in major investigations of automakers, usually leveraging the threat of criminal charges to exact huge fines.
Last week, General Motors agreed to pay a $900-million fine to settle an investigation into why it did not promptly recall cars with a defective ignition switch that has led to crashes causing 124 deaths. Last year Toyota signed a $1.2-billion settlement and admitted to deceiving regulators about deadly safety defects that allegedly caused unintended sudden-acceleration incidents.
No individuals were charged in the GM and Toyota probes.
"This might be the perfect case for Department of Justice to come down on the criminal side against individuals and not just the company," said Carl Tobias, a University of Richmond law professor. "Someone had to do the computer programming. Someone had to OK this, and all in what is known as an autocratic, top-down company."
The German automaker admitted installing the software after it was confronted by regulators. In a statement Sunday, VW Chief Executive Martin Winterkorn said, "I personally am deeply sorry that we have broken the trust of our customers and the public."
Winterkorn said the automaker "will cooperate fully with the responsible agencies, with transparency and urgency, to clearly, openly and completely establish all of the facts of this case."
He said VW has also ordered an external investigation into the matter, pledging to "do everything necessary in order to reverse the damage this has caused."
Volkswagen declined to comment on the Times analysis of its revenue from the federal Alternative Motor Vehicle Credit.
Volkswagen shares fell $33.89, or 18.5%, to close Monday at $149.68.
This was the second time Volkswagen has been charged with using devices to evade U.S. emission-control rules.
In 1974, the automaker paid a $120,000 fine to settle EPA charges that it gamed pollution control systems in four models by changing carburetor settings and shutting off an emissions-control system at low temperatures. VW didn't admit guilt but pledged management changes to ensure future compliance with EPA regulations.
This time the monetary damage could be much greater.
The automaker will have to recall all the vehicles and modify the emissions systems at its own expense, regulators said. Additionally it could face a fine of as much as $18 billion, or $37,500 per car. And for now it has suspended sales of thousands of new and used diesel models sitting on dealer lots — cars that are depreciating rapidly while the automaker develops a fix for the emissions system.
The affected diesel models are Jetta (model years 2009-15), Beetle (2009-15), Audi A3 (2009-15), Golf (2009-15) and Passat (2012-15).
Volkswagen also will face civil lawsuits on two fronts, including consumer fraud cases and class-action litigation for what is called a "diminished value" lawsuit. The vehicles are likely to lose some of their resale value because of the problem.
The Volkswagen case breaks new ground for how corporations can make "end runs" around legal requirements, said Ryan Calo, a University of Washington professor and expert in robotics and autonomous systems law and policy.
A company, for example, might learn of an inspection at a construction site and then make sure that workers wear helmets or it might clean a food plant thoroughly before a scheduled review even if it doesn't operate that way all the time.
"But this is encoded," Calo said. "I bet that it happens elsewhere but it is rare we detect it because we typically don't go through the code. There could be many examples in everyday things."
The VW issue demonstrates why regulators need more technical expertise, including a federal robotics commission, he said.
"We need experts in a centralized place whether the issues are drones, driverless cars or things like the VW example," Calo said.
Twitter: @latimesjerry
MORE ON VW'S EMISSIONS CHEATING SCANDAL
VW shares plunge as emissions cheating threatens U.S. sales
VW's 'ugly' emissions cheating scandal will damage diesel technology
VW is a great test of whether DOJ really will put white-collar crooks in jail