15 Images
2008 Geneva Auto Show: Which of these cars would you want in L.A.?
If you could change the (car) world...
Although Switzerland is the cultural equivalent of total neutrality, each year the car world expresses strong opinions about auto debuts of every shape and size in Geneva. Many of these brands will never see the shores of the U.S.A., but it's fun to dream, right? We've plucked some photos from the Geneva Motor Show, so you be the judge -- what if they brought these cars here to L.A.?
Alfa Romeo 8C Spider
This car made a huge hit in Geneva. The price has not yet been announced, but there will only be 500 of them made -- and even that will take two years. The 8C Spider has a 4.7-liter 450-horse power V8. The 20-inch rear wheels are powered by a six-speed paddleshift gearbox.
(Uli Deck/ EPA)
Fiat Abarth 500
Fiat's sporty version of the 500 is made to look more like a 1960s classic Fiat 500. Sport-tuned by Abarth, it has a 1.4-liter, 16v turbocharged gasoline engine providing 135 horsepower.
(Martial Trezzini/ EPA)
Fiat Fiorino
Produced in Turkey, the Fiorino can be fashioned in glass or as a panel van. It's only 12 feet, 6 inches long, but 5 feet, 8 inches high -- a lot of volume for a very small car.
(Sandro Campardo/ Associated Press)
Ford Focus cabriolet
This Ford "cabriolet" will be manufactured in Italy by the famed design house Pininfarina. It comes in regular gas or diesel versions and produces 145 and 136 horsepower, respectively.
(Nicholas Ratzenboeck/ AFP/Getty Images)
Koenigsegg CCX
This Swedish supercar has a 4.8-liter V8 under the hood that produces 888 horsepower, and it has an ethanol-burning sibling called the CCXR that boasts 1,018 horsepower.
(Martial Trezzini/ Associated Press)
KTM X-BOW
European motorcycle manufacturer KTM joined forces with Audi and an Italian engineering team. What resulted was this impressive-looking ATV-on-steroids, available in small, medium and large horsepowers -- 220, 260 and 300. The price will come in right around $50,000.
(Martial Trezzini, Associated Press)
Lancia Delta
The Italian car company Lancia brought its front-drive Delta to the Geneva show available with a 1.4-liter turbocharged I-4 with up to 150 horsepower.
(Sandro Campardo/ EPA)
Peugeot 308 SW
Peugeot is the French manufacturer that applies a large Lion marque on each of its vehicles. The 308 SW is what Europeans call an "estate car" and what we call a "station wagon."
---
FOR THE RECORD:
Peugeot: A previous version of this caption incorrectly referred to Peugeot as a Swiss company. The company is French.
---
(Nicholas Ratzenboeck/ AFP/Getty Images)
Renault Twingo Sport
The Twingo RS from Renault is an affordable, sporty 3-door with a 1.6-liter 16v engine that creates 133 horsepower. Its similarity to the Nissan Versa is no coincidence, since Nissan and Renault have strong business alliances.
(Sandro Campardo/ Associated Press)
Renault Laguna GT
France's Renault featured its Laguna GT in Geneva. It will be available with a 205-horsepower, 2-liter turbo gas engine or a 180-horsepower, 2-liter diesel.
(Fabrice Coffrini/ AFP/Getty Images)
Rinspeed Squba
Though you may have seen a likeness of this car in the 1977 James Bond movie "The Spy Who Loved Me," this is the real, working model. On land, it's an electric car, and when you drive it into the ocean, it floats. How do you get it to submerge? Just open the door a little and down it goes -- up to 10 meters below.
(Uli Deck/ EPA)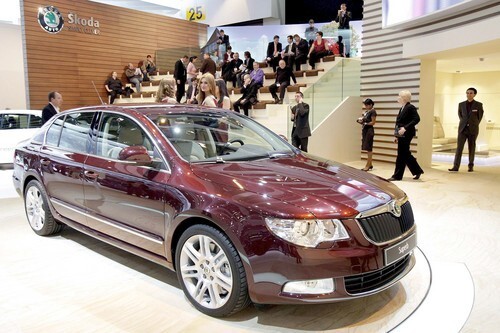 Skoda Superb
Superb has high-tech accessories like adaptive headlights and park assist. There are multiple petrol and diesel engines, and the vehicle is said to be modeled in the image of parent company VW's Passat.
(Martial Trezzini/ EPA)
Techart GTstreet
Based on the Porsche 911 Turbo cabriolet, the GTstreet convertible gets 630 horsepower and a max speed of 345 km/h (that's 214.4 mph).
(Martial Trezzini/ EPA)
Toyota iQ
The tiny, and dare we say cute, new iQ is based on the concept version that Toyota unveiled last year at Frankfurt. It has roots in the Japanese J-Factor. Slim seat-backs and under-seat storage keep the length to 9 feet, 9 inches, and both petrol and diesel engines are available. Toyota expects to move 100,000 units in its first production year.
(Nicholas Ratzenboeck, AFP/Getty Images)
Volkswagen Scirocco
After a complete retooling, VW's Scirocco sports coupe boasts low running costs, a spacious interior and an affordable sticker price.
(Uli Deck/ EPA)