V Star 1300: the kind of ride you could settle down with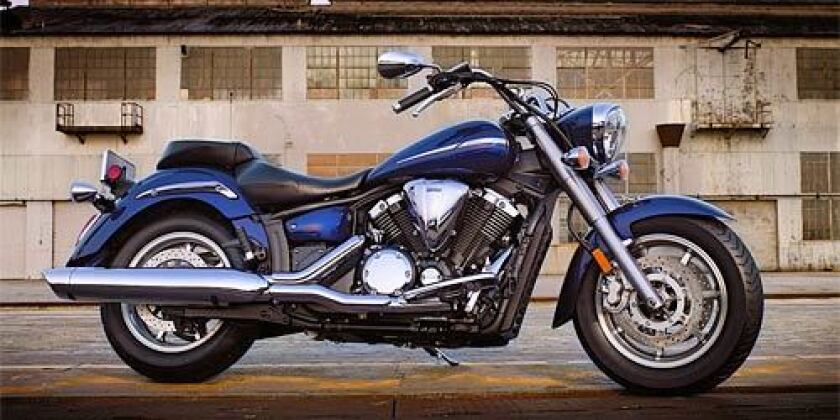 Los Angeles Times Staff Writer
IN the world of cruisers, there are Gingers and there are Mary Anns -- bikes that like to gussy up and make a grand entrance, and more understated models that can leave the house without double dipping the mascara. Star Motorcycles' new 1300 cc V Star is definitely a Mary Ann -- unintimidating, low maintenance and just as happy to grab a burger as dine on filet mignon.
New for 2007, the 1300 is a big step up from its mid-size metric sister, the V Star 1100. Not only is it 241 cc larger, the engine has been updated with fuel injection and liquid cooling to offset the increased power (and heat) from four, rather than two, valves per cylinder. It's also a more compact 60- rather than 75-degree V-twin.
A power cruiser it is not, with its 9.5:1 compression ratio, but there was respectable get-up-and-go when I twisted the grip. I had to use only three of the bike's five gears to match everything but the occasional rogue left-laner on the freeway, though I might have gone up to fourth if the wind hadn't been a vice, prying my knees from the tank at speeds above 70. (I recommend the touring version of the V Star 1300 -- which has a windshield, space for luggage and a backrest for $1,100 more -- for riders who spend more than 15-minute stretches hanging with the big rigs, otherwise it's a losing battle against the wind.)
The 1300 V Star isn't exactly a tugboat, but it does very well at slow to medium speeds. In the canyons, it was equally fun, whether I was Sunday driving around the corners or picking up the pace and grinding the hinged floorboards. Having a 67-inch wheelbase, it cornered a lot better than the cement truck I was expecting. And considering its 624-pound torso, it was also surprisingly easy to balance when the speedo was hovering above zero, though splitting lanes required a bit of handlebar jockeying because the bike is 39 inches wide.
But no worries, unless you're running late. The bike's liquid cooling passed the stuck-in-traffic test with flying colors when I was idling behind a tractor-trailer pileup on the 5. It took me half an hour to go a single mile, but I never felt the heat. Nor did I experience any post-ride ear ringing or numbed fingers at the end of a day on the slab, thanks to a quasi-polite two-into-one catalyzed exhaust and double crankshaft balancers that made it virtually vibration-free.
From the performance and handling, to the price ($10,090), to its elegantly minimalist profile, everything about the V Star 1300 is self-possessed and simple rather than ostentatious and overdone, though outrageous isn't out of the question. Star Motorcycles, manufactured by Yamaha Motor Corp., offers an extensive accessory catalog for riders who want to customize.
Anyone for a pair of ball-milled billet fork cap covers? They're yours for less than half of the proverbial Hundred Dollars: $42.95.
Stock, the bike already has some nice detailing, such as the flared full fenders, bullet turn signals, belt-operated final drive and upper tubes on the fork, which are fat as a granny's ankles. Then there's the headlight, as bulbous as Karl Malden's nose, but way more attractive.
Kind of like Mary Ann.
*
susan.carpenter@latimes.com
*
2007 Star Motorcycles V Star 1300
Base price: $10,090
Powertrain: Liquid-cooled, OHC, four-stroke, V-twin, 4 valves per cylinder, fuel-injected, 5-speed
Displacement: 1,304 cc
Bore and stroke: 100 mm by 83 mm
Seat height: 28.1 inches
Dry weight: 624 pounds
---