5 Images
2007 American IronHorse Slammer
The first time I looked at the 2007 Slammer, it did exactly what it was designed to do: It intimidated.
(Photo by: Luis Sinco LAT)
As much as I like the look of the new Venomous split tank, the end that connects to the seat was so pointy that it kept snagging my pants and eventually ripped a hole. Call me chaste, but I like to remain dressed while riding. -- Susan Carpenter
(Photo by: Luis Sinco LAT)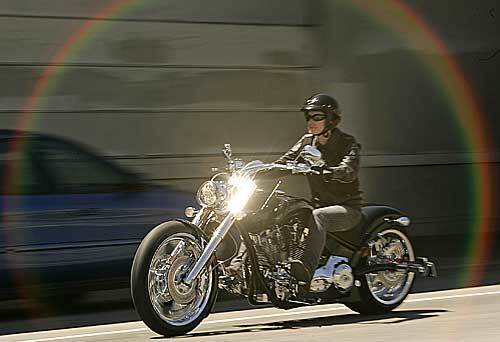 A two-inch stretch of the swing arm, coupled with a four-inch stretch of the top tube, distributes the weight more evenly over the length of the bike. At high speeds and in a straight line, that makes it easier to ride than its sneering specs might suggest.
(Photo by: Luis Sinco LAT)
The new split tank appears to have been hacked into shape with an ax, and the grips, foot pegs, gearshift and rear brake lever have all been sharpened into daggers.
(Photo by: Luis Sinco LAT)
Dressed in black and chrome body armor, it's an outrageous 102 inches long with just four inches of ground clearance -- a dark and brooding sculpture that's equal parts show and go.
(Photo by: Luis Sinco LAT)