Can-Am ventures off beaten with Spyder 3-wheeler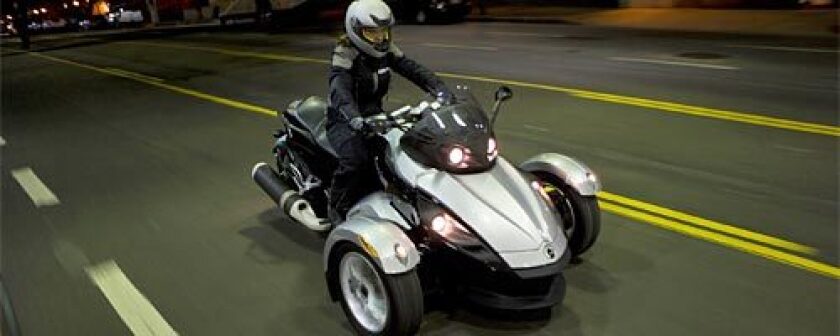 Los Angeles Times Staff Writer
Something strange is happening in the motorcycle world: One new model is sprouting a third wheel.
On Friday, Bombardier Recreational Products Inc., maker of snowmobiles and other power-sport vehicles, will announce its entry into the nation's $9.8-billion motorcycle market with its Can-Am Spyder roadster, which has two wheels in front and one in back.
With the first mass-produced three-wheeler of its kind, the Canadian company is hoping to open a new market segment "between the motorcycle and convertible sport car," BRP Chief Executive Jose Boisjoli said. Its target audience: 35- to 45-year-old men who want the thrill of motorcycling without the risk.
The industry has chalked up unprecedented growth, with 14 straight years of increasing sales. The Motorcycle Industry Council in Irvine reports that 1.12 million motorcycles were sold in the U.S. in 2005, a 5% increase over 2004.
But because of the inherent risks, there may be a limit to how many people want to venture onto two wheels.
The three-wheeled Spyder, with its greater stability, has the potential to open up a new market segment for the industry. Unlike a conventional motorcycle, the BRP bike does not lean, its steering is powered, and the brakes are operated by a single foot pedal.
To reduce the risk of a fall, BRP has equipped the Spyder with four computers operating three stabilization systems: anti-lock brakes, traction control and vehicle stability. In addition to a clutch-operated manual transmission model, an automatic version also will be available.
The Spyder, which has a 900-cubic-centimeter engine, will be registered as a motorcycle but in California can be operated with a regular driver's license rather than a motorcycle license.
BRP is the world's No. 1 manufacturer of snowmobiles, personal watercraft and ultra-light aircraft engines. More than 5,000 dealers in 80 countries offer its products. Last year the company generated $2.5 billion in revenue.
BRP has a reputation for going into niche markets, expanding them and eventually dominating.
In 1989, it entered the personal watercraft market with a sit-down model called the Sea-Doo. At the time, only 5% of the market was sit-down. By 1991, sit-downs had grown to a 90% share. BRP has become the world leader in volume sales.
"We have products for the winter, for the summer, on the water and off road. We needed a product to go on the road to complete our product portfolio," Boisjoli said of the company's entry into the motorcycle category. "The road market is a huge market, and ... we had to attack it."
The $15,000 Spyder will be available for demo rides at consumer events and power-sport dealerships during the spring and summer, but it won't be available to customers until October.
"BRP has a good track record. They've done some things in the personal watercraft and snowmobile parts of the industry that were definitely different, and they did very well with that," said Neil Pascale, editor in chief of Powersports Business magazine.
"But they're getting into a much bigger environment when they go into the on-road scene, so there's a lot of challenges there."
Specifically, Pascale said, the Spyder may not appeal to traditional motorcyclists because it has been built and is being marketed in a way that highlights safety.
"That will definitely draw some people who perhaps don't go on motorcycles," he said, "but I think for the person who has a motorcycle, it has some elements that they may not like as much."
BRP also is dealing with a larger number of heavyweights in the motorcycle industry, Pascale said, referring to "the Harley-Davidsons and Hondas of the world."
But, he noted, "you have more consumers in that category as well."
susan.carpenter@latimes.com
---