Column: Loan to Jared Kushner raises questions about California water project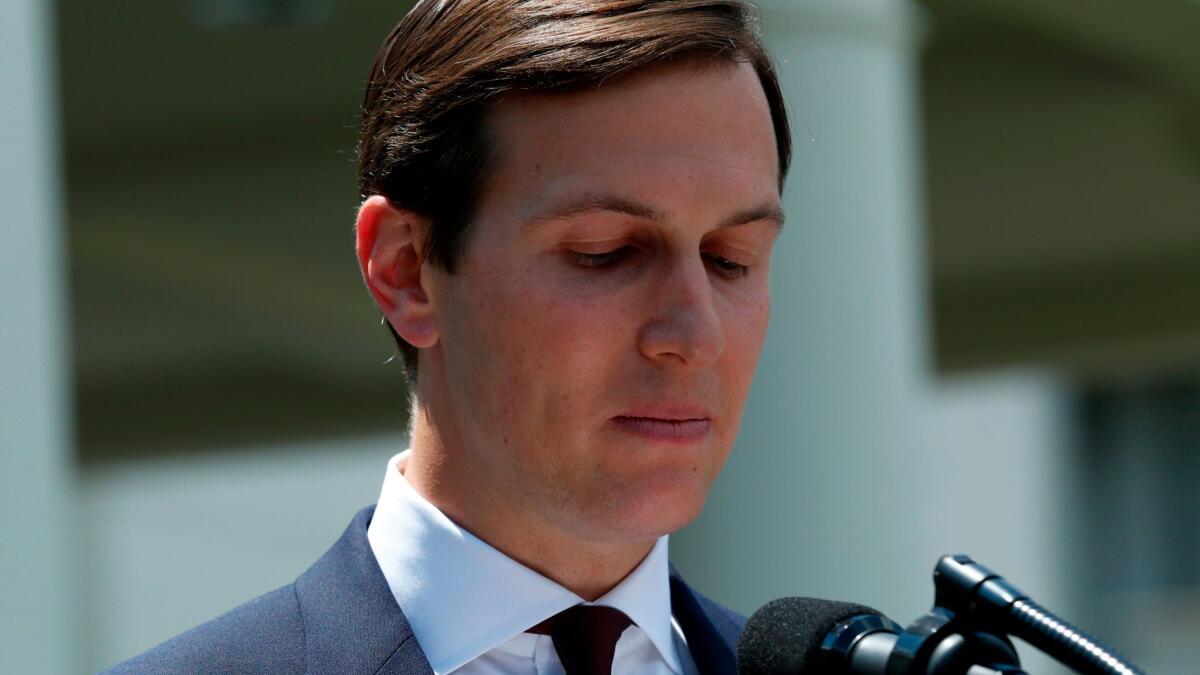 Followers of the ecologically dubious and largely pointless Cadiz water project in the Mojave Desert might have pricked up their ears last week at reports of a possible conflict of interest involving Jared Kushner, President Trump's son-in-law, and the investment firm Apollo Global Management.
That's because Apollo is a sizable investor in Cadiz, which has received favorable regulatory treatment from the Trump administration after years of thumbs-down rulings under the Obama administration and from local and state officials. Apollo and Cadiz announced the $60-million investment, along with a "conditional" $240 million in construction financing, on May 2.
The New York Times reported on Feb. 28 that the Kushner family's real estate firm received a $184-million refinancing loan in November from Apollo after meetings at the White House between Kushner and Joshua Harris, an Apollo founder who was advising the administration on infrastructure policy. ABC News followed with a report that the Securities and Exchange Commission had dropped an inquiry into Apollo after the loan. Spokespersons for Kushner and Apollo denied there was a quid pro quo in either case.
The impact of BLM's determination on the fragile desert environment cannot be overstated.
— Center for Biological Diversity
Apollo and Cadiz say that's true in their case too. "Josh Harris never talked with Jared Kushner about the Cadiz Valley Water Conservation, Recovery & Storage Project," the investment firm told me. "There is no connection whatsoever between Apollo's business with the Kushner Cos. and any government action regarding the Cadiz Valley project." Cadiz spokeswoman Courtney Degener also said that "Apollo had nothing to do with" the Interior Department's regulatory green light for the project.
But the connections between Kushner and Apollo underscore the ethical quagmire of the Trump White House. Because Kushner hasn't divested his business interests despite holding down a key position in the administration, any decision made by Trump's White House that affects Kushner's business partners is automatically suspect. It is unclear what role, if any, Kushner had in moving the Cadiz project forward.
Under Trump, the Interior Department's Bureau of Land Management began signaling a favorable stance on Cadiz even before Apollo's investment. The $250-million Cadiz project appeared, apparently at the behest of building trades unions, on a list of proposed infrastructure projects the Trump transition team circulated prior to the inauguration. And the water project, which would traverse an environmentally sensitive portion of the Mojave and a federal ecological preserve, fits in well with what appears to be Interior Secretary Ryan Zinke's predilection to despoil protected lands coast to coast.
As my colleague Bettina Boxall reported, the BLM said on March 29 it was revoking two Obama-era legal guidances that had blocked Cadiz plans to run a water pipeline along an old railroad right-of-way. But the bureau formalized its decision in two documents issued Sept. 1 and Oct. 13, after Apollo became a Cadiz investor.
Cadiz told me via email that the Trump administration's favorable treatment of its water project results from "support from labor, business and other community organizations … and strong bipartisan concern" about BLM policies. In May, Congress lifted a rider that barred BLM from spending money on Cadiz without federal approval. That was the result of a bipartisan act of legislation, Cadiz said, not "a function of any relationship that might exist between Apollo and Mr. Kushner." That would be more convincing had Apollo not made a business deal with Jared Kushner that theoretically could have prompted Kushner to do Apollo a favor in return.
Kushner's dual loyalties have "opened the door to what may be serious conflicts of interest — and certainly to the appearance of such conflicts," three experts in government ethics wrote Wednesday. That's a problem for anyone doing business with Kushner, too, because favorable outcomes for them can appear to be the product of corruption.
It's proper to examine the chronology of the Trump administration's treatment of the Cadiz project in light of Apollo's involvement. It may be even more important because one of the hallmarks of Cadiz virtually from the moment its water project first bubbled to the surface in the mid-1990s was its political connections.
First there was the friendship between former Gov. Gray Davis and Keith Brackpool, the company's British-born founder. After Davis left office, Brackpool emerged as a buddy of then-Los Angeles Mayor Antonio Villaraigosa — whom Cadiz even employed for a while after he left office. Brackpool also was a friend and employer of Susan P. Kennedy, who subsequently served in the Arnold Schwarzenegger administration as chief of staff, with responsibility for infrastructure policy.
Davis and Villaraigosa exerted pressure on the Metropolitan Water District to approve the Cadiz project, despite profound skepticism about the scheme on the MWD board and staff. The MWD finally rejected the plan in 2002.
Cadiz's political connections reached into the Trump administration before Apollo invested in the company. On April 28, Trump nominated David Bernhardt, a partner in the law firm Brownstein Hyatt Farber Schreck, as deputy secretary of the Interior. Bernhardt was confirmed on July 24. His law firm collected more than $3.1 million in lobbying fees from Cadiz from 2010 through last year, according to the Center for Responsive Politics. Scott Slater, a member of the law firm's executive committee, is CEO of Cadiz.
The basic pitch of the Cadiz water project is that it will store surplus water in an aquifer underlying its 33,000-acre desert property 200 miles east of Los Angeles for use in dry periods. Cadiz also would draw groundwater from the aquifer. For the MWD, which was expected to transport the water in its aqueduct, the project didn't pencil out. In part, this was because Cadiz Inc. didn't appear to have the money to finance its end of what was then an estimated construction budget of $150 million. The company was loaded with debt and had never turned an annual profit. (It still hasn't.)
Environmental studies also raised questions about the impact of the proposal to draw as much as 50,000 acre-feet of water out of the aquifer, which the company said could be recharged from natural precipitation. A U.S. Geological Survey estimate concluded that was as much as 25 times what could be responsibly extracted without risking the aquifer's contamination. The Cadiz estimate, the USGS said, was "not defensible."
After MWD rejected its water scheme, Cadiz worked up a plan to transport water in a 43-mile pipeline using an old railroad right-of-way across the desert. Under Obama, the BLM blocked that plan by ruling that the pipeline didn't qualify as a railroad-related use. Under Trump, the bureau reversed itself. That has drawn a legal challenge from the Center for Biological Diversity, which says in a federal lawsuit filed in February that the pipeline would cross part of the Mojave Trails National Monument that Obama established in 2016 and would have devastating ecological effects.
"The impact of BLM's determination on the fragile desert environment cannot be overstated," the lawsuit says.
Cadiz maintains that the persistent drought in Southern California makes its project especially desirable. That's highly questionable. The drought reduces the likelihood that there will be much surplus water to store beneath the desert. And reduced precipitation makes the drawing-down of groundwater from the desert aquifer more environmentally risky.
Why Apollo would be interested in Cadiz isn't entirely clear. In financial terms, the $60-million loan doesn't appear to be an especially promising investment, though from Apollo's standpoint it's a small one — it's part of a $750-million "special situations" investment fund, which targets long-term infrastructure projects among others. The investment amounts to a bit over 2/100ths of a percent of Apollo's total $250 billion under management.
The loan carries an interest rate of 8%, of which only 2% is to be paid in cash; the rest is a "payment in kind," meaning it gets added to the principal balance as it accrues. So Apollo collects $1.2 million a year in cash interest. The firm also received a $1.2-million up-front fee to make the loan.
Apollo also acquired the right to buy up to 362,500 shares of Cadiz at $14.94 per share. The stock is trading at about $14. For those warrants to generate even $1 million in gains, the shares would have to hit almost $18.
As for the $240 million in "construction financing," that's so conditional that it barely rises to the level of a commitment. Cadiz would have to line up all its government approvals, along with significant commitments from customers for its water, and pass a budget and architectural review — and Apollo still would have the discretion to refuse to make the loan.
Put it all together and this deal resembles what a craps player would call "betting on the come." It's conceivable that lightning might strike and the Cadiz water project will get built, in which case Apollo could collect all the interest deferred on the $60-million loan, record gains on the stock warrants and issue a potentially lucrative construction loan of $240 million. There's a long, long road to travel before any of that could come to fruition. The actions of the Trump administration, however, have shortened that road.
Keep up to date with Michael Hiltzik. Follow @hiltzikm on Twitter, see his Facebook page, or email michael.hiltzik@latimes.com.
Return to Michael Hiltzik's blog.
---
UPDATES:
1:20 p.m.: This post was updated with additional comments from Cadiz. It also clarifies that it remains unclear whether Kushner had any role in moving the Cadiz project forward.
11:19 a.m.: This post has been updated to correct the spelling of Courtney Degener's first name.
This post was originally published at 9:10 a.m.