Column: Desperate to keep its Obamacare exchange open, New York plays hardball with health insurers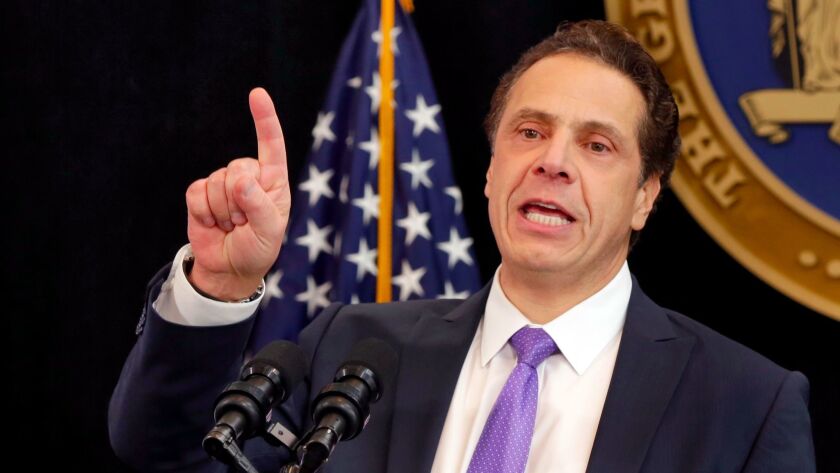 In New York, apparently, they know how to play hardball.
The state's governor, Andrew Cuomo, laid down the law Monday to health insurers thinking about abandoning the state's Affordable Care Act exchanges.
Any that take that step, he announced, will be banned from participating in other state health programs, including Medicaid, Child Health Plus, and the Essential Plan. Those all are programs that commercial insurers manage, generally at a profit. In fact, insurers clamor to service those programs even as they grouse about losses on the Obamacare exchanges.
No matter what happens in Congress, the people of New York will not have to worry about losing access to the quality medical care they need and deserve.
— New York Gov. Andrew Cuomo
Cuomo is using their desire to keep reaping profits from those programs to make sure they don't cherry-pick their way out of the Obamacare market.
"New York is home to one of the most robust health marketplaces in the country," Cuomo said in his announcement, "and insurers who do not comply will lose access to such profitable programs."
One of the enduring mysteries surrounding the withdrawal of insurers from individual exchanges across the nation is why more states haven't taken similar steps.
We advocated just such an approach last year, when it became clear that the very same insurers that were fleeing the ACA exchanges with complaints about financial losses were also making a mint from the ACA's Medicaid expansion, not to mention other government programs that they helped administer — such as Medicaid Managed Care and Medicare Advantage. Charles Gaba of ACASignups and Andrew Sprung pulled on the same thread.
Other than New York, however, only one state appears to have tied participation in public programs to participation in the exchanges. That state is Nevada. As Louise Norris documented at healthinsurance.org, until this year, Nevada required insurers participating in its Medicaid Managed Care program to offer at least one silver and one gold plan on its ACA exchange. That mandate may well have kept Anthem and UnitedHealth in the Nevada exchange.
Starting this year, Nevada somewhat loosened the rule. It expanded the number of insurers it would offer Medicaid contracts to four from two, and removed the flat ban on those without ACA plans. But it substituted a scoring system for applicants for Medicaid contracts in which those offering exchange plans would get extra points. The state said last month that it expected all four Medicaid contractors this year — Anthem, United, Silver Summit and Aetna — to file rate applications for 2018 ACA plans, even though some are planning to withdraw from other states.
New York's public programs have the same features that appeal to insurance companies. Child Health Plus is New York's version of the state-federal Child Health Insurance Program, or CHIP, which covers children in low-income families. The Essential Plan is a federally funded program that provides coverage, in some cases premium-free, for low-income families who earn too much for straight Medicaid.
Because they're free or almost free to users, they tend to enroll a good balance of healthy and no-so-healthy members. Their reimbursement rates to doctors and hospitals are set by the government, generally at levels below Medicare, which also restrains insurers' costs.
New York is taking other steps to defend its residents against the indifference or malice of the Trump White House and the Republican majorities in Congress. It's implementing regulations requiring that insurers in the state continue to cover contraceptive services to members without co-pays or deductibles, Cuomo said, "no matter federal action." That's an allusion to the Trump administration's apparent intention to roll back the ACA's contraception guarantee.
The state will also require all insurers to continue to cover all 10 essential health benefits established under the ACA. Those include hospitalization, outpatient services, maternity benefits and mental health treatment. They could be threatened in other states by the House Republicans' Obamacare repeal measure, which would grant states the right to waive those benefits.
"These aggressive actions," Cuomo said, "will make certain that no matter what happens in Congress, the people of New York will not have to worry about losing access to the quality medical care they need and deserve."
But it's still possible that New York's efforts — and those of other states determined to hold the line against a GOP rollback in Washington, such as California — could be confounded by Congress.
New York's public programs are heavily dependent on federal funding that lies in Republican crosshairs in both the House and Senate. If Congress follows through on a House proposal to cut more than $800 billion out of Medicaid over 10 years, New York could face an annual bill of $2.3 billion. Its Essential Plan, which has 635,000 enrollees, consumes an estimated $3 billion in annual subsidies covered, for now, by the federal government.
The House GOP repeal measure also would prohibit federal ACA subsidies from being applied to insurance plans that cover abortion. That could be an issue for New York and California, which both require all health plans to provide that coverage.
Keep up to date with Michael Hiltzik. Follow @hiltzikm on Twitter, see his Facebook page, or email michael.hiltzik@latimes.com.
---