Column: A San Francisco socialite sues for a share of the Esprit fortune her conservationist father left to charity
Doug Tompkins had very strong views about how the fortune he made from founding the clothing and sporting gear companies Esprit and the North Face should be spent after his death: on the creation and preservation of eight national parks in Chile and Argentina, where he spent the last 20 years of his life.
He also was explicit about where he did not want the money to go: to his daughters, Summer and Quincey, and their children. "I don't think that inheritances are good for the upbringing of children," he told a Chilean interviewer. "That stunts people's development, it does not motivate them to grow, to develop themselves."
Tompkins died in a kayaking accident in Chile in 2015 at the age of 72. And now the push is on to overturn his clearly expressed wishes. The push is coming from Summer, 50, the younger daughter, a wealthy San Francisco socialite who asserts that the laws of Chile, not California, should govern the disposition of the estate —and Chilean law forbids disinheriting a child.
Even if it hadn't been my wedding, I would have been totally blown away.
Summer Tompkins Walker on her lavish nuptials--but what did her conservationist father think?
At stake is a share of an estate that could be worth several hundred million dollars. But in the view of the estate's trustees, including Tompkins' second wife, Kris, the fight is about principle as well as money. Summer, they say, is out to "deliberately imperil her father's philanthropy" only to make herself richer. Summer lost the first round of her battle in Los Angeles state court on Sept. 19, when Judge Lesley C. Green threw out her challenge of the will. But on Oct. 20 she filed to appeal the ruling. The same day she filed suit in Chile to nullify Tompkins' will, setting up a potential international courthouse tangle. In other words, Doug Tompkins' legacy is still up for grabs.
Neither Summer nor her elder sister, Quincey Imhoff, could be reached, and Summer's attorneys declined comment. Quincey isn't a party to Summer's lawsuit, but she may be sitting pretty whatever the outcome — she's listed as an officer of the Foundation for Deep Ecology, one of Doug's conservation charities, the goals of which would be upheld if Summer loses; if Summer wins, Quincey presumably would be in line for a share of the bequest.
The Tompkins will may be embroiled in the complexities of international probate law, but the source of the legacy is simpler. Tompkins and his first wife, Susie — Summer's mother — founded the North Face in 1964 as a catalog shop for outdoors aficionados and climbers. They opened their first retail store in San Francisco's North Beach two years later; according to legend, the Grateful Dead played at the grand opening.
Tompkins sold the North Face in 1968 for $50,000, then he and Susie launched Esprit, an apparel line that appears to have generated the core of the estate. Esprit's sales exceeded $800 million by 1986, but the Tompkinses soon divorced and later had a spat over control of the company. Doug married Kristine McDivitt, a protege of Patagonia founder Yvon Chouinard and later Patagonia's CEO.
In the early 1990s Doug sold off his interests in the North Face and Esprit, Kris retired from Patagonia, and the couple essentially went off the grid. From 1992 on they would devote themselves to conservation in South America. Tompkins acquired some 2 million acres of wilderness in Patagonia and neighboring regions and placed them in the hands of conservation trusts he helped establish. These activities made Tompkins a hero to conservationists and the Chilean government, which "posthumously awarded him honorary citizenship," according to court papers filed by Summer.
That award may not have been such a wise move, as it reinforced Summer's claim that Tompkins' official domicile was Chile. Documents acquired by Summer's team through discovery in the U.S. court outlined Tompkins' disaffection with his native land. He described himself as "not much of a patriot," and inquired about the process of abandoning his U.S. citizenship (the higher tax rates he'd have to pay as a citizen of Chile or Argentina may have stayed his hand). He stated after he left the U.S. that he had no intention of returning. He even sought — and won — a tax rebate from California on income he had earned while out of the country. He didn't exactly set down legal roots in South America, however; although he traveled extensively in Chile and Argentina, he did so on tourist visas.
Tompkins' relationship with Summer was "complicated," as Adam Streisand, a lawyer for Doug's estate, put it. On the surface, Summer seemed intent on living down to her father's expectations. She maintained a lavish lifestyle in San Francisco, possibly financed at least partially by her mother out of her Esprit fortune, and in 1997 married into one of that city's oldest families, the Walkers. Her wedding to Brooks Walker III, an architect, was a major Bay Area society event and was even covered by People magazine, which pegged its cost at as much as $3 million.
Susie, who had married real estate developer Mark Buell and become a prominent Democratic donor, with strong connections to Bill and Hillary Clinton, oversaw the transformation of Treasure Island in San Francisco Bay into "a verdant wonderland," People reported. For the event she covered a parking lot with grass and "dozens of palm, cypress and oak trees, 22,000 linear feet of hedging and a patch of 3,000 white pumpkins." Summer gushed, "Even if it hadn't been my wedding, I would have been totally blown away."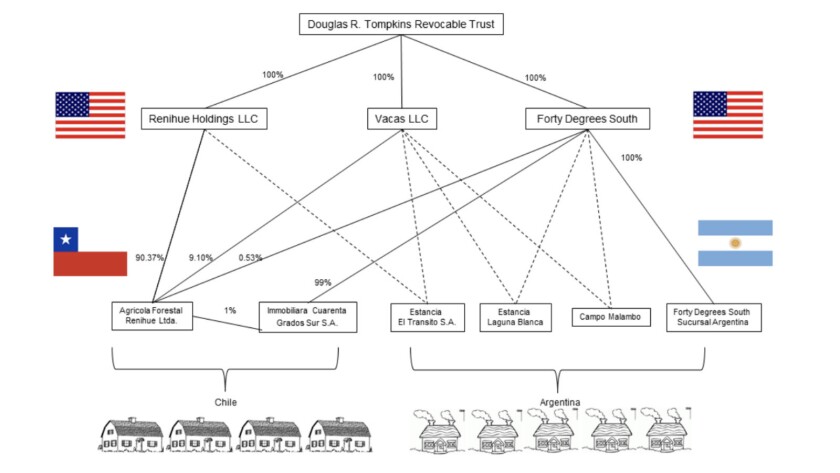 Doug flew in from Chile for the wedding and gave the bride away. But as an avatar of the deep ecology movement and its devotion to preserving the natural living environment, he couldn't have been pleased by the ruthless manhandling of nature on display. Nor would he be pleased, the estate asserts in legal papers, at Summer's obtaining permits to divert water from the Russian River to create a personal pond on her Bay Area ranch, "a fact that really crystallizes the profoundly different values between father and daughter."
Then came Dec. 8, 2015. Tompkins was kayaking on a lake on the Chilean-Argentine border with Chouinard and four other friends when gale force winds overturned his craft. His time in the icy water before rescuers from the Chilean navy arrived subjected him to severe hypothermia, and he died at a local hospital. None of his companions was seriously injured.
Tompkins' will left his fortune to Kris, who was entrusted with fulfilling their joint desire to use 100% of the money for charity, namely the creation of a chain of wilderness preserves in Chile and Argentina. About $200 million was spent on that program during Tompkins' lifetime, and an estimated $100 million remains. The estate was tied up in a complicated trust designed, Summer claims, to thwart Chilean law. He even bragged, according to her legal filings, about "the ever more complex spider's web of organizations and businesses we have managed to arrange!"
In June 2016, Summer filed her petition challenging the will in Los Angeles state court. Why she chose that venue, since her case under Chilean law seemed to be stronger, is a bit of a mystery. Her lawyers decline to comment. But it's possible she hoped to obtain a judgment in the U.S. before seeking redress in Chile for political reasons: The Chilean government has an interest in seeing Tompkins' parks project through, so the courts there might be reluctant to issue a ruling that would throw the project into doubt.
But there seems to be little question that if Chilean law governed, Summer would be entitled to 12.5% of her father's estate (one half of the 25% due the offspring of a decedent) under its "forced heirship" principle. Indeed, under some circumstances Chilean law would even allow her to claw back a portion of the charitable donations Doug made during his lifetime.
Judge Green dismissed Summer's petition on summary judgment, finding that the trust Tompkins established as part of the estate properly designated California law as the governing rule. California law doesn't mandate bequests to children, Green observed, adding that the issues of where Tompkins lived and what he thought about the United States were irrelevant.
The legal battle has created unexpected uncertainties for the charities Tompkins set up to fund conservation programs in South America. Although nothing prevents them from spending the bequest while Summer's lawsuits wind through the U.S. and Chilean court systems, the possibility that she could win the right from Chilean judges to claw back their gifts—along with her father's—places all their philanthropy under a cloud.
What's next? Summer's decision to appeal relegates the case to one of the blackest holes in the American legal system. California appeals courts are notoriously slow; working the case through that labyrinth could easily take more than a year. The case, Streisand says, "basically is in limbo."
Keep up to date with Michael Hiltzik. Follow @hiltzikm on Twitter, see his Facebook page, or email michael.hiltzik@latimes.com.
---