Column: Trump's Carrier jobs triumph looks more like a sham every day
I was taking some time off last week, when Donald Trump announced his big rescue of jobs at a Carrier furnace factory in Indianapolis, so I've needed a few days to catch up.
One thing was clear even on Dec. 1, when Trump made his announcement on the scene, and has become even clearer with every day that passes: This deal is a scam. It isn't saving nearly as many jobs as the 1,100 Trump claimed, it's costing taxpayers a bundle, and it's no template for any job-preservation policy that Trump might consider.
Nothing about this deal challenges the longstanding elite consensus in America that capital is free to move...with workers and their communities left behind.
— Greg LeRoy, Good Jobs First
In the most recent development, Chuck Jones, the president of the Carrier workers' union, told the Washington Post Tuesday about his reaction when Trump failed to disclose something his local already had been told — that the saved jobs numbered not 1,100, but only 730.
"He got up there," Jones said, "and, for whatever reason, lied his ass off."
Get used to it, Mr. Jones.
Carrier's decision to close its Indianapolis plant and move 1,400 jobs to Mexico wasn't much different from thousands of corporate decisions taken every day across the country. What made it special was a recording of the Feb. 10 announcement and the reaction among the thunderstruck workers, which was promptly posted to YouTube and went viral. (The video can be seen below; beware of the occasional profane outburst.)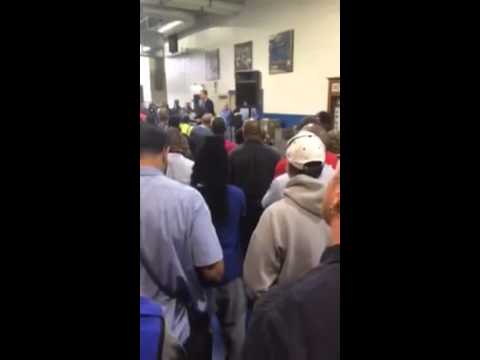 That made the event emblematic of the impact of corporate-suite economic policies on rank-and-file employees, not least because the manager delivering the news seemed put out at the employees' unkind response to what he said was "strictly a business decision" that would "allow us to maintain high levels of product quality [and] competitive prices."
The video provided Trump with an irresistible opportunity to paint Carrier's flight as the product of ineffective Democratic economic policies. Never mind that the job-retention program in Indianapolis was entirely under the control of the Republican statehouse — to wit, Trump's own eventual running mate, Gov. Mike Pence. Trump promised that his administration wouldn't tolerate such corporate behavior — indeed, that companies fleeing the U.S. for Mexico would face punitive consequences.
Things haven't worked out quite that way. To begin with, rather than facing punishment from President Trump, Carrier will garner a $7-million state tax break from Indiana over 10 years to keep 730 jobs in town, with no guarantee the jobs will even last that long. That's a minuscule benefit for a company with a profit of $7.6 billion on sales of $56 billion last year. It's more telling that Carrier's parent, United Technology, gets 10% of its revenue from U.S. government contracts, so it knows it pays to keep on the good side of an incoming president.
Yet for all that, it seems that Trump got rooked by United Technologies. Even though the company is giving in on plans to move 730 jobs to Mexico — at least for now — it's sticking to its plan to move 553 other Carrier union and management jobs south of the border. Nor is UT abandoning plans to shut down a plant manufacturing electronic controls in Huntington, Ind., just 100 miles from the Carrier factory, at the cost of another 700 jobs.
And that still doesn't end the story of the manufacturing exodus from the Indianapolis metro area: Just before election day, Rexnord Corp. said it will shut down a bearings plant in Indianapolis, sending 350 jobs to its plant in Monterrey, Mexico, where Carrier will be a neighbor.
Neither the Huntington nor the Rexnord announcements were accompanied by videos, so they didn't capture the nation's attention — or Trump's or Pence's.
"Nothing about this deal challenges the longstanding elite consensus in America that capital is free to move: offshore, across town or across a state line, with workers and their communities left behind to suffer declining living standards," says Greg LeRoy, the head of Good Jobs First, an organization that tracks corporate subsidies.
Much of the press attention after the Trump announcement focused on the good fortune of the workers whose jobs were saved, but it should be obvious that economic development policy can't be conducted on a case-by-case basis, a few hundred jobs at a time; only political photo-ops can be managed that way, and only for the near term.
At the very least, these "short-term, isolated, and subsidy-driven transactions," as Amy Liu of the Brookings Institution described the Carrier deal, suck up resources that can be better used in other ways, such as making regions broadly attractive to whole industries, not individual firms.
Trump doesn't seem to recognize that one-off tax incentives are mercilessly gamed by manufacturers. His running mate Gov. Pence could school him in the technique, because his administration has been victimized by it over and over again. As the Indianapolis Star reported this summer, since Pence became governor in 2013, his state has shoveled out $24 million in job-retention benefits to companies that shipped 3,800 jobs overseas despite their promises. A common scam was to accept benefits for a single factory, but close others — just as United Technologies is doing. Often these deals resulted in a net outflow of jobs by the employer overall.
Even as a would-be jobs preserver, it appears that Trump may have his eyes on the wrong ball. In his speech at Carrier last week, Trump made a distinction between domestic job transfers and international outsourcing. Companies, he said, "can leave from state to state and they can negotiate good deals with the different states and all of that. But leaving the country is going to be very, very difficult."
But as LeRoy observes, interstate job piracy is incredibly costly to taxpayers and the economy in general. "It appears that the president-elect is endorsing the ruinous, corrosive economic war among the states," observed LeRoy, whose group reported in a 2013 study that local politicians are so fixated on job growth at any cost that "sometimes companies move very short distances within the same metro area and receive eight-figure subsidy packages."
So for the sake of a photo-op and a PR blitz, Trump got two things wrong about job development. By showing himself to be a paper tiger on international job transfers, he gave all employers a template for extracting tax benefits by threatening to move across the border. And he offered carte blanche for firms to play states off against one another in a quest for local incentives. If this is supposed to be a triumph for job-creation policy, the economy will be in trouble.
Keep up to date with Michael Hiltzik. Follow @hiltzikm on Twitter, see his Facebook page, or email michael.hiltzik@latimes.com.
Return to Michael Hiltzik's blog.
MORE FROM HILTZIK
On Obamacare repeal, GOP ideology is colliding with reality
Have hay fever or hives? If Obamacare is repealed, you could be denied health insurance again
The 21st Century Cures Act: A huge handout to the drug industry disguised as a pro-research bounty