A new way to exploit the California drought: immigrant bashing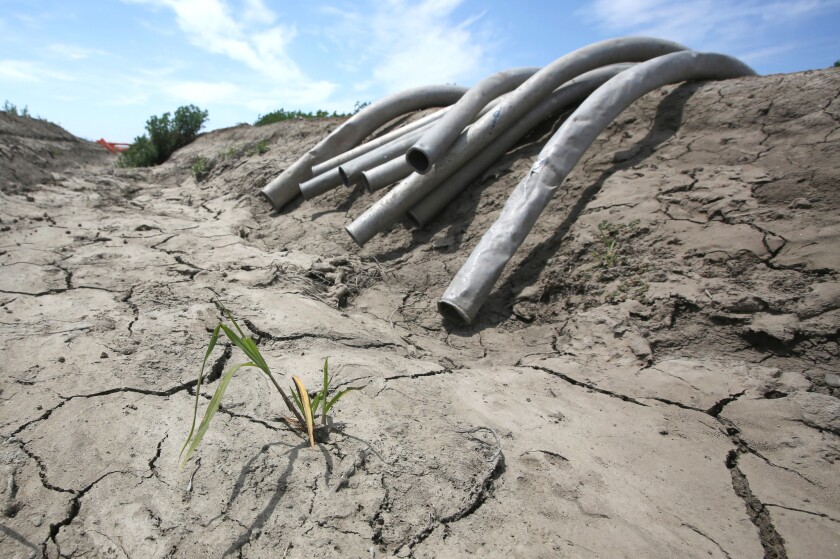 Last year, a study of water rights by scholars at UC Davis and Merced warned that the long-term decline in California's water supply portended a new era of "social conflict."
Anti-immigrant activists seem to have taken that as a challenge. They're meeting it with flying colors.
To hear the people at Californians for Population Stabilization talk, the drought is all about California population growth--specifically, immigrants. "Over a 10-year period, 100% of California population growth is attributable to immigrants and children of immigrants," Jo Wideman, the Santa Barbara group's executive director, told me.
As my colleague Kate Linthicum reported over the weekend, CAPS hopes to exploit the drought to push its anti-immigration platform, which includes "ending the right to citizenship for every child born on U.S. soil and opposing state efforts to give immigrants in the country illegally access to Medicaid."
No knowledgeable person denies that growth--dating to the 1930s--has strained the state's water supply, or that the strain has been exacerbated by the current drought. Pointing the finger at immigrants, however, is an entirely different matter. It's cynical, dishonest and factually incorrect.
That hasn't kept the drumbeat from sounding. Here's Victor Davis Hanson in the National Review: "The state has never had 40 million residents during a drought — well over 10 million more than during the last dry spell in the early 1990s. Much of the growth is due to massive and recent immigration."
The truth is that California has been able to sustain that huge increase in population without a commensurate increase in water consumption--actually, with a decrease in water consumption. In 1990, when the census placed the state's population at 29.8 million, the state's freshwater withdrawals came to 35.1 billion gallons per day, according to the authoritative U.S. Geological Survey. In 2010, with a population of 37.3 million, that state drew 31.1 billion gallons per day.
How did that happen? Chiefly through a sharp reduction in urban per capital water use, which has been falling steadily since the mid-1990s, according to the Public Policy Institute of California, and especially in the populous coastal zone. Statewide, urban per capita use has dropped to an average of 232 gallons per day in 1995 to 178 gallons in 2010 (that was before the current drought began). Stingier toilets and washing machines have much to do with that; smarter outdoor landscaping and watering will allow even further reductions.
More to the point, if you're searching for profligate water users, immigrant communities, which are typically low-income, are the wrong place to look. Figures released last year by the State Water Resources Control Board showed that water use in upscale communities, where homes typically feature broad expanses of overwatered turf, outstripped that of urban low-income municipalities several times over.
In the Rainbow Municipal Water District of San Diego County, where lot sizes average three to four acres, the per capita residential use was more than 584 gallons per day. In Palm Springs, which is served by the Desert Water Agency, residential daily usage was 378 gallons per capita. Even counting tourists and other seasonal residents, the figure was 204.
In the low-income city of Compton, daily residential use was 65 gallons per person. That's lower, by the way, than residential usage in CAPS' hometown of Santa Barbara, where it was 81.
These figures illustrate the narrow-minded folly of attributing the state's water scarcity to immigrants as a group. Class and racial prejudice don't lie far beneath the surface of the policies advocated by Californians for Population Stabilization.
"We think immigration law should be enforced and we should have a right to decide how many people we take in," Wideman told me. She added: "More people use more and more precious resources. Many of these people are unemployed and underemployed. It just doesn't make sense to encourage more. Nothing can grow forever."
Yet as the hard figures show, the number of people in California has less to do with water usage than what they're doing with it. People living in high-density urban tenements trying to make ends meet aren't placing anywhere near as much strain on our "precious resources" as those exurban San Diegans spreading hundreds of gallons a day over four acres of lawn. Keep pretending otherwise, and the chances of finding truly effective paths out of the crisis will be nil. If CAPS really is serious about preserving California's water-hungry way of life, it will stop using the water crisis to create cracks in the social fabric.
Keep up to date with the Economy Hub. Follow @hiltzikm on Twitter, see our Facebook page, or email mhiltzik@latimes.com.
---
Your guide to our clean energy future
Get our Boiling Point newsletter for the latest on the power sector, water wars and more — and what they mean for California.
You may occasionally receive promotional content from the Los Angeles Times.