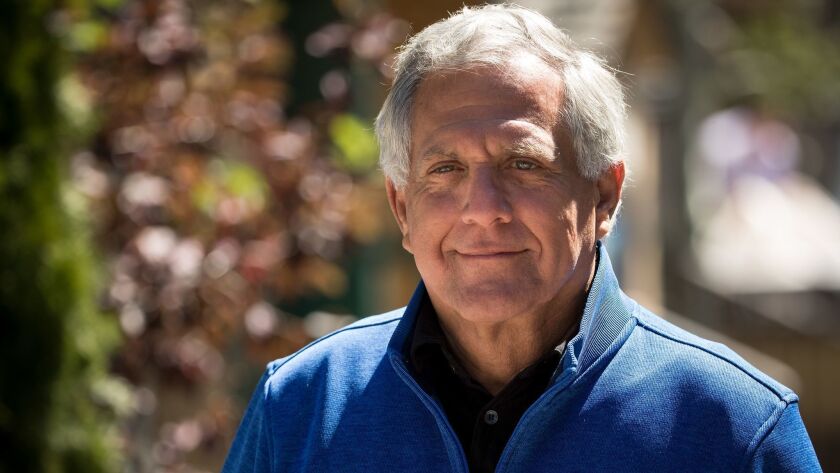 CBS Corp. delivered stronger than expected first-quarter earnings, demonstrating why the broadcasting giant is in no hurry to merge with Viacom Inc.
The television company, which boasts the most-watched television network, CBS, surpassed Wall Street's estimates for its January-through-March quarter with net income of $511 million, or $1.32 per share, compared with a loss of $252 million, or 61 cents, in the year-earlier period.
Analysts surveyed by Thomson Reuters had estimated that CBS would produce earnings of $1.19 a share.
Revenue jumped nearly 13% to $3.8 billion.
"CBS is operating from a position of great strength," CBS Chief Executive Officer Leslie Moonves told investors during a conference call Thursday. "This was an especially outstanding quarter."
The company declined to discuss the behind-the-scenes negotiations to explore a merger with Viacom. Controlling shareholder Shari Redstone wants to merge the companies, which her family controls through their investment vehicle National Amusements Inc.
But CBS executives, led by Moonves, have been cool to the combination, contending that CBS is powerful enough to stand on its own. They also worry that CBS could get bogged down by Viacom's cable television channels, including MTV, Comedy Central, BET and Nickelodeon.
Cable channels are more vulnerable to cord cutting because most consumers still receive the widely available major broadcast networks, including CBS.
CBS' strong numbers come amid a bruising earnings season for pay-TV companies. AT&T, Charter Communications and Comcast Corp. all have reported an acceleration of cord cutting in the first quarter as more consumers ditch their video subscriptions for cheaper online options.
But CBS has only a handful of cable channels, including Showtime, Pop and CBS Sports. Instead, its engine is the CBS broadcast network, its television production studio, which has 65 shows in production, and local television stations. In recent years, the company has been ramping up digital initiatives.
"In an era where others are concerned about cord cutting, CBS is growing its subscribers," Moonves said.
Analysts have been looking for signs of stagnation in advertising, and ad sales at the CBS network were down 1% in the first quarter. CBS reported 8% growth in ad sales, fueled by the addition of Australia's Network Ten, which it acquired in late 2017.
CBS saw gains in retransmission fees paid by cable and satellite-TV companies, higher licensing fees and new subscribers signing up for its CBS- and Showtime-branded digital streaming services.
In its entertainment division, which includes the CBS network and television production, revenue increased 16% to $2.72 billion. Affiliate and subscription fees soared 39%, driven by higher TV station affiliation fees and growth from the company's digital platforms, including the CBS All Access streaming service.
Content licensing and distribution revenues rose 16% due to strong international sales of its recently launched TV series.
"We expect 2018 to be a very good year for advertising — driven by the midterm elections," CBS Chief Financial Officer Joseph Ianniello said.
Shares rose about 2% in after-hours trading after falling during regular trading, when the shares closed down 25 cents to $48.74. CBS released its earnings after the markets closed.
CBS shares have lost 15% this year, in part, because investors have been sour on media stocks and also due to fears that a merger with Viacom would weaken CBS and could lead to management turmoil.
---