CBS and Viacom merger negotiations expected to resume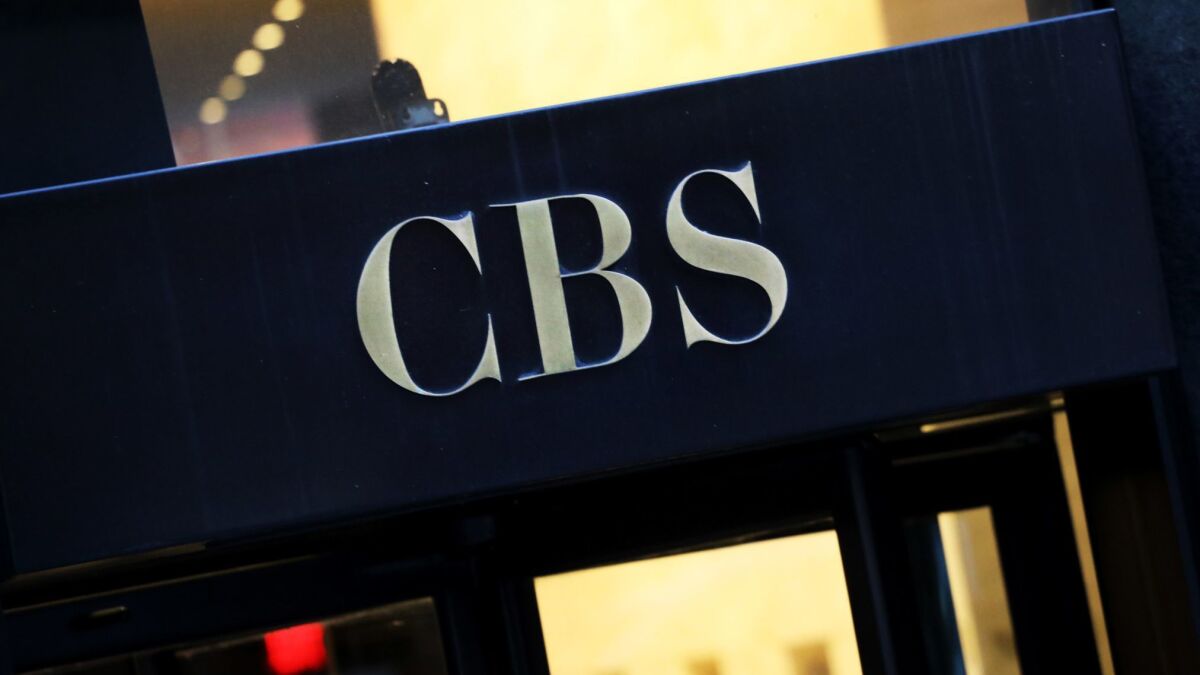 Shares of CBS Corp. and Viacom Inc. jumped Thursday after a report that the two companies were poised to once again explore a reunion, a long-sought goal of the companies' controlling shareholder.
Shares of Viacom rose nearly 4% to $28.72 while shares of CBS climbed 3.2% to $48.20 after business channel CNBC reported that Viacom and CBS were expected to begin merger talks in mid-June or sooner. Both companies are controlled by the Sumner Redstone family's Massachusetts-based investment vehicle, National Amusements Inc.
CBS' board, which met Wednesday, recognizes it needs to take action to fortify the traditional broadcaster for the digital age. Smaller companies like New York-based CBS are under growing pressure to bulk up to compete during a period of rapid consolidation in the television industry as consumers migrate to streaming services.
CNBC also reported that Viacom Chief Executive Robert Bakish would likely run the combined entity.
Bakish is a favorite of Shari Redstone, who has been trying for the last three years to combine the media companies her father broke apart in 2006. The last two attempts ended in failure. In September, Redstone promised she would not try to force a merger until the fall of 2020. However, independent board members are allowed to pursue a merger, and such a move has long been anticipated.
"This is the first time we're truly excited by the thought of a CBS-Viacom combo … and view the risk-reward proposition as compelling for both stocks," Wolfe Research media analyst Marci Ryvicker said in a research note Thursday.
Former CBS Chief Executive Leslie Moonves had been an obstacle to reaching a deal for CBS to buy Viacom, but he was forced to leave the company last fall amid a widening sexual harassment scandal. His ouster was a victory for Redstone, the vice chair of CBS who agitated to modernize the company. Moonves, along with several of CBS' independent board members, fiercely resisted Shari Redstone's efforts last year to merge the two companies.
They worried the steep ratings declines at Viacom channels, including Nickelodeon and the Paramount cable channels, as more consumers cut the cable cord, would diminish CBS' ability to extract top dollar from distributors for its must-have content.
There also was concern that a high valuation for Viacom could saddle CBS with unnecessary debt. In addition, Viacom carries about $8 billion in debt. The figure used to be higher but Viacom has reduced its debt load by about 30% since Bakish took charge of the New York company in late 2016.
Finding an appropriate valuation with Viacom, which has struggled with declining ratings at its television channels and years of huge financial losses at its Paramount Pictures movie studio, remains vexing.
But the landscape has shifted since last year's aborted talks. Viacom's financial outlook has improved after the company struck a long-term distribution deal with AT&T, which owns DirecTV. Paramount Pictures has shown signs of a turnaround and is on track to begin making money.
In addition, CBS' board has been reconstituted with several new members recruited by Redstone. Several older board members — allies of Sumner Redstone and staunch supporters of Moonves -- have retired.
Spokesmen for CBS and Viacom declined to comment Thursday.
Ryvicker, the media analyst, placed the odds of CBS buying Viacom at 85%.
In recent weeks, CBS also has looked at buying the Starz movie channel from Santa Monica film and TV studio Lionsgate to grow CBS' direct-to-consumer streaming services. CBS already owns Showtime, which operates a small streaming service, but Starz has an international footprint. CBS has reportedly offered about $5 billion for Starz.
But a merger with Viacom could be a higher priority because Viacom offers more content, including children's programming, which is vital for streaming services. And both companies are controlled by the Redstone family, which would benefit from a deal.
CBS appears interested in sweeping up smaller companies such as Starz and Viacom to better compete against Netflix, Amazon.com and Walt Disney Co., which acquired much of Rupert Murdoch's 21st Century Fox in March, giving Disney a huge treasure chest of content and TV and movie production capabilities. Last summer, telecommunications giant AT&T bought Time Warner Inc., which owns CNN, HBO, and the Warner Bros. film and TV studio in Burbank.
Media companies, including Disney and AT&T, are looking to bolster their library content to build robust streaming services that can compete with Netflix, which is stocked with thousands of show titles.
Late last year, CBS hired executive search firm Korn Ferry to conduct the CEO search to replaces Moonves. A shortlist of candidates was submitted to the board. But earlier this year, CBS called off its CEO search — a sign that CBS' board recognized it needed to plot its future path before installing a new leader.
CBS' board extended acting CEO Joseph Ianniello's contract through the end of the year, buying some time to pursue its next steps.
Twitter: @MegJamesLAT
---
Inside the business of entertainment
The Wide Shot brings you news, analysis and insights on everything from streaming wars to production — and what it all means for the future.
You may occasionally receive promotional content from the Los Angeles Times.