Cinepolis caters to affluent moviegoers — and filmmakers — with reopened Bay Theatre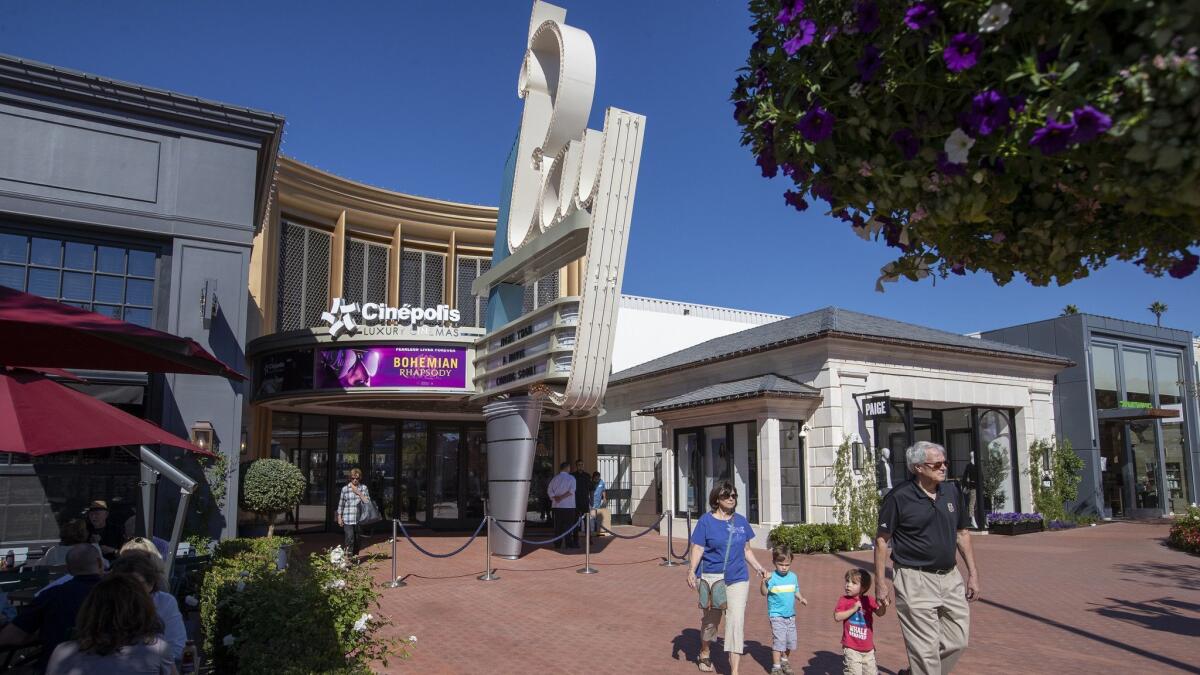 Cocktails, recliner seats and in-theater dining have become fixtures of luxury cinema in Los Angeles' tonier communities.
So, to appeal to wealthy locals and celebrities in the affluent Pacific Palisades neighborhood, Mexican theater chain Cinépolis had to up its game with the revival of the classic Bay Theatre.
The company's new five-screen theater, which will have its official opening Friday, features new coastal-themed menu items, vegan options and an exclusive wine list. And to accommodate famous directors, the company even modified one of its auditoriums to house a rare 35mm film projector that can be used for private screenings.
"For the Pacific Palisades, we started thinking of how can we make this more special," said Luis Olloqui, chief executive of Cinépolis USA, whose headquarters are in Dallas. "We'd been serving the luxury market in U.S. since 2011, so we know what the upscale clientele wants."
Cinépolis' 250-seat luxury theater is the latest example of an ongoing push by cinema owners to create fancier experiences to draw discerning patrons. Theaters have faced long-term attendance declines amid rising competition from streaming and entertainment options in the home.
The high-end services don't come cheap. The latest Cinépolis venue, nestled in L.A. billionaire Rick Caruso's recently opened Palisades Village retail and dining complex, cost more than $10 million to construct, executives said. The theater will charge up to $27 per adult ticket, making it one of the most expensive admissions in the nation.
But analysts say the investment can pay off by encouraging patrons to spend more money on food and drinks that they might otherwise spend at bars and restaurants.
"They're catering to their clientele," said MKM Partners analyst Eric Handler. "You're in the high-rent district there, so a premium theater makes a lot of sense."
Cinépolis' Pacific Palisades movie house is just the latest in a wave of upscale cinema construction. AMC Theatres, the world's largest cinema operator, started retrofitting its auditoriums with recliners years ago. Leawood, Kan.-based AMC opened a dine-in theater serving Marina del Rey in 2012.
Boca Raton-based chain iPic Entertainment has locations in Pasadena and Westwood, featuring gourmet food and waiter service, and Texas-based Cinemark in 2015 opened a high-tech nine-screen multiplex in Playa Vista. Cinépolis, for its part, operates its own luxury theater in another Caruso complex, the Promenade at Westlake.
"People are willing to spend more on a higher-quality experience," Handler added.
Pacific Palisades represents the most recent Southern California expansion for Cinépolis, the world's fourth-largest theater circuit by number of screens. It's the eighth Cinépolis location in Southern California and the 21st in the United States.
The largest of the new venue's auditoriums seats 77 people, while the smallest holds 30. The theater's sand-colored seats, made by a Barcelona-based manufacturer, are twice as expensive as the leather recliners in Cinépolis' other theaters, executives said. The chairs, boasting adjustable headrests and footrests, only appear in two other U.S. venues: the lounges and VIP zones at the Miami Dolphins' Hard Rock Stadium and at the San Francisco 49ers' Levi's Stadium.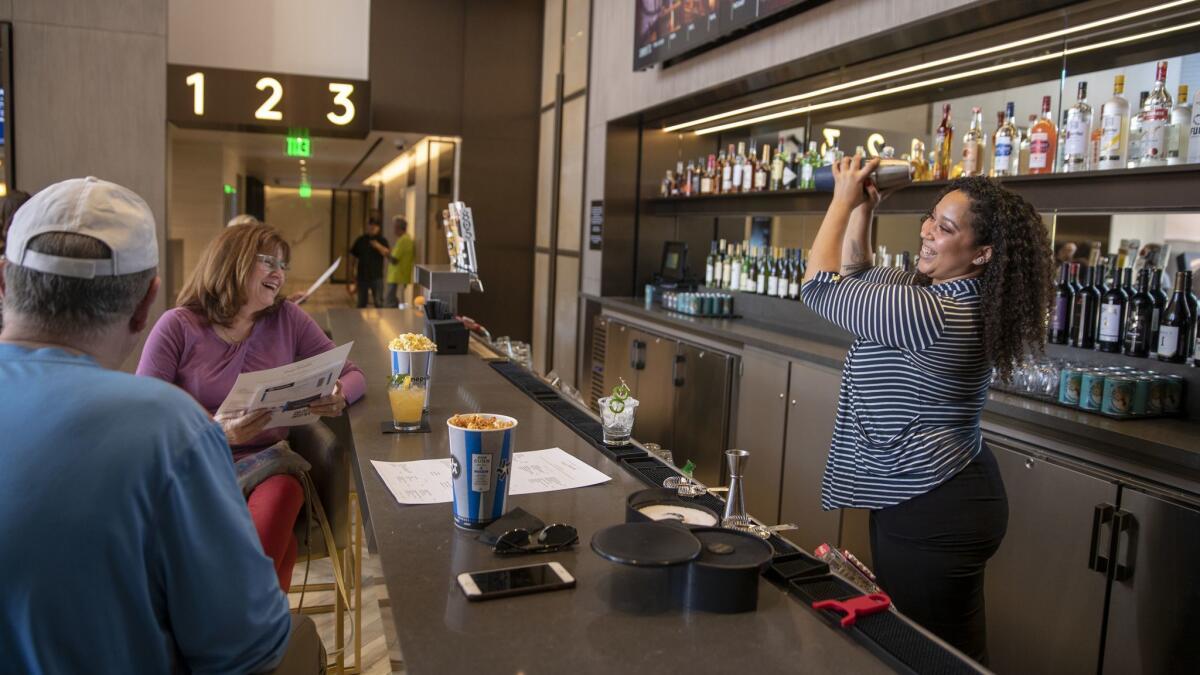 The lobby bar includes cocktails and a craft beer selection. About 30% of the menu items, which patrons can order from their seats, are unique to the Pacific Palisades location, Olloqui said. New dining options include vegan spring rolls with Thai peanut sauce; a kobe beef burger with bacon and sriracha mayo; and a brioche sandwich with sauteed shrimp, blended cheeses and pickled strawberries.
"We wanted to do a little twist to the menu ... and develop dishes that would appeal to the tastes and the lifestyles of the people in the community," he said.
The revived theater serves as an anchor for Palisades Village, the latest development by Caruso, known for retail-restaurant-residential complexes including the Grove in Los Angeles and the Americana at Brand in Glendale. The 125,000-square-foot complex, spanning three acres, features 40 boutique stores, restaurants and cafes, representing a smaller footprint than Caruso's other projects.
Caruso said Cinépolis was the ideal partner to revive the Bay Theatre, which first opened in 1948, but was converted into a hardware store after its demise in 1978.
In the right communities, luxury theaters work. They're obviously responding to a need in the market.
— Rick Caruso
"In the right communities, luxury theaters work," Caruso said. "They're obviously responding to a need in the market."
Amid the modern accoutrements, the theater also imparts a certain amount of nostalgia from a bygone era. Patrons entering the small lobby pass under a large-lettered marquee sign, inspired by architect S. Charles Lee's original design for the Bay Theatre.
The 35mm projector, in particular, is a throwback at a time when cinemas have transitioned almost entirely to digital projection.
The company decided to make the addition after Cinépolis CEO Alejandro Ramirez discussed the possibility with filmmakers earlier this year. Many continue to prefer the look and feel of film to digital technology for their movies, especially when hosting events for industry peers.
The company had to relocate a projector from another theater and create additional space in the projection booth to fit both the large old-style machine and a contemporary digital projector.
The addition of the equipment — the only operating 35mm projector in Cinépolis' circuit — increased costs by $150,000 to $200,000, Olloqui said.
Executives expect the heavy investment will pay off by attracting film buffs and industry types. The company is in talks with major studios to hold screenings there, including events for classic films. Hollywood heavyweights who have homes nearby could potentially use the auditorium as an intimate screening room for their projects.
"Even though the industry has moved forward with technology, there is still some value in doing things differently," Olloqui said. "And sometimes, different means the way it used to be."
Inside the business of entertainment
The Wide Shot brings you news, analysis and insights on everything from streaming wars to production — and what it all means for the future.
You may occasionally receive promotional content from the Los Angeles Times.