CNN drops lawsuit against White House after Jim Acosta's press pass is fully restored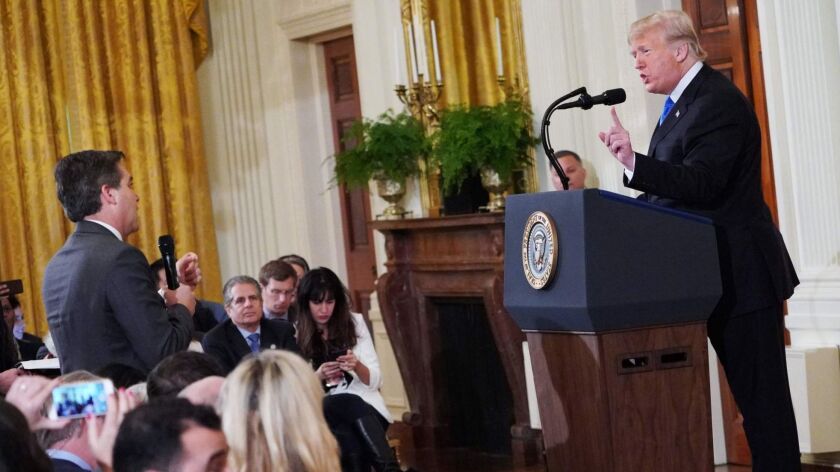 Washington Post
Reporting from WASHINGTON —
CNN dropped its lawsuit against the White House on Monday after officials told the network that they would restore reporter Jim Acosta's press credentials as long as he abides by a series of new rules at presidential news conferences, including asking just one question at a time.
"Today the White House fully restored Jim Acosta's press pass," CNN said in a statement. "As a result, our lawsuit is no longer necessary. We look forward to continuing to cover the White House."
The White House's move to restore Acosta's pass, announced in a letter to the news network, appeared to be a capitulation to CNN in its brief legal fight against the administration. White House officials had suspended Acosta's White House press pass after a contentious news conference Nov. 7, prompting CNN to sue last week to force the administration to return it.
Just three days ago, White House Press Secretary Sarah Huckabee Sanders and Deputy Chief of Staff Bill Shine told Acosta and CNN that they would suspend his press pass again once a temporary restraining order against such an action expired. The 14-day order was issued by a judge Friday and was due to expire at the end of the month.
CNN went to court seeking to block that action, and on Monday the White House seemed to back down.
Sanders and Shine said they had made a "final determination" that Acosta's pass would be restored permanently as long as he followed new rules guiding reporters' conduct at White House news conferences.
In a letter to Acosta, they wrote, "Should you refuse to follow these rules in the future, we will take action" to remove the pass.
Among the rules: Reporters must ask only one question of the president at news conferences, but they can follow up with another if the president consents. A reporter must then "yield the floor," including giving up a microphone. Failure to abide by these rules, the White House letter said, will result in revocation of a journalist's White House pass.
The letter prompted CNN to end its litigation against the White House.
The new rules effectively codify what has already been traditional practice at White House press events. Acosta, however, was banned from the White House after he asked multiple questions of President Trump at the Nov. 7 news conference and briefly tangled with a White House press aide who sought to take a microphone from his hand.
The revocation precipitated a brief but colorful legal crossfire between CNN and the White House over the last 12 days.
CNN first fought back against the White House's "indefinite" suspension of Acosta, winning a temporary restraining order Friday that gave Acosta a reprieve for two weeks.
Then it objected to the White House's fallback position — that it would take the pass away once the temporary restraining order expired. CNN's attorney, Theodore Boutrous, told the court that such an action amounted to "retroactive due process."
He also said that the White House was attempting to impose "vague, unarticulated standards" retroactively in violation of the court's finding on Friday that Acosta wasn't given due process by the White House when it revoked his pass.
CNN had been seeking a preliminary injunction that would prevent the White House from suspending Acosta's pass until its lawsuit was resolved.
The tide seemed to turn in CNN's favor Friday. In a ruling seen as a victory for press freedom, U.S. District Judge Timothy J. Kelly — who was appointed by Trump — ordered the White House to temporarily restore Acosta's press pass while he considers the merits of the case and the possibility of a permanent order.
He said the White House has an obligation to afford due process to Acosta before it can revoke or suspend his access, and found that the White House's decision-making process in this case was "so shrouded in mystery that the government could not tell me ... who made the decision."
Trump said Friday that "we're setting up a certain standard, which is what the court is requesting," but no particular new rules had been publicly issued. On that day, after the court's order was issued, Sanders said the White House would "develop rules and processes to ensure fair and orderly press conferences in the future. There must be decorum at the White House."
Sanders initially said the press-pass suspension was the result of Acosta "placing his hands" on the intern, but the White House later changed its reasoning after Sanders was widely criticized for tweeting a video of the incident that appeared to be altered to make Acosta look more aggressive. Sanders subsequently said Acosta's pass was revoked because Acosta attempted to "monopolize the floor" at the news conference.
In defending the White House's decision, Justice Department lawyers argued that it was not an infringement on the 1st Amendment because the network had other White House reporters who are "more than capable of covering the White House complex on CNN's behalf," and Acosta could still "practice his profession and report on the White House" — just not at the White House.
Kelly found that a reporter's 1st Amendment "liberty interest in a White House press pass" is protected by the 5th Amendment's due-process guarantees. In essence, he faulted the White House for failing to establish rules and procedures for taking the action it took.
In deciding whether barring Acosta amounted to "irreparable harm," a standard for granting temporary restraining orders, Kelly pointed to the case of journalist Robert Sherrill, who fought the White House's denial of his press pass in 1977 and also won the right to due process and a restoration of his pass.
---
Inside the business of entertainment
The Wide Shot brings you news, analysis and insights on everything from streaming wars to production — and what it all means for the future.
You may occasionally receive promotional content from the Los Angeles Times.