Disney-Fox deal fallout: Hollywood braces for big changes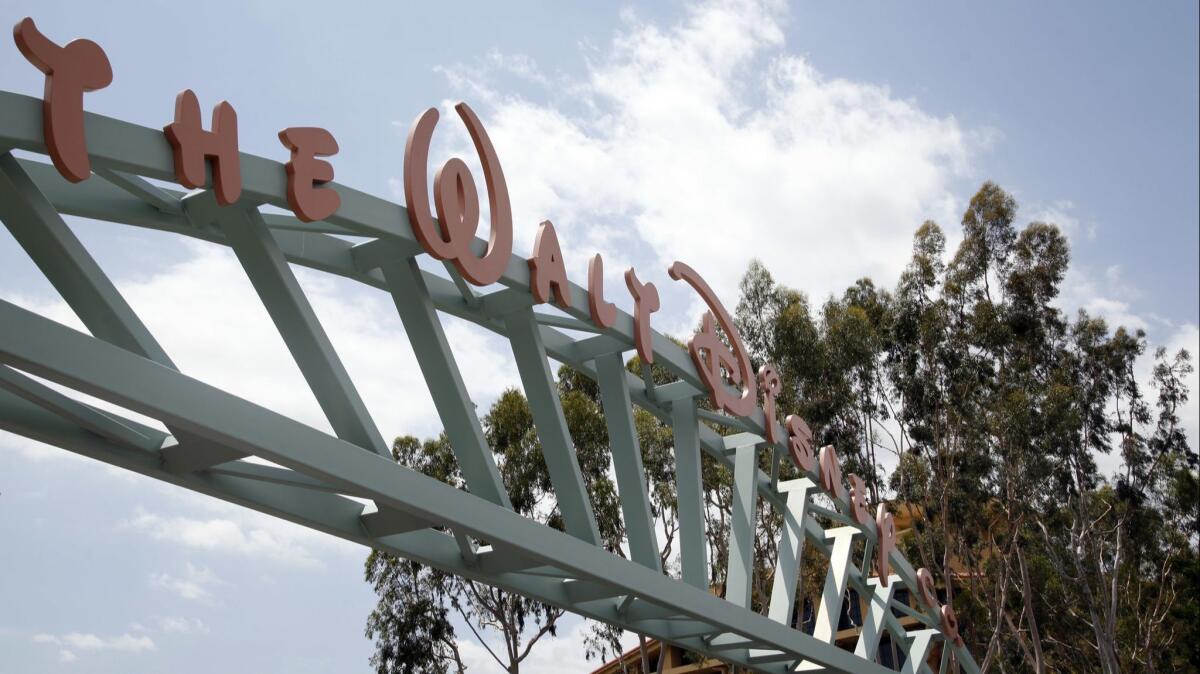 Moments after putting the finishing touches on its landmark $71.3-billion takeover of 21st Century Fox entertainment assets, Walt Disney Co. on Wednesday began the arduous process of combining two massive organizations.
"I wish I could tell you that the hardest part is behind us; that closing the deal was the finish line, rather than just the next milestone," Disney Chief Executive Bob Iger said in an email welcoming Fox employees into Disney. "What lies ahead is the challenging work of uniting our businesses to create a dynamic, global entertainment company with the content, the platforms, and the reach to deliver industry-defining experiences … for generations to come."
FULL COVERAGE: Everything you need to know about the Disney-Fox deal »
Disney's purchase of the Fox assets — a deal that had been in the works for a year and a half — took effect 9 p.m. Tuesday. On Wednesday, a handful of senior Fox executives trekked "over the hill" to Disney's Burbank headquarters to report for their first day of duty. However, hundreds of others remained on Fox's Century City lot. For many, the anticipation of the ownership change quickly melted into dread for their own futures.
More than 3,000 people, mostly at Fox, are expected to be squeezed out as Disney figures out which Fox employees it will bring aboard, according to people familiar with the situation who were not authorized to comment. Many of those jobs are in Los Angeles.
Disney has not disclosed a target for job cuts. However, the company has said that it expects "at least $2 billion in cost synergies by 2021 from operating efficiencies realized through the combination of businesses." The bulk of those efficiencies will come through workforce reductions.
Under the deal, Disney acquired the 20th Century Fox film and television studios, cable channels FX and National Geographic, and a portfolio of international television properties, including Star India. Disney also assumed Fox's 30% ownership interest in Hulu, giving Disney 60% of the streaming service. (Comcast Corp. owns 30% of Hulu; WarnerMedia holds 10%).
Rupert Murdoch and his family held onto Fox News Channel, the Fox broadcast network and Fox Sports, along with the 50-acre studio lot in Century City. The Murdoch family on Tuesday created a slimmed-down company called Fox Corp.
Because Disney is absorbing businesses much like its own, there are hundreds of duplicated positions in the movie and TV studios and cable channels, including in administration, sales and distribution. A small number of layoffs could begin this week, according to two informed people, but most of the cuts will not occur for weeks, or even months, as Disney works to consolidate the Fox businesses.
News of the deal prompted some humorous reactions from celebrities on social media. Actor Ryan Reynolds posted an image of his Deadpool character wearing Mickey Mouse ears. Al Jean, showrunner of the hit animated series "The Simpsons," which will continue to air on Fox, tweeted an image of Homer Simpson strangling Mickey Mouse. "Thank you Fox and welcome Disney!" he wrote.
Disney took on about $36 billion in debt to finance the cash-and-stock transaction, according to analysts. That load ratcheted up Disney's debt to a higher-than-usual level, said Tuna Amobi, media industry analyst at CFRA. "I would expect them to be working to bring down that leverage," he said.
Disney had hoped to reap about $20 billion from the sale of Fox's 22 regional sports channels, including Prime Ticket and Fox Sports West in Los Angeles. However, Disney has scaled back its expectations because a fierce bidding war over the sports channels failed to materialize.
Although Disney initially wanted to keep the regional networks, U.S. antitrust regulators denied that portion of the deal because Disney already owns ESPN. The government has given Disney 90 days to sell the sports channels, which Major League Baseball is interested in buying, according to people familiar with the auction.
Disney shares were virtually unchanged Wednesday, down 1 cent to $109.99. Fox's A shares closed down $1.72, or 4.3%, to $38.62.
Disney investors seem to be sitting on the sidelines until an April 11 investor day, when Iger and other top Disney executives are expected to unveil their strategy to turbocharge the company's internet streaming business. Amobi said that investors, who have been concerned about ESPN subscriber losses, probably are waiting for details on the streaming service Disney+, including its price to consumers, before deciding whether to continue to hold the stock.
"Disney must show that it can overcome concerns about how ESPN will fare with cord-cutting," Amobi said, noting that fears that the U.S. pay-TV market is shrinking has dampened enthusiasm for Disney stock the last three years.
The realities of cord-cutting was one of Iger's motivations to buy Fox. Disney is galvanized to quickly ramp up a streaming business to compete with Netflix Inc., Amazon.com Inc. and Apple Inc. And Disney needed more programming to stock its streaming services. Disney picked up the rights to such lucrative franchises as "Avatar," "Ice Age," "X-Men," "Modern Family" and "The Simpsons" as part of the deal.
"It's almost like an embarrassment of riches how much great content Disney now has," Amobi said. "Disney already was the envy of most of their competitors."
Disney plans to roll out a family-oriented streaming service called Disney+ later this year, joining a suite that includes the nearly year-old ESPN+ product and Hulu.
"We are rapidly transforming our company to take full advantage of evolving consumer trends and emerging technology in order to thrive in this new and exciting time," Iger said.
But he acknowledged disruptions to the business.
"Having been on both sides of numerous acquisitions during my career, I have a deep appreciation for how this one impacts everyone involved, on both a personal and professional level," Iger said in the email to employees. "I understand the challenges, and I ask for your continued patience in the days to come as we combine this collection of great assets to create the world's premier entertainment company."
Twitter: @MegJamesLAT
Inside the business of entertainment
The Wide Shot brings you news, analysis and insights on everything from streaming wars to production — and what it all means for the future.
You may occasionally receive promotional content from the Los Angeles Times.