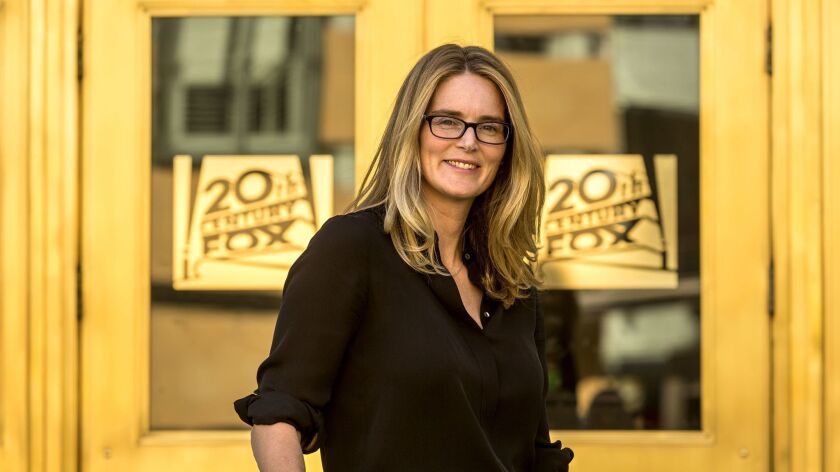 Walt Disney Co. will preserve much of the management team at the Fox film studio as the Burbank entertainment company prepares to absorb 21st Century Fox's entertainment assets into its business.
Disney on Thursday said it would keep multiple top Fox film executives, including longtime production president Emma Watts, in their roles after the acquisition closes. Watts will remain vice chairman and president of production of 20th Century Fox Film after Disney completes its $71.3-billion purchase of Fox properties, including the Century City-based film studio.
However, current 20th Century Fox Chairman and Chief Executive Stacey Snider will step down from the top job when the transaction closes, as long anticipated.
The executive appointments come after Disney confirmed last week it would overhaul leadership of its TV business with incoming Fox executives. Peter Rice, a longtime steward of Rupert Murdoch's TV empire, was named chairman of Walt Disney Television and co-chair of Disney Media Networks. Fox's Dana Walden will oversee the ABC studio and network, reporting to Rice.
The management team for Fox Searchlight, the specialty film label known for Oscar winners such as "The Shape of Water" and "Birdman," will stay intact. Stephen Gilula and Nancy Utley remain in charge of the business as its chairmen.
Elizabeth Gabler will continue to be president of production for Fox 2000, which has produced book adaptations including "Hidden Figures" and "Love, Simon."
The addition of the Fox labels will automatically return Disney to the business of producing live-action movies that get Oscar attention. They should also provide significant fodder for Disney's streaming strategy, especially when the company increases its ownership of Hulu to 60% as part of the Fox deal.
Watts, Utley, Gilula and Gabler all will report to Walt Disney Studios Chairman Alan Horn, who has led a remarkable run at the box office for the studio in recent years.
"The addition of these respected film groups under the umbrella of The Walt Disney Studios will create endless possibilities as we continue to deliver first-rate motion pictures to audiences around the world," Horn said in a statement.
Still, many questions remain about Disney's plans for the decades-old Fox film business, which carries one of the most recognizable brands in Hollywood. Its brassy fanfare and iconic logo has appeared before some of the industry's biggest films, including "Avatar" and "Star Wars," and prestigious movies such as "The Martian."
How Disney CEO Bob Iger and studio chairman Horn will integrate Fox into the company's robust film division has been a source of much speculation in the industry. Fox's movies will have to compete for space with films from Disney's highly successful specialized labels — Pixar, Disney Animation, Marvel Studios and Lucasfilm.
Disney brass has not said how many films Fox's various divisions will release, or what franchises they will continue to oversee. But most insiders believe the so-called "big" Fox studio, long one of the six major American film companies, will be scaled down dramatically, reducing the number of films it puts out.
Fox's blockbuster superhero franchises — "X-Men" and "Deadpool" — are expected to transfer to Marvel Studios President Kevin Feige. Some of Fox's movies, including James Cameron's "Avatar," fit naturally in Disney's kingdom, but the future of the studio's edgier titles remains unclear.
Watts and Horn will share oversight of Fox's animation and family film departments. Andrea Miloro and Robert Baird will serve as co-presidents of animation, while Vanessa Morrison will be president of Fox Family.
Watts was elevated to vice chairman of the studio last year after serving as head of production, playing a key role in reviving franchises such as "Planet of the Apes" and championing such hits as "Gone Girl." She joined Fox as a creative executive in 1997 after a stint working for director Oliver Stone. She became production president in 2007.
Watts was born in England and immigrated to Vancouver, Canada, when she was 5. She moved to the U.S. to study English literature at UCLA. After college, she got her first job as a production assistant at Herb Ritts' photography studio. She is known for having strong relationships with directors, including Matt Reeves of the recent "Planet of the Apes" films. She helped convince David Fincher to make "Gone Girl."
Snider, formerly a top executive at Steven Spielberg's DreamWorks and Universal Pictures, was named chairman of the Fox film studio in 2016. She is widely respected, but with Horn firmly in charge of the overall Disney movie business, she did not have an obvious position at the company. She has not said what she plans to do next.
Twitter: @rfaughnder
---
UPDATES:
3:30 p.m.: This article was updated with additional background on the Fox management team.
This article was originally published at 11:15 a.m.
---