Weinstein Co. board is fighting over possible sale, future of the company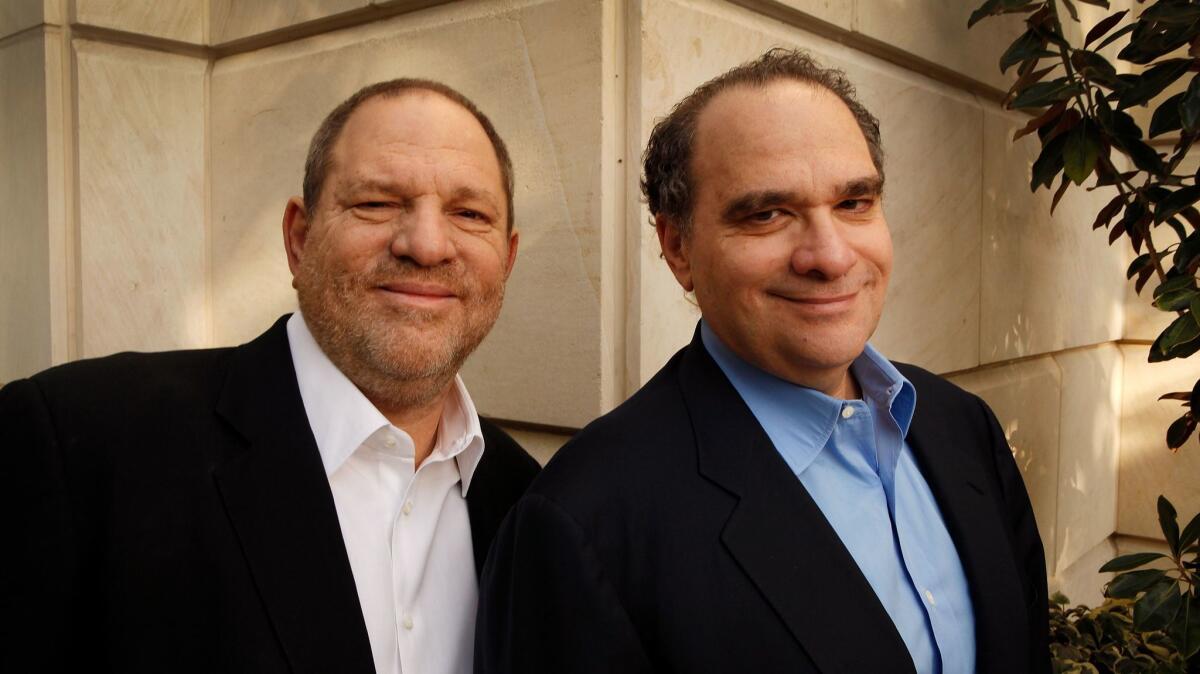 The Weinstein Co. board of directors erupted into turmoil Friday over the future of the company co-founded by disgraced movie producer Harvey Weinstein.
Bob Weinstein, brother of Harvey Weinstein, said the mini-studio they founded in 2005 is not shutting down or for sale despite sexual harassment and assault allegations against his brother that have imperiled the company.
"Our banks, partners and shareholders are fully supportive of our company and it is untrue that the company or board is exploring a sale or shutdown of the company," Weinstein said in an emailed statement.
But Weinstein's statement was immediately contradicted by a high-level person within the studio who was not authorized to comment. "It's just not true," said the person, adding that the only remaining hope for the studio and its backers is to sell it off in pieces, allowing investors and lenders to extract whatever value is left.
Weinstein, now the lone chairman of Weinstein Co., has been trying to save the company after allegations of misconduct against his brother surfaced last week. The business has come under pressure from its lenders to sell as a whole or in pieces, and potential buyers already have begun to circle, the Los Angeles Times reported Thursday.
Already, at least one investor has publicly indicated it wants out.
Investment banking giant Goldman Sachs said Friday it is exploring options for what to do with its small stake in the movie and TV company.
FULL COVERAGE: The Harvey Weinstein scandal
The New York bank helped finance the creation of the Weinstein Co. in 2005 by raising close to $1 billion. The firm's stake is now worth less than $1 million, according to Goldman Sachs spokesman Andrew Williams. He did not say how much of the company Goldman Sachs owns.
"There is no place for the inexcusable behavior that has been reported, and we strongly condemn it," Williams said in a statement regarding the accusations against Harvey Weinstein.
The Weinstein Co. did not respond to a request for comment.
In a departure — and a sign of the widening fissures on the board — fellow remaining board members did not join in signing Bob Weinstein's statement declaring the company would not shutter. Union Bank, which arranged a $400-million credit facility for the Weinstein Co. last year, did not respond to requests for comment.
The development comes barely a week after a report in the New York Times detailed decades of alleged sexual harassment by Harvey Weinstein and multiple settlements with women. Since then, allegations have piled up against the movie mogul from women, including Angelina Jolie and Gwyneth Paltrow. The New Yorker reported this week that Weinstein raped three women. Weinstein has denied the allegations he assaulted women.
The Weinstein Co. has been trying to untangle itself from its co-founder since he was fired from the board Sunday. The company wants to make a clean break with Weinstein by getting him to sell back his 23% stake in the firm, according to people familiar with the situation who were not authorized to comment. Tensions between Weinstein and the board and his brother have prevented that from happening, one knowledgeable person said.
Though the company is in tatters, there are some valuable assets that could be saved through a sale, insiders say. The studio's television division has been relatively successful with shows including "Project Runway."
Goldman Sachs and an insurance company acquired more than 200 titles from the Weinstein Co.'s film library in 2010 as part of a debt restructuring that followed a string of flops. AMC Networks later acquired the bank's stake in the Weinstein Co. library.
The Financial Times first reported that the bank was considering selling its stake.
Amid the widening scandal, Apple has already dropped a planned Elvis series by the Weinstein Co., and Amazon.com on Friday severed its ties with the embattled firm for two upcoming projects. Hachette Book Group, one of the country's top publishers, also said Thursday that it has "terminated" its deal with Weinstein Books.
Twitter: @rfaughnder
ALSO:
Minka Kelly, latest Weinstein accuser, apologizes for 'obliging his orders to be complicit'
The fallout: How the Harvey Weinstein scandal exposed sexual harassment as Hollywood's dirty secret
In Hollywood, what should've been scandal was long met with a shrug. A new outcry has changed that
---
UPDATES:
6:50 p.m.: This article was updated to reflect that Amazon severed its ties with the Weinstein Co. for two upcoming projects.
2 p.m.: This article was updated with additional information about turmoil within the Weinstein Co.
1 p.m.: This article was updated to include a statement from Bob Weinstein.
This article was originally published at 10:55 a.m.
Inside the business of entertainment
The Wide Shot brings you news, analysis and insights on everything from streaming wars to production — and what it all means for the future.
You may occasionally receive promotional content from the Los Angeles Times.