Talent manager Marv Dauer defends his role in dealings with ex-CBS boss Leslie Moonves
Marv Dauer hunkered down in the 19th Hole Restaurant at MountainGate Country Club at the base of the Santa Monica Mountains. The coffee shop offers sweeping views of the Sepulveda Pass, the 405 Freeway and the San Fernando Valley. But on this chilly afternoon, all the longtime Hollywood talent manager sees is his misery.
Forty-eight hours earlier, the New York Times had published a report that showed how Dauer had pressed former CBS chief Leslie Moonves for jobs for clients while also helping the TV titan keep a lid on an allegation of sexual assault. The story included email and text exchanges between the two men that cast Dauer in a poor light: as a caricature of a shady manager at best, and a blackmailer at worst.
Now, Dauer sips water and picks at his blueberry muffin, which is crumbling — much like his career.
His clients have been dropping him, leaving him stunned, dejected and confused; even as he explained this, he looked at his phone, opened an email and gasped: A promising new client had sent a lengthy message, saying she was grateful for Dauer's efforts to champion her career, but her parents wanted her to find another manager.
"She was my new little star," Dauer said sadly, lamenting that "I would have liked to have done something wrong to be in this much trouble."
After such publicity, some people would go into hiding; Dauer sits at a table in the middle of the coffee shop and he can barely contain himself, complaining loudly to the duffers who stop by his table. One acquaintance shakes his head and offers his condolences. Dauer says he can't believe that he was portrayed as a "scumbag."
Another talent manager, who just finished a round of golf, tells Dauer the article wasn't so bad.
"Back in the '90s, it was different. And we're not the ethics police," his friend says. "It's our job to get something for our clients."
Dauer nods his head. The 75-year-old talent manager says the pivotal role he played in the downfall of Moonves — who was fired in September amid a widening sexual harassment scandal — came as a surprise. And so did the withering response to the New York Times story last week.
"That's all I was trying to do," he says. "I was trying to help."
First and foremost, Dauer says, he was trying to help Bobbie Phillips, who had been Dauer's client for more than 20 years.
In the mid-1990s, Phillips had a solid acting career. She appeared in the 1995 Steven Bochco series "Murder One." TV Guide included her in its "10 Hottest Faces of '95" list, according to her IMDB filmography. But Phillips left Hollywood in 2003, though still landing small roles periodically. (She declined to participate in this story.)
As the New York Times reported, she began contemplating a return to acting about two years ago, and Dauer was eager to choreograph her comeback. Years ago, she had told him that she had had a bad experience with Moonves in 1995 when he was running Warner Bros. television. (A spokesman for the former CBS chief said: "Mr. Moonves vehemently denies having any nonconsensual relations.")
A year ago, even with the groundswell of #MeToo, Phillips had no interest in reliving the experience.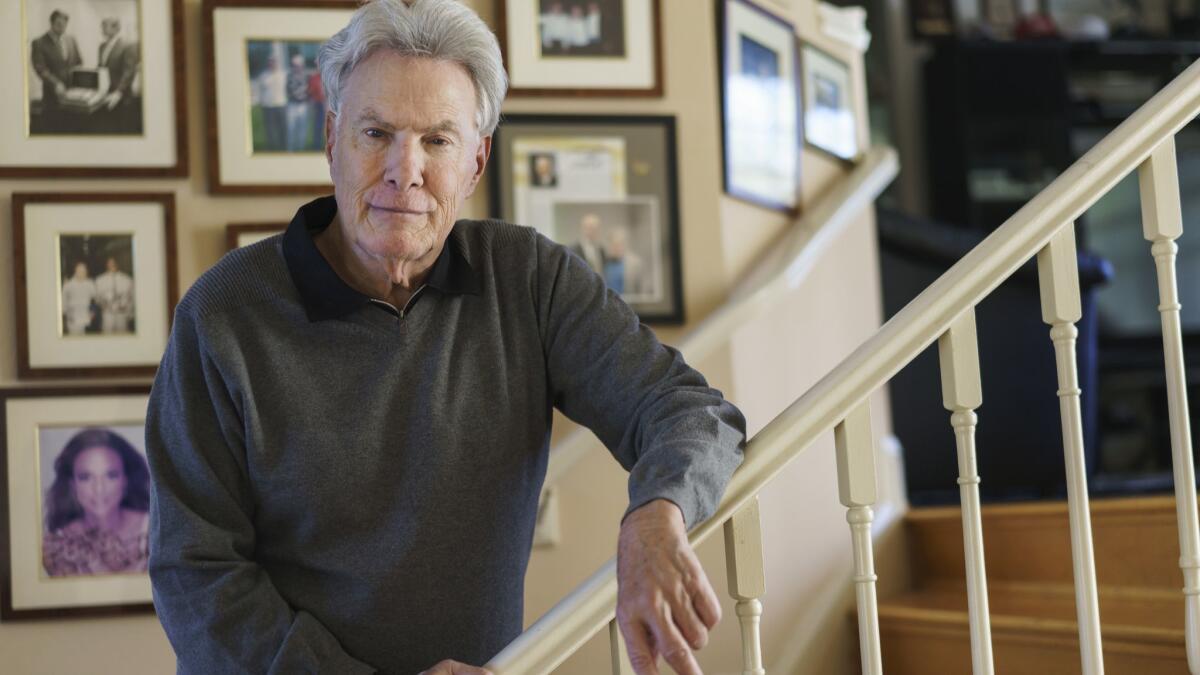 When a reporter with the entertainment industry website Deadline contacted Phillips and asked her to share her experiences with Moonves, Phillips decided to remain silent. Soon, a New York Times reporter began calling Phillips — and Dauer.
But even as he was trying to protect Phillips, Dauer says, he also wanted to help Moonves. "I wouldn't talk to them," Dauer said of the reporters. "Moonves was a friend. … Or at least he was a friend until this happened."
Last December, Dauer consulted his friend Sam Strangis, who has known Moonves for more than 40 years. Strangis, 89, said it was his idea to alert the CBS chief executive that the media were circling. "I said: 'We should let Leslie know that there's trouble out there,'" Strangis said in an interview.
On Dec. 4, 2017, Dauer sent Moonves a cryptic email: "Leslie—its [sic] very important you call me." Within hours, the two began occasional communication via text and phone.
Dauer texted Moonves on Dec. 8: "My goal is to keep you safe from these vultures." Moonves wrote back: "The good guys stand up for each other. I appreciate it."
Dauer does not believe he did anything wrong. A review of the text messages shows that Dauer turned on the charm to impress CBS' former head, repeatedly inviting Moonves and his wife, television personality Julie Chen, to be his special guests at his 75th birthday party in April. Dauer says he was genuinely happy to have such a powerful friend. In one text message, Dauer joked about actors pestering Moonves for roles on CBS shows, saying: "That's my job. LOL." Moonves wrote back: "I am used to it. And you can always ask me."
Dauer acknowledges that he tried to arrange roles on CBS shows for clients, including Phillips, but he says there was no extortion, no blackmail attempt. He added that it was Moonves who initially suggested that CBS find a role for Phillips to try to keep her happy.
Mr. Dauer's attempts to manipulate Mr. Moonves speak for themselves.
— Moonves' representative
That point is in dispute. "Mr. Dauer's attempts to manipulate Mr. Moonves speak for themselves," Moonves' representative said.
In July, Phillips was offered a guest role in "Blood & Treasure," an upcoming CBS drama. But it was just a single episode for which she would be paid $1,500, and the role wasn't what Phillips, or Dauer, had hoped for.
Dauer wanted to assist Phillips, and Moonves, but he also wanted to help himself: Reviving Phillips' acting career could have turbocharged the now one-man Los Angeles firm that Dauer launched in 1984.
His communications with Moonves ceased "when Bobbie didn't take the job," Dauer said.
Then, on July 27, the New Yorker published an article in which several women said they had fought off Moonves' advances in the '80s and '90s. (Moonves has repeatedly said all the encounters were consensual.)
Phillips hired a high-powered Century City law firm and her attorney, Eric George, reached out to CBS to try to negotiate a settlement. (George declined to comment on his dealings with CBS.)
The CBS board hired two New York law firms to investigate. More allegations surfaced; the board fired Moonves and the investigators asked Dauer for his correspondence with Moonves.
It wasn't until the end of October that Dauer agreed. Shortly after the text messages were sent, via email, to the two lawyers investigating the matter, the New York Times had them, too.
Dauer says he wasn't the one who turned them over to the New York paper.
Marv Dauer has been in Los Angeles for 52 years and it shows. There's a trace of his native Minnesota in his voice — he answers the phone, "Hi, it's Marv Dauer" with a Midwestern upswing — but his interests are deeply Hollywood. The walls of his Brentwood home are plastered with framed jerseys worn by sports stars — Wayne Gretzky, Pete Rose and Michael Jordan — as well as photos of movie stars, including Jeremy Renner and Bryan Cranston. He arrived in 1966 and spent 18 years selling computers to stockbrokers before opening his talent management firm in 1984. His clients were never A-list — at his height, his roster was full of soap stars — but for many years he had a successful business.
Now Dauer is just struggling to contain the damage.
He frets that he has been unfairly portrayed as "a sleaze-ball." After the story appeared, clients began dropping him, friends went AWOL. Several were no-shows for a long-planned excursion Saturday night to the El Portal Theatre in North Hollywood, where two Elvis impersonators took turns re-creating the King's December "'68 Comeback Special."
Dauer invited a Times reporter along. At the theater, he entertained those friends who had shown up, telling them about the Moonves debacle. Off to the side, one of his buddies quietly read the New York Times story on his phone.
"This whole thing has gone sideways," Strangis said in the phone interview. "Leslie was a friend. He was a player in the '90s, but that was a different time. He's been a different man since he married what's her face [Chen]."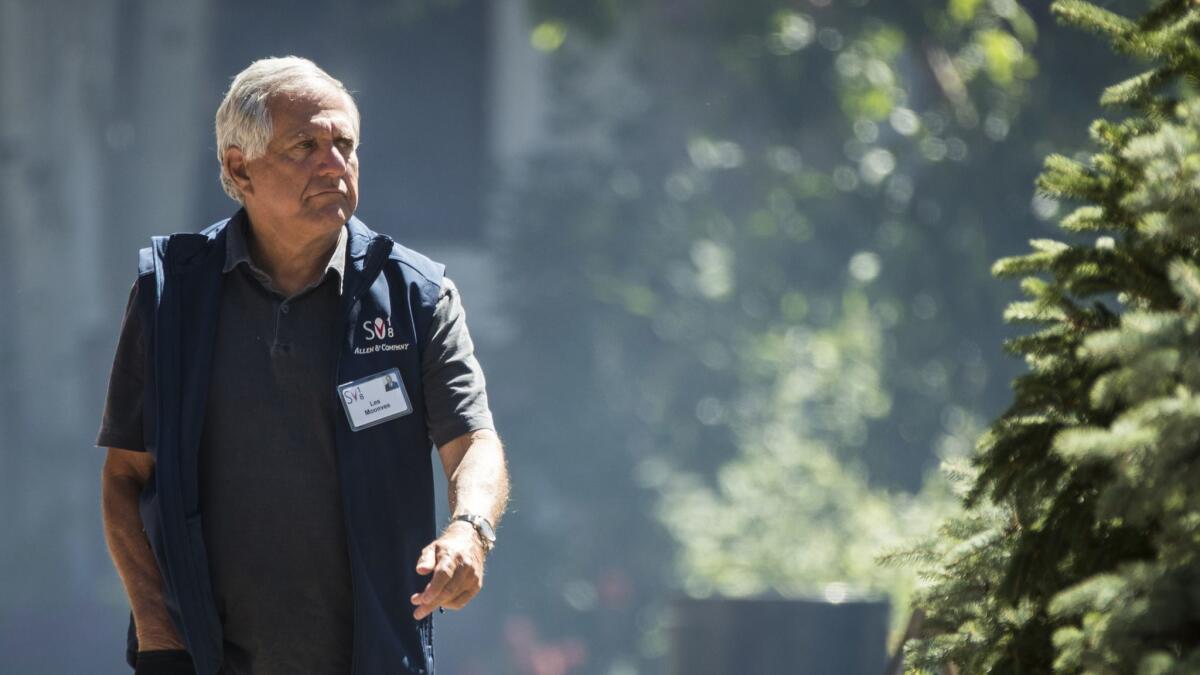 Dayna Hester, a longtime friend who had arranged the April party, says that Dauer might have been "naive" in his dealings with Moonves as well as the new realities of doing business in the #MeToo era, but she doesn't believe Dauer's motives were nefarious.
"He's not manipulative like that. I just think it was just Marv being Marv, trying to find work for his clients," Hester said. "He's been doing that for 30 years."
Not everyone feels the same.
Actress Eva LaRue has been Dauer's client for 33 years but after a heated text-message argument over how Dauer handled the Moonves affair, the two parted ways. Her publicist, Anthony Turk, said of the dispute: "They've been together for so many years but every relationship has a beginning, middle and end."
Someone recently sent Dauer a link to a website that follows soap operas. An article on the site rehashed the controversy and described one of Dauer's clients as "a D-list actor." Dauer groaned.
"This is a nightmare," Dauer said. "Maybe I should just close my doors because I'm running out of clients."
One of the few who didn't technically fire Dauer was Phillips, the actress who has alleged that Moonves assaulted her. Her attorney, George, said the ordeal prompted Phillips to retreat from Hollywood once again.
"I don't doubt that Mr. Dauer is among the many casualties of Leslie Moonves' misconduct," George said. "Over many years, he ably represented Ms. Phillips."
But now, Phillips is gone, too. "Mr. Dauer," George said, "has no doubt lost an important client."
Twitter: @MegJamesLAT
Inside the business of entertainment
The Wide Shot brings you news, analysis and insights on everything from streaming wars to production — and what it all means for the future.
You may occasionally receive promotional content from the Los Angeles Times.