George Cheeks and Paul Telegdy are named co-chairmen of NBC Entertainment; Bob Greenblatt immediately departs
Two veteran NBC executives — George Cheeks and Paul Telegdy — were named co-chairmen of NBC Entertainment on Monday, replacing Bob Greenblatt at a time of upheaval in network television.
Greenblatt, who has been NBC's top programmer for nearly eight years, approached his boss, NBCUniversal Chief Executive Steve Burke, about two weeks ago and said he was ready to leave after accomplishing his goal of turning around the network. The two finalized Greenblatt's exit over the weekend, and Burke swiftly installed new leadership at the Los Angeles unit, which includes the NBC network and Universal Television production studio.
"These are extremely challenging jobs, and there is a natural fatigue that sets in," Burke said in an interview with The Times. "If you are not 100% ready for the challenge, then it is time to think about doing something else."
NBC's changing of the guard comes on the first day of the new TV season and as management of all four major TV networks is in flux. Ben Sherwood will step down as Disney/ABC Television Group president as soon as Walt Disney Co. completes its $71.3-billion acquisition of much of 21st Century Fox, according to two people familiar with the situation. Disney plans to officially announce that it is bringing over two Fox executives, Peter Rice and Dana Walden, to run ABC's television unit, which will leave a gap at Fox.
And, this month, there was a shake-up at CBS Corp. when Leslie Moonves was forced to step down as chief executive amid a sexual harassment scandal.
The broadcast business is vexed by declining ratings and increased competition for viewers' attention from video streaming services. Netflix, Amazon.com and other deep-pocketed rivals have been assembling an arsenal of shows and wooing A-list show runners with lucrative contracts and promises of creative freedom without the pressure of having to produce giant ratings.
During Greenblatt's tenure, NBC returned to prosperity atop the ratings after languishing for years as the fourth-placed network. NBC launched such hits as "This Is Us," "The Voice," "Will & Grace," "The Good Place," "The Blacklist" and Dick Wolf's Chicago-themed drama franchise. The network wrapped up the 2017-18 television season in first place in key audience measures — the first time in nearly two decades that NBC had notched such a milestone.
"I cannot thank Bob enough for the incredible success that NBC has achieved over the last eight years. He has been the architect of one of the largest turnarounds in network television history," Burke wrote Monday in an email to employees to announce the changes.
Neither Cheeks nor Telegdy are household names, but they are familiar to Hollywood's talent agents and television producers as well as NBC's nearly 850-person workforce.
"We are fortunate to have two extremely talented, capable and complementary executives inside our organization who are ready to step up and help guide us into the future," Burke wrote in his email. "Having worked closely with George and Paul for years, I'm very confident that their creative instincts, talent relationships and business skills make them the perfect partners for the job."
One of the biggest legacies that Bob leaves is the strength of his team. We think the two of them will make a great partnership.
— NBCUniversal Chief Executive Steve Burke
Burke, in the interview, said he was grateful to Greenblatt for building a formidable team.
"One of the biggest legacies that Bob leaves is the strength of his team," Burke said. "We think the two of them will make a great partnership."
There have been several notable partnerships in the entertainment world, including that of Fox's Walden and Gary Newman. Those executives have worked together for about 20 years and currently are chief executives of the Fox Television Group, in charge of the broadcast network and TV studio.
Cheeks and Telegdy, who have worked together for years as top lieutenants to Greenblatt, will share the responsibilities of the NBC Entertainment job, which includes overseeing prime-time entertainment, late-night programming, daytime shows, television production, scheduling, marketing and research on the West Coast.
Telegdy, 47, has been one of NBC's top programmers since 2008, and until Monday, he was president of the alternative and reality television group. He has been responsible for NBC's unscripted series and specials, including "America's Got Talent," "World of Dance" and "American Ninja Warrior."
But it was "The Voice," the remake of a popular show from the Netherlands, that gave Telegdy his cred at NBC. The show has been one of the network's top performers since its debut in 2011.
"That was the first building block of the turnaround of NBC, and it was all Paul and his team," Burke said.
Telegdy, a native of Britain, is the son of a Hungarian political refugee who became a chemical engineer and a former British actress turned teacher. He began his career in television by selling shows overseas, then joined the British Broadcasting Corp. in programming. In 2004, he moved to Los Angeles to help the BBC expand its business in the U.S. and quickly sold "Extras," a show starring British comic Ricky Gervais, to HBO.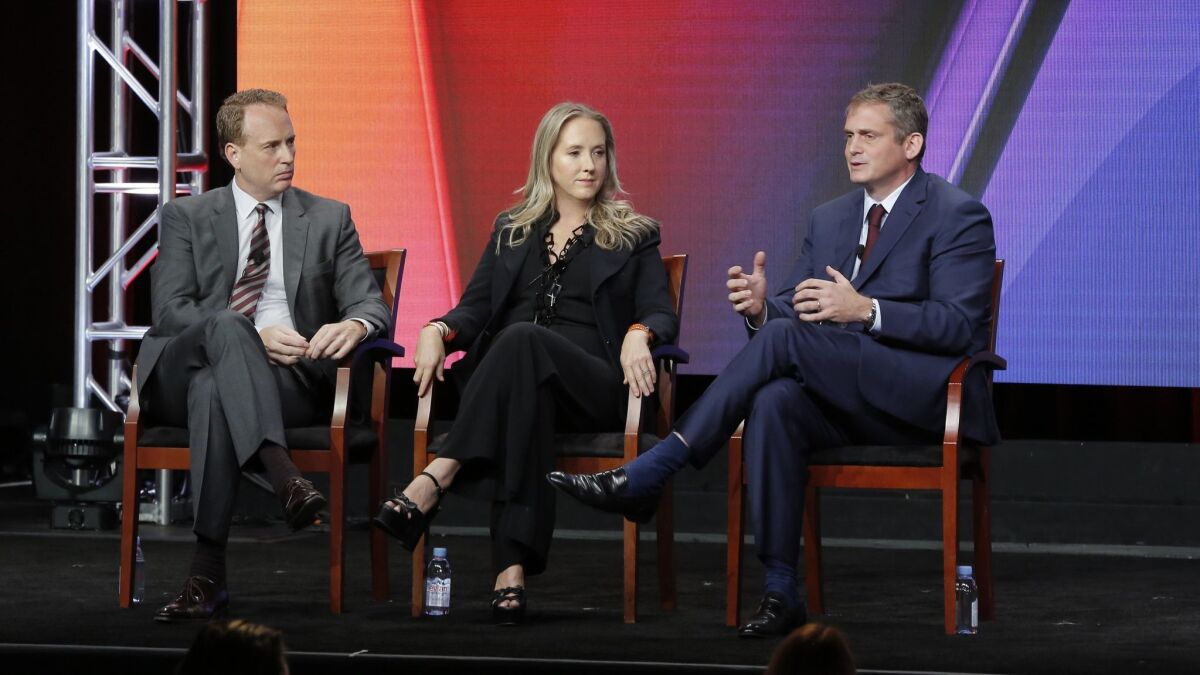 Cheeks, 53, came up through the ranks of business affairs at rival Viacom Inc., where he worked for more than a decade with such networks as Nickelodeon, MTV, VH1 and Logo. He joined Viacom in 1998 after practicing law at Loeb & Loeb and the entertainment firm Hansen, Jacobson, Teller in Beverly Hills.
This year, he became co-president of Universal Cable Productions, a division of NBCUniversal, while also juggling his NBC duties as president of late-night programming. He is a graduate of Yale University and received his law degree from Harvard Law School.
"George is very strategic, he is a great deal maker and he understands and works well with talent," Burke said.
Cheeks, who is biracial and gay, also brings diversity to a role that has long been held by white men.
Greenblatt's resignation took effect Monday. He will segue into a consulting role and plans to help stage "Hair," which is scheduled as NBC's live production next spring. Greenblatt led the charge to reintroduce live theatrical productions to network TV.
He was one of Burke's first hires, in early 2011, when Comcast took control of NBCUniversal from General Electric Co. Greenblatt was previously a TV producer ("Six Feet Under") and had a successful run as Showtime's top programming executive, introducing such shows as "Weeds" and "The Tudors."
In an interview, Greenblatt said his decision to leave NBC was "a long time in coming…. but I kept talking myself out of it." In fact, a year ago, Greenblatt extended his deal to remain chairman of NBC Entertainment.
"It is a great gig, things are going well with the company and I have amazing bosses," Greenblatt said. "But I was starting to feel that I did all that I could do here and that I needed a new challenge."
In a memo to his staff, Greenblatt, 58, called his NBC tenure "one of the most rewarding experiences of my life." He said he hasn't figured out his next venture. He has been involved in producing a theatrical version of "Tootsie," which is scheduled to premiere on Broadway next spring after its Chicago run.
"We will see what the town has to offer," he said, adding that he will assist Cheeks and Telegdy, as needed. "I think it will be a seamless transition."
Twitter: @MegJamesLAT
---
UPDATES:
3:00 p.m.: This story was updated to include comments from a memo sent by former entertainment chairman, Bob Greenblatt.
10:45 a.m.: This article was updated to include comments from a memo from NBCUniversal Chief Executive Steve Burke.
This article was first published at 10 a.m.
Inside the business of entertainment
The Wide Shot brings you news, analysis and insights on everything from streaming wars to production — and what it all means for the future.
You may occasionally receive promotional content from the Los Angeles Times.