NBC six years ago was reeling from the collapse of its prime-time schedule and years of meager investment from its corporate owner. The NBC broadcast network was generating an average of $1 billion less a year in revenue than its rivals ABC, CBS and Fox.
"We had performance and monetization issues," said Steve Burke, who became chief executive of NBCUniversal when Comcast Corp. acquired the New York media company in early 2011. "The bottom line was the company was not doing as well as it should have."
Other broadcasters were commanding ad rates 20% higher than those charged by NBC. But after chipping away for six years, that gap finally has been closed.
In the just-concluded television upfront advertising sales season — which is expected to generate about $18.5 billion in commitments from advertisers — NBCUniversal edged out its rivals to solidify its position as market leader. The company struck deals for the upcoming television season worth nearly $6.5 billion — an increase of 8% over its 2016 upfront haul.
The total includes sales for commercial time on the NBC broadcast network, Spanish-language Telemundo and such prominent cable channels as USA, Bravo, E!, MSNBC, CNBC and Golf Channel. NBCUniversal also increased its digital video ad commitments 42% compared with last year, and it boosted its projected NFL revenue by 5% compared with 2016.
"This was our best upfront ever," Burke said in an interview.
Cable and broadcast networks sell about two thirds of their advertising time for the upcoming TV season in the so-called upfront market.
The stronger-than-expected demand for TV advertising belies an industry that faces huge challenges. More consumers, particularly younger ones, are getting their entertainment online and from streaming services that don't run commercials. Television ratings have been falling, but major networks were able to maintain their overall upfront ad purses — or even increase them slightly — because advertisers still believe in the value of TV.
Broadcasters reminded advertisers that they still can attract 10 million or more viewers to a single program.
"TV works — it's the least bad alternative for advertisers," said Brian Wieser, advertising analyst with Pivotal Research Group. He predicted, however, that while the upfront ad sales market likely exceeded expectations, the full-year TV advertising revenue from national advertisers still could be off slightly when compared with 2016.
Wall Street follows the upfront market because it provides clues about the health of the ad industry — and the U.S. economy as a whole.
"NBC is by far the biggest player. So if NBC is up over last year, then the whole market will be up," Wieser said.
Jessica Reif Cohen, media analyst with Bank of America Merrill Lynch, predicted that "NBCUniversal is going to be at the top end of the market.... You can't just raise rates instantly, but NBCU has been very consistent and focused in the last six years."
There are soft sectors in the advertising market, including such groups as car companies, retail stores and Hollywood movie studios, which are releasing fewer movies. Retail stores, in particular, have been hammered as more consumers shop online.
But TV networks benefited from a controversy earlier this year when several major brands including Verizon, JPMorgan Chase & Co. and Johnson & Johnson yanked their ads from Google's YouTube video site when they discovered that their promotions ran in proximity to offensive videos.
In addition, some advertisers fretted about the effectiveness of their online ads.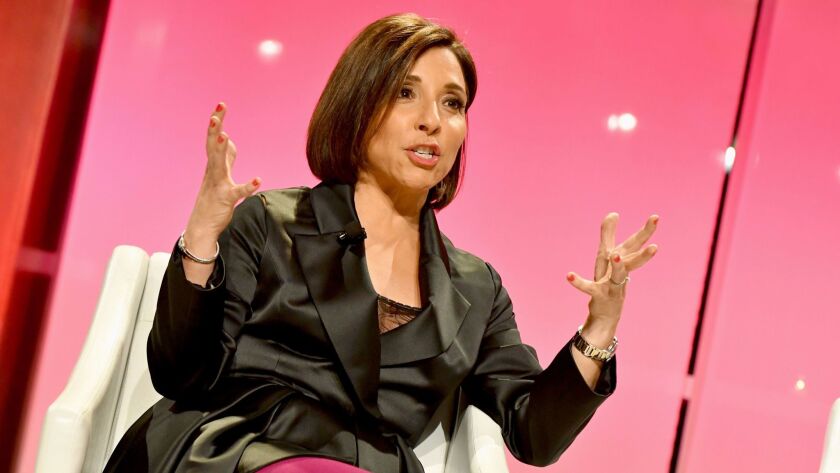 There is always demand for premium content because of the safety that it provides to advertisers — and its performance."
Linda Yaccarino
"Many advertisers swung too far to digital and they discovered that their ads didn't perform as well. So some of that money returned this year," said Linda Yaccarino, NBC's advertising sales chairman. "There is always demand for premium content because of the safety that it provides to advertisers — and its performance."
CBS, ABC and Fox maintained their ad totals, according to knowledgeable people familiar with the ad-sales process at those networks.
CBS saw a bump in demand for programs in the daytime and late night: "The Late Show With Stephen Colbert" and "The Late, Late Show With James Corden."
The Fox broadcast network saw sales on par with last year, despite dramatically lower ratings, and strong interest for its cable channel FX, which boasts such show as "Fargo," "American Horror Story" and "The Americans." FX was able to charge ad rates near the top of the cable market.
For NBCUniversal, it was the third straight year that the company led the upfront market. It was buoyed by NBC's first-place finish in the 18- to 49-year-old demographic coveted by advertisers for the traditional September-through-May TV season.
Next season's ratings are expected to be higher because the company boasts three major sporting events: the Super Bowl in Minneapolis; the Winter Olympics in Pyeongchang, South Korea; and the FIFA World Cup of soccer from Russia on Spanish-language Telemundo. (Advertising commitments for those events were not included in the nearly $6.5-billion upfront haul.)
For Burke, the ad-sales success was an affirmation of a strategy that he employed several years ago when he made the decision to consolidate NBCUniversal's five ad sales groups into one team led by Yacarrino.
"Everyone pooh-poohed them when they first announced their strategy," said Reif Cohen. "But NBC recognized that you need a cohesive approach."
Under Burke, NBC has invested heavily to develop popular shows such as "This Is Us" and "Blindspot" and to pay top dollar for sporting events such as "Thursday Night Football" and the Olympics, which have paid dividends for the network.
"The first move we made was to put all of our ad sales teams together under Linda Yaccarino." Burke said. "That was absolutely essential. A lot of the work was just changing the culture of the company so that it is 'all for one and one for all.'"
The result was that NBC could use its stronger networks to prop up sales for the weaker ones. Then, as NBC's fortunes grew in prime time — with its "Sunday Night Football" and "The Voice" — it had even more leverage.
Demand for its cable networks such as USA, Bravo and E! have been robust and MSNBC's prime-time lineup, featuring Rachel Maddow, has been enjoying a ratings surge.
Still, NBC and other networks are under more pressure to hold onto viewers by creating top-rated programming and more innovative advertising campaigns. Advertisers are less interested in buying time in lower-rated shows.
"The business is a lot less forgiving than it was 20 years ago," Burke said. "Traditional linear television is still an attractive business, but you have to be good at it."
---