2017's first big flop? How Paramount's 'Monster Trucks' went awry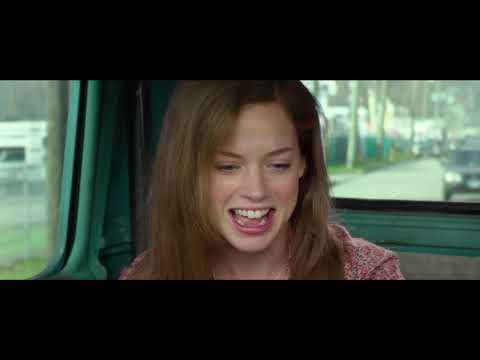 Jane Levy and Lucas Till star in "Monster Trucks."
Paramount Pictures originally conceived its new movie "Monster Trucks" as fuel for its upstart animation business. But instead, the long-delayed big-budget picture is poised to become the first major box-office wreck of 2017.
The live action-computer animation hybrid, about a teenage boy who befriends a tentacled, gas-guzzling monster in his truck, is on track to gross $8 million to $10 million during its first four days in theaters this weekend — an abysmal result for a movie that cost $125 million to make.
Troubling signs have been apparent for months. The first trailer for "Monster Trucks" released in June became the butt of widespread Internet snark, and reviews from professional critics have been mostly negative. In an unusual preemptive move, Paramount's parent company, Viacom Inc., in September disclosed it would take a $115-million write-down "related to the expected performance of an unreleased film," quickly revealed to be "Monster Trucks." Studios rarely announce such write-downs before movies are actually released.
"You knew right after seeing the first trailer that it was going to bomb," Jeff Bock, a box-office analyst for Exhibitor Relations, said of "Monster Trucks." "I'm surprised 'Mystery Science Theater 3000' doesn't already have the rights to this."
The troubled "Monster Trucks" is just the latest headache for Paramount, the storied Hollywood studio that is trying to recover from a string of box-office flops and a wave of corporate upheaval. Hoped-for blockbusters including "Teenage Mutant Ninja Turtles" and "Star Trek" sequels underperformed last year amid a bitter power struggle between controlling shareholder Sumner Redstone and former Chief Executive Philippe Dauman, who was ousted in August.
The long journey of "Monster Trucks" began in 2013, when Paramount's president at the time, Adam Goodman, conceived the idea for the film after observing how much his 3-year-old son enjoyed playing with toy trucks and cars. The studio, led by Chairman and Chief Executive Brad Grey and then-Vice Chairman Rob Moore approved, hoping it could turn the concept into a "Transformers"-like franchise with toy sales and sequels.
The movie became a passion project for Goodman, whom the studio had tasked with building Paramount Animation. Paramount tapped "Sponge Out of Water" producer Mary Parent to produce the picture and hired director Chris Wedge, best known for Fox's 2002 blockbuster "Ice Age."
The film was first scheduled for release in summer 2015, but the studio later moved its target to Christmas. Then Paramount fired Goodman, the movie's chief advocate, in February 2015 because of the studio's thin film release slate. Without Goodman, "Monster Trucks" became an orphan at the company, according to people familiar with the matter who were not authorized to speak publicly.
The studio pushed back the film's release two more times as executives turned their attention to other pictures. A recent presentation by Grey to show off upcoming movies didn't mention "Monster Trucks," instead focusing on prestigious films such as "Arrival" and Martin Scorsese's "Silence."
But marketing would have been a challenge for "Monster Trucks" even without the bad buzz surrounding the Viacom write-down. The film was originally meant to attract a wide audience but turned out to be more kid-oriented than expected, insiders said.
Another problem was that "Monster Trucks" was an original idea that lacked the branding clout of movies based on Nickelodeon and Hasbro properties. Instead of creating mystery around the monster, the trailers tended to emphasize the movie's goofier aspects, including a scene where the octopus creature belches.
"A 6-year-old boy might like it, but I doubt parents will," said Bock, the Exhibitor Relations analyst.
Then there is the fact that "Monster Trucks" is labeled as a Paramount Animation film, even though it's not a traditional animated picture. The studio decided a live-action production with a major computer-generated imagery element would work better for the story and lead to a faster turnaround, according to people close to the project. Hybrid movies like Sony Animation's "The Smurfs" and Fox's "Alvin and the Chipmunks" have worked well in the past, but those movies had familiar characters.
Paramount executives declined to comment on the film.
"Monster Trucks" was once a top priority as part of the studio's push into computer animation. Paramount launched its animation unit in 2011 after the critical and commercial success of the CGI Johnny Depp comedy "Rango," which won an Oscar for best animated feature. Then Paramount lost its key supplier of family franchises, Jeffrey Katzenberg's DreamWorks Animation, in 2012.
That increased pressure on Paramount to come up with a pipeline of animated pictures, which have become an increasingly important global business for the major movie studios. Three of the 10 highest-grossing films last year were animated. Those titles, "Finding Dory," "The Secret Life of Pets" and "Zootopia," grossed nearly $3 billion combined worldwide.
The feature animation business is more competitive than ever, with Universal Pictures growing its "Minions" production company Illumination Entertainment and acquiring DreamWorks Animation last year. Warner Bros., 20th Century Fox and Sony Pictures have all planted flags in animation.
Paramount has entered the animation business in fits and starts. Its 2015 film "The SpongeBob Movie: Sponge Out of Water" was a winner, grossing more than $320 million worldwide. But the animation unit's leader, Bob Bacon, abruptly exited the studio that summer. Then, Paramount unexpectedly abandoned its planned release of "The Little Prince," an independently produced adaptation of the beloved French book that has received strong reviews. Netflix bought the rights and released it instead this summer.
Paramount Animation doesn't have another release planned until 2018.
Paramount Motion Picture Group President Marc Evans would not comment specifically on "Monster Trucks," but he said he is "confident" in other upcoming titles, such as "Amusement Park" and "Sherlock Gnomes."
Future releases, he said, will be mostly conventional animated movies, as opposed to live-action films with a CGI component. The unit has a small staff of about 10 people and mainly relies on other companies to do the computer animation.
"More than any part of our business, animation takes time," Evans said. "We have learned a lot to date. We are excited and confident in what we have in our pipeline and committed to building Paramount Animation for the long-term."
Hollywood executives and analysts said it's too early to say whether Paramount Animation will be successful, given the time and money it takes to produce computer animated features. Computer animated movies take about four years to make, and cost at least $75 million each before marketing is factored in. Big movies from Disney and Pixar often cost more than $150 million.
"It's a little tough, because they don't have a stable of famous characters," said Tom Sito, chair of animation at the University of Southern California. "They've had to establish a new brand, and that's a tall order on a short production schedule."
SIGN UP for the free California Inc. business newsletter »
Still, Paramount's Evans said he is upbeat about future animated releases.
"Amusement Park," expected to debut in 2019, is now in production, featuring voice acting by Matthew Broderick and Jennifer Garner. "Sherlock Gnomes," a co-production with MGM, is due out in January 2018. The studio also has high hopes for a "SpongeBob" sequel, set to hit theaters in early 2019.
To boost its slate, Paramount in May signed a deal to develop and produce animated movies with Elisabeth Murdoch's Locksmith Animation, based in Britain. The companies said they will develop three properties, and plan to release the first in 2020.
"We are building our animation division organically," Evans said.
ALSO
Scripted shows continue to grow as 'Peak TV' hasn't peaked yet
Warner Bros. veteran Chris deFaria will run DreamWorks Animation
Meet the Hollywood producer at the center of a scandal shaking the Israeli government
Home video sales shrank again in 2016 as Americans switched to streaming
Inside the business of entertainment
The Wide Shot brings you news, analysis and insights on everything from streaming wars to production — and what it all means for the future.
You may occasionally receive promotional content from the Los Angeles Times.