AT&T's John Stankey hopes to avoid a disconnect in merger with Time Warner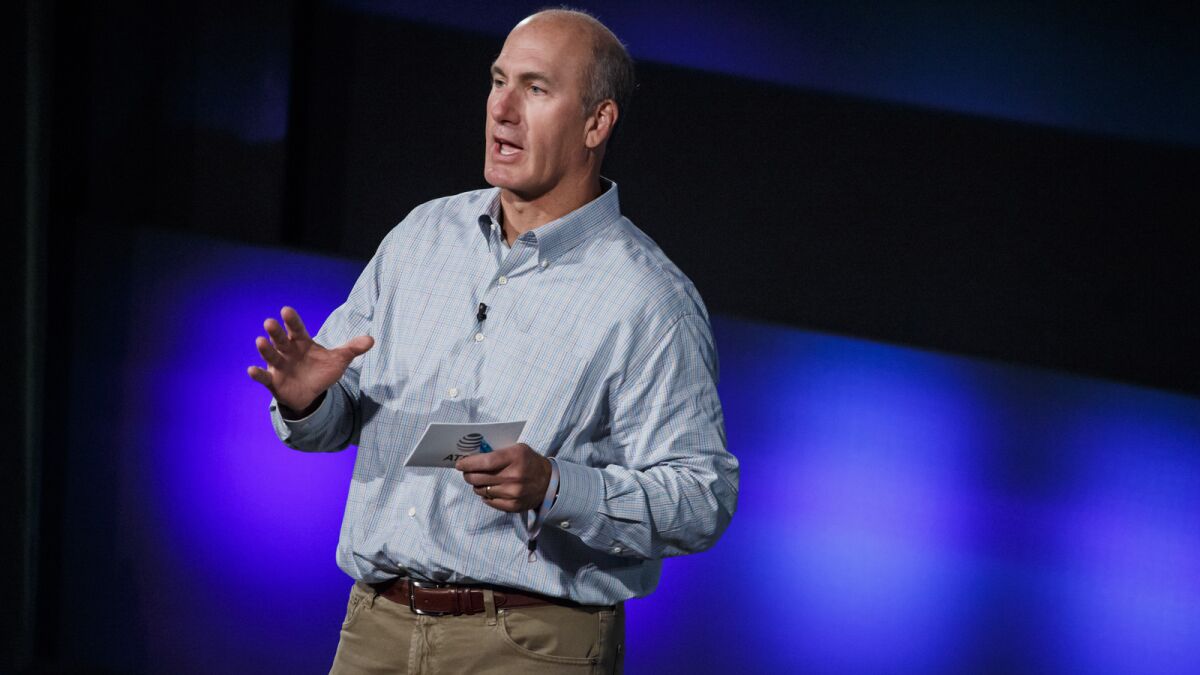 On a sunny Saturday earlier this summer, AT&T Senior Executive Vice President John Stankey came face to face with Hollywood's lingering perception of the phone company.
"When I started, if I would have ended up in an AT&T commercial — it would have been the kiss of death," actress Kate Hudson said, drawing howls of laughter from the crowd gathered in a Warner Bros. theater in Burbank for an AT&T-sponsored panel discussion on changes in media.
Stankey chortled, but Hudson's candid remark underscored serious challenges he could encounter after AT&T completes its $85.4-billion acquisition of media company Time Warner Inc. Stankey has been tapped to run the Time Warner businesses, which include some of the most storied brands in entertainment — the Warner Bros. movie and TV studio and such prominent networks as HBO, CNN, TBS, TNT, Cartoon Network and Turner Classic Movies.
A green light from the government is expected this month, according to people close to the process who were not authorized to discuss it. The U.S. Department of Justice is in the final stages of its merger review, these people said.
Buying Time Warner would transform the Dallas phone company into the largest and, perhaps, most powerful entertainment company in the world. But the success of the merger will hinge on Stankey's skills in stitching together two starkly different enterprises at a time of upheaval in media. He's a relative newcomer to Hollywood who has spent his career in the bureaucratic telecommunications business.
"It's going to be very tough, a daunting challenge," said Jennifer Chatman, a management professor at the Haas School of Business at UC Berkeley.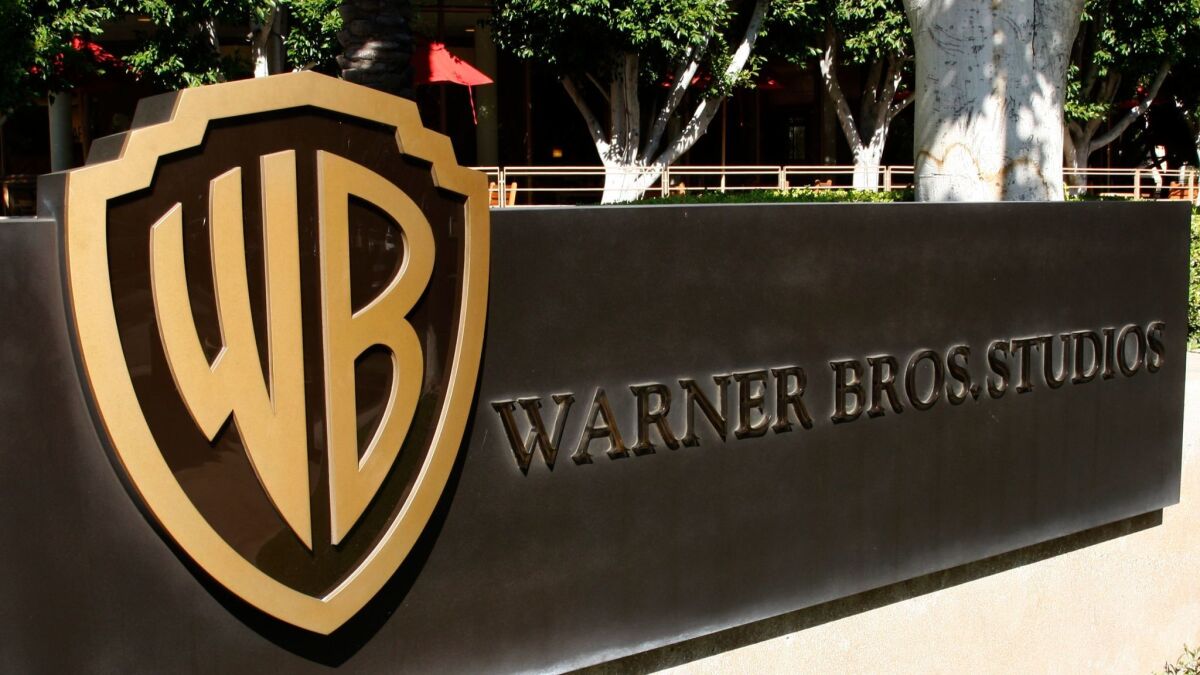 AT&T, which was founded in 1876 by telephone inventor Alexander Graham Bell, lays fiber lines, builds cellphone networks and manages satellite TV and complex software systems that compress and send data so that millions of customers can make calls, receive messages, listen to music and watch video on their phones.
Time Warner, by contrast, prides itself on creating best-in-class movies and TV shows. Over the years, its Warner Bros. studio in Burbank has churned out such cultural touchstones as "Casablanca," the "Harry Potter" franchise, "Wonder Woman" and "The Big Bang Theory." Premium channel HBO blazed the trail with big-budget original series, including "The Sopranos" and "Game of Thrones." And then there is CNN, the pioneering 24-hour news network, which is now watched around the world.
Executives say the Time Warner businesses should benefit from AT&T's connections to more than 100 million mobile phone customers. AT&T also hopes that owning the content produced by HBO, Warner Bros.,TNT and CNN will give it an edge. Already nearly 70% of the data consumed on smartphones is spent listening to music and watching videos and other entertainment. AT&T will be able to push Time Warner programming to its mobile customers and reap revenue from advertisers who want their messages displayed in that content.
Much is at stake for AT&T. Its stock is down more than 10% this year as investors fret over a slowdown in the telecom market and as discounted prices cut into corporate profits. Meanwhile, AT&T's television unit, DirecTV — which Stankey managed until early August — has struggled to keep subscribers paying for its premium service because of the rise of online streaming and smaller pay-TV bundles.
However, if history is a guide, a clash of cultures is inevitable, experts say. Only about a third of mergers and takeovers in North America benefited shareholders while nearly 70% resulted in lower, or flat, stock prices, according to consulting firm KPMG. Mergers failed for various reasons, including incompatible business objectives, the loss of key executives and an inability to "get two corporate cultures to work in unison," KPMG said.
"Cultural conflicts can make or break the value of this merger," Chatman said. "With AT&T at the helm, it is going to trend toward more hierarchical, less innovative and more bottom-line oriented…. The Time Warner side will feel frustrated and restrained if AT&T tries to integrate too much."
It remains to be seen how the missions and expertise of the two companies will mesh.
These are successful businesses, and they have gotten to where they are because of the people and expertise that they have.

— John Stankey
"AT&T is very good at finding efficiencies. They have engineering prowess, advanced technology and they deliver bandwidth to millions of customers," said John Boudreau, research director at the Center for Effective Organizations at the USC Marshall School of Business. "AT&T management could go after what they see as cost inefficiencies, but at Time Warner, the slack in the system could be what allows the creativity."
Stankey, in a recent interview with The Times, said AT&T has plenty of experience in mergers, and it has been planning for months to ensure a smooth transition.
"We'll be very respectful," Stankey said of the planned approach to the Time Warner team. "These are successful businesses, and they have gotten to where they are because of the people and expertise that they have."
The last merger
After AT&T acquired DirecTV two years ago, the corporate brass flew in from Dallas for a town hall meeting at DirecTV's headquarters in El Segundo. AT&T Chairman and CEO Randall Stephenson welcomed the staff into the fold, then introduced them to their new boss — the stern-looking, 6-foot-5-inch Stankey — by saying that they should not feel intimidated because "he's really a nice guy."
Startled DirecTV employees were unsure what to make of the comment. "It was an odd moment. We were standing there wondering, 'What's going to happen to us?' " recalled one DirecTV executive who was there that day. The description of Stankey stuck, and has become a running joke inside the company, a second executive said.
"He always reminds me of a college football linebacker. He's big and has the world's deepest voice," said Peter Chernin, whose Chernin Group owns the majority stake in Otter Media, a joint venture with AT&T. "When people first come in contact with him, they think: 'Oh my gosh, this guy is tough and scary.' But he is incredibly nice, funny and a good guy."
Stankey, 54, was raised in Los Angeles. His father was an insurance underwriter and his mom stayed home to care for their three kids. Stankey, the youngest, attended Loyola Marymount University in the early 1980s, finishing with a degree in finance. He earned spending money by stringing tennis rackets at the now-defunct Oshman's Sporting Goods near Pico and Sepulveda boulevards. Later, he worked as a buyer for the store, purchasing tennis rackets and skis.
"After I graduated ... I thought that I was going to be a ski bum and play tennis," Stankey said. "About five months later, I figured I needed a real job."
He went to work in 1985 for the phone company, Pacific Bell, and never left. He earned his MBA from UCLA in 1991, and went on to tackle increasingly complex assignments on a determined march up the management ranks. He served as chief information officer, chief technology officer and, beginning in 2012, AT&T's chief of strategy.
As the value of content became increasingly apparent, he teamed with Chernin four years ago to bid for online streaming service Hulu. But the media consortium that owns the platform decided not to sell. AT&T's association with Chernin, however, led to a $500-million joint venture, Otter Media.
"John has been a great partner," Chernin said. "He's very strategic, very thoughtful and very supportive."
Stankey was a key architect of AT&T's 2015 takeover of DirecTV, which transformed the company into the nation's largest pay-TV provider.
People who know Stankey describe him as a straightforward, no-nonsense manager who is not driven by his ego. He's also an AT&T loyalist. In 2015, he made sure that crews with cranes were in position almost immediately after the satellite-TV deal closed to remove the DirecTV signs from atop the office towers overlooking LAX. The buildings were quickly adorned with the glowing blue AT&T orb.
Some — including in the Los Angeles Dodgers' front office — are not fans. Stankey is the decision maker who has not budged in negotiations with Time Warner Cable, now owned by Charter Communications, to bring the Dodgers-owned TV channel into the 1.2 million DirecTV homes in the Los Angeles region. For four baseball seasons, the stalemate has persisted, limiting distribution for SportsNet LA.
Many DirecTV customers want to see the team play. Subscribers in 105,000 DirecTV homes tuned in when the Dodgers games aired on the widely available KTLA-TV Channel 5 this year. But those fans make up just a fraction of DirecTV's customer base, Stankey said, not enough to persuade AT&T to carry the channel. "The other 21.7 million [subscribers] would have to pay something for it," he said.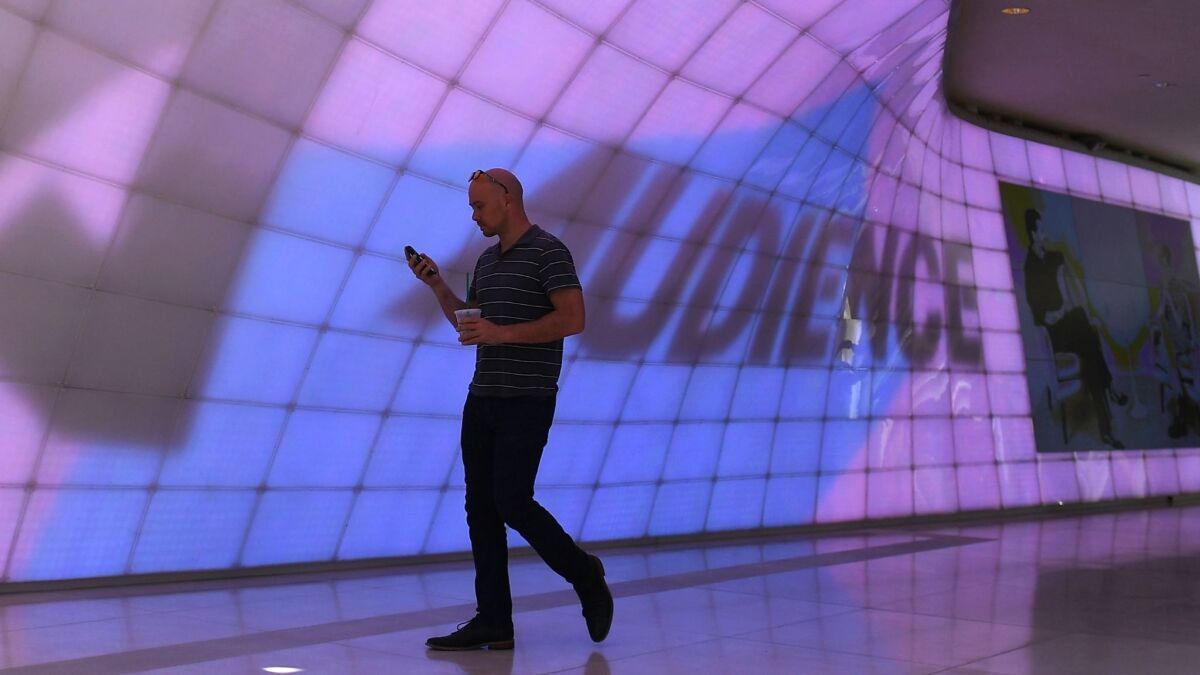 The frequent flier
Stankey's compensation package last year totaled nearly $12.8 million, according to regulatory filings. He lives in Dallas but has an apartment in Marina del Rey because of his frequent trips to Los Angeles, where AT&T has been expanding its operations. Soon, he will be splitting his time between Dallas, Los Angeles and New York, where Time Warner is based.
Chernin and others expressed optimism that Stankey has the skills to run the Time Warner businesses, even though his buttoned-up style is in contrast to that of the company's approachable and adroit leader, Jeff Bewkes, who has a degree in philosophy from Yale and loves to engage in wide-ranging conversations with his team to reach a consensus.
Bewkes, 65, will be exiting after the merger but has said he would remain through the transition. He is well respected in the company, after starting as a lowly business executive at HBO. Time Warner managers view Bewkes' nearly decade-long tenure as CEO favorably, particularly the way he maneuvered to fend off a hostile takeover of the company by Rupert Murdoch and sons in 2014.
Privately, several Time Warner executives expressed apprehension about whether AT&T would micro-manage the assets, but others said change is inevitable and, so far, they've had a good rapport with Stankey.
"While he doesn't have deep knowledge of the movie and television business, he does have a very good grasp of the overall competitive landscape of the industry," one executive said of Stankey.
AT&T plans to drop the Time Warner name but will keep the Time Warner businesses separate from its phone operations and DirecTV, in large part to preserve Time Warner's culture and retain key leaders, such as Warner Bros. CEO Kevin Tsujihara and HBO chief Richard Plepler. That decision stands in contrast to AT&T's absorption of DirecTV, which resulted in a mass exodus of top DirecTV executives.
Stankey immediately will face several hot-button issues, including CNN's contentious relationship with President Trump, who tries to belittle CNN by calling it "fake news." While some have speculated that AT&T would rid itself of the headache by selling CNN, the company has made it clear that a robust news organization would be valuable to AT&T's phone business.
"We are very interested in the asset," Stankey said.
AT&T will have to figure out how to use CNN, TBS and HBO programming to entice more customers to AT&T phone service.
And Stankey must grow into his big new role.
"I never thought I'd be doing something like this ... but it's fascinating," Stankey said.
Although AT&T doesn't plan to immediately rock the boat, both companies will be forced to adapt to industry shifts.
"Is change sometimes uncomfortable for people irrespective of what culture they're steeped in?" he said. "Yes."
ALSO
Craig Carton, co-host of 'Boomer and Carton' sports radio show, accused of wire and securities fraud
MGM reboots Orion Pictures brand as stand-alone film distributor
Inside the business of entertainment
The Wide Shot brings you news, analysis and insights on everything from streaming wars to production — and what it all means for the future.
You may occasionally receive promotional content from the Los Angeles Times.