Univision owners want to sell. After 12 years and $13 billion, what went wrong?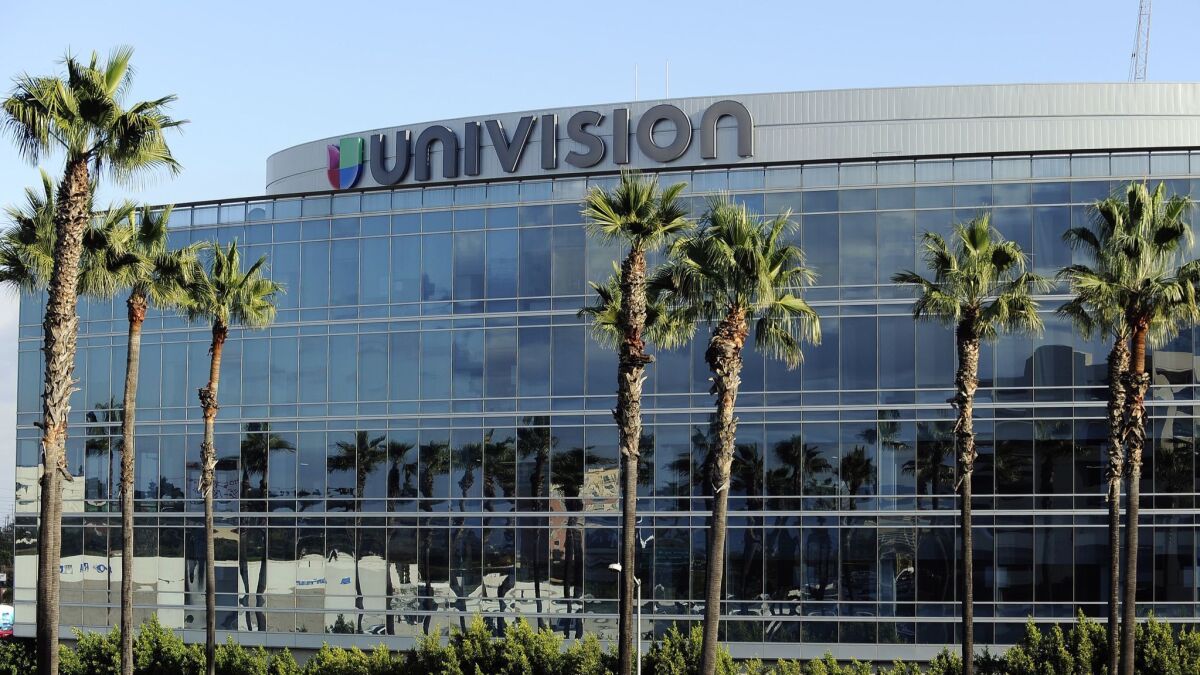 When Haim Saban and billionaire-led private equity firms acquired Univision Communications for $13.7 billion in early 2007, they figured the nation's largest Spanish-language media company would be a sure bet.
The U.S. economy and Latino population were booming. Advertisers were reaching out to Mexican immigrants who gravitated toward soccer matches and Univision's news and trademark telenovelas — the Mexican-produced Cinderella love stories that reminded viewers of home.
But the world changed.
After holding out for a big payday, Saban and his partners now are eager to sell the company — even at a discount, according to three people familiar with the matter who were not authorized to comment publicly. Unloading what has become a fixer-upper for $8 billion to $10 billion would mark a rare blunder for the Los Angeles investor and his private equity partners. But years of boardroom bickering and missteps, including a disastrous foray into English-language media, as well as rising competition from rival Telemundo and shifting demographics, have taken a toll.
Interviews with nearly a dozen former and current executives depict a dysfunctional organization, hobbled by clashes between Latino managers and older white executives who worked at NBC in its glory days and seemed stuck in the past. They didn't speak Spanish and were derisively called "gringos" behind their backs. At the board level, private equity captains soured on their investment, browbeat management and starved key Univision properties, including such local stations as KMEX-TV Channel 34 in Los Angeles, so they could pay down the company's $10-billion debt.
"The structure of that deal, with all that debt, really hamstrung the company," said Jose Villa, president of Sensis, a Los Angeles advertising firm. "They didn't have resources to make investments, including digital products. They haven't evolved — or created anything new."
Representatives of Univision and Saban declined to comment publicly.
Univision, which began in 1961 with a lone TV station in Texas, used to be the premier Spanish-language destination, commanding 80% of the market. Its main competitor, Telemundo, was barely a threat. But cable giant Comcast Corp. in 2011 bought NBCUniversal and saw Telemundo as a gem. NBCUniversal began investing, even snatching rights for the FIFA World Cup of soccer from Univision, the tournament's longtime home.
Univision's owners also were heavy hitters. Texas Pacific Group, Thomas H. Lee Partners, Providence Equity Partners and Madison Dearborn Partners are among the most successful portfolio managers in the U.S.
Saban, 74, built his nearly $3-billion fortune on the backs of the "Mighty Morphin Power Rangers" in the 1990s, and then some shrewdly timed media investments. Saban and Rupert Murdoch's News Corp. sold the Fox Family cable channel in 2001 to Walt Disney Co. for a then-record sum. Saban Capital Group paid $250 million for its Univision stake, and the colorful billionaire became chairman of the group.
The four private equity firms each contributed about $900 million, making Univision one of Wall Street's largest leveraged buyouts with more than $10 billion in debt.
But the group bought Univision at the top of the market, and made some blunders.
Univision's owners immediately moved the headquarters from Los Angeles to New York — a Park Avenue address — and turned to a Madison Avenue veteran, Joe Uva, to run the company. The goal was to dramatically increase ad revenue by persuading marketers that Univision was a must-buy. But the financial crisis prompted advertisers to pull back spending, including on Spanish-language media.
Additionally, the Great Recession slowed the flow of Mexican immigrants into the U.S.
"There are 1 million fewer Mexican immigrants in the U.S. than there were just a few years ago," said Mark Hugo Lopez, director of global migration and demography at the Pew Research Center in Washington. Lopez noted that 2006 was the peak of the migration. "Hispanics no longer are the biggest source of immigrants to the U.S. — it's now Asians," he said.
The Latino population has continued to swell, but the growth has come from U.S.-born Latinos who are bilingual or speak English, and they watch shows on Netflix, Hulu, NBC or YouTube. They consume content on their phones. Even older immigrants have become fluent in English.
"There is not that replenishment of Univision's audience that we used to see," Lopez said.
Complicating matters, Univision doesn't own its scripted content.
The company has long relied on telenovelas produced by Grupo Televisa, the world's largest Spanish-language entertainment company. The reason was simple: Univision could save money by airing prime-time programs that had been popular in Mexico. Univision pays Televisa, which also owns a stake in Univision, nearly $400 million a year in royalties for the shows.
It was a good investment — until a few years ago when U.S. audiences began losing interest in Televisa's predictable plot lines. Univision began complaining to Televisa about the slow pace of romantic stories, the use of the same actors and rural settings (sprawling haciendas) at a time when most U.S. Latinos live in cities. Televisa initially brushed off the concerns, according to three people familiar with the situation. Televisa executives declined to comment.
"They should have invested with co-production partners to create new programming so they would not have to rely so much on Televisa," said Julio Rumbaut, a specialist in Latino media. "But they were fat and happy with Televisa, so they didn't have a motive to change."
Five years ago, Univision's flagship network drew an average of 3 million viewers in prime time, according to Nielsen. During the current season, Univision's prime-time audience has shriveled to 1.3 million viewers. Telemundo frequently beats Univision among the younger crowd, and it scored with its Women's World Cup this summer, with nearly 19 million viewers catching some of the action.
"Univision is certainly not in the position they were just a few years ago," said longtime advertising executive Hector Orcí. "The market changed dramatically, and they have not responded in aggressive or creative ways."
Pew Research also found that Univision's major newscasts had experienced double-digit declines since 2016. The network, however, remains the Spanish-language news leader with nearly 1 million viewers to its evening news.
While Univision's core audience was eroding, the company invested hundreds of millions in digital ventures to entice English-speaking millennials. It launched a high-profile venture with Disney called Fusion, which bombed, and Disney bailed. Univision launched another network, El Rey, and began buying digital properties, including the satirical website the Onion. The company spent $135 million in 2016 to buy Gawker Media Group, which it renamed Gizmodo.
"There was no rhyme nor reason for buying any of those assets," Rumbaut said. "It didn't make any sense."
That same year, Univision sold its glass office building, perched along the 405 Freeway in Los Angeles, for about $100 million to help pay down debt.
Amid the ratings struggles, the company's operating income fell to $611 million in 2018, down from $1.13 billion in 2017.
"The people they brought in to run Univision didn't know or understand Spanish-language media," Rumbaut said. "You need that expertise, being truly immersed in the culture and the business."
For years, investors have looked for an exit. Plans for an initial public offering in 2015 collapsed when media stocks faltered. Instead, Univision spent that summer in a skirmish with then-candidate, now-President Trump after he made derogatory comments about Mexican immigrants. Trump sued the broadcaster (and later dropped the suit) after Univision pulled out of a telecast of the Miss Universe beauty pageant.
Last year, the shake-ups began. Chief Executive Randy Falco, one of the former NBC executives, left after eight years and was replaced by Vincent Sadusky, 54, who had experience running TV station groups. The new chief discovered that local stations didn't have their own dedicated websites, or an app — crucial platforms in the digital age.
The owners are taking more of a hands-off approach. Sadusky is trying to rebuild the business and wants Univision to regain its focus on Spanish-language consumers. The company shed its money-losing English-language digital assets, and Isaac Lee, who had been in charge of Univision's programming and digital strategy, left last summer.
"We divested non-core assets, strengthened our programming, secured long-term distribution deals and valuable sports rights," Sadusky wrote in an email this month to employees. He also noted the company has been reinvesting in its stations to bolster local newscasts and digital offerings.
"We are committed to finding the right path forward," Sadusky wrote. "Given the increasing recognition that the Hispanic population is driving significant U.S. economic growth, it's obvious that we are an incredibly unique media property."
Now, finding a new owner is a top priority. The company hopes it might attract a larger media conglomerate, such as CBS Corp., Fox Corp. or Disney.
But Univision still has $7.5 billion in debt, and some possible buyers have much on their plate. Disney, for example, is busy trying to absorb much of Rupert Murdoch's 21st Century Fox, a $71.3-billion deal that was completed in March. AT&T Inc. is under pressure to slash its enormous debt load after buying Time Warner for $85 billion. CBS is again flirting with buying Viacom. However, Liberty Media Chairman John Malone has been looking for properties to buy on the cheap. And Discovery may make another bid, though well below the $12-billion offer that Univision rejected just two years ago.
Another potential buyer is Televisa, but it is grappling with its own struggles in Mexico — and it would be happy to see Univision absorbed by a large U.S. media company, according to two knowledgeable people.
"Univision has a lot of potential. There is still time — if it can connect with the right company that will be there to manage it," said Villa, noting that KMEX still often ranks as the No. 1 station in Los Angeles. "They just have to make that shift to digital."
Twitter: @MegJamesLAT
Inside the business of entertainment
The Wide Shot brings you news, analysis and insights on everything from streaming wars to production — and what it all means for the future.
You may occasionally receive promotional content from the Los Angeles Times.