Viacom CEO Bob Bakish pushes turnaround plan for Paramount and MTV: 'I look under the hood'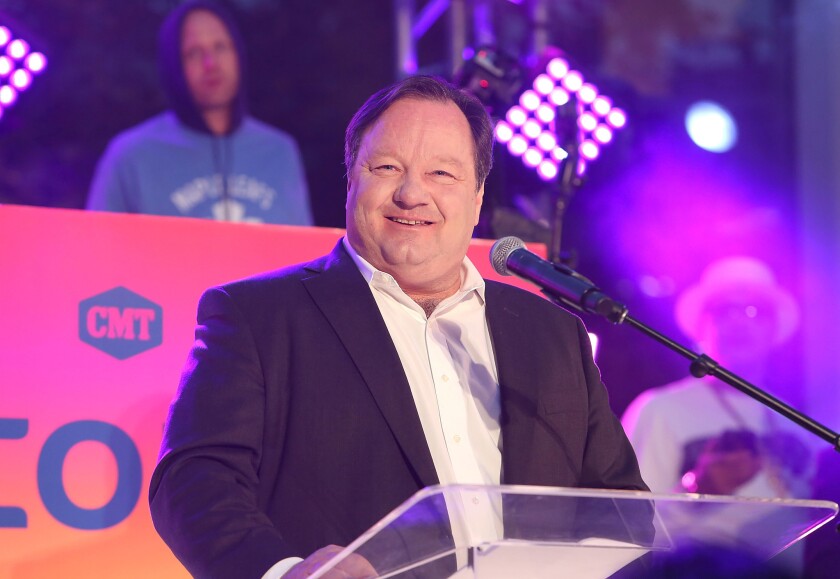 On a Sunset Boulevard corner steeped in Hollywood history, rapper Snoop Dogg served as deejay, occasionally taking a hit from a joint. Viacom's new leader then took the stage.
Chief Executive Bob Bakish was in Hollywood to celebrate the opening of the company's chic space at Columbia Square, which long ago housed the CBS recording studios used by Jack Benny, Orson Welles and Bob Dylan. The site now is home to about 600 employees of Viacom television networks — including MTV, Spike and BET — who had been scattered around Los Angeles and Santa Monica.
"This building brings nearly all of our brands together under one roof," Bakish told the happy-hour crowd of employees, some of whom sipped from mugs of coconut milk, chai tea and rum on this crisp January evening. "It is really a great symbol of a new emphasis on collaboration."
It's been a whirlwind three months for Viacom, capping the most tumultuous year in its history. Bakish, 53, became the company's third chief executive in as many months when he stepped in as acting CEO in mid-November. He was appointed permanently to the job a month later. Since then, he has been digging into the inner workings of the company's businesses to diagnose myriad problems, or "points of pain" as he calls them.
"Oh, I look under the hood," said Bakish, a blunt-talking New Jersey native, in an interview at the new Hollywood space.
Bakish on Thursday will unveil his turnaround plan for the struggling media giant, one that involves reviving the company's tattered television brands and changing Paramount Pictures' strategy for finding films.
"We have multiple, multibillion-dollar brands under one roof that people would kill for," Bakish said. "We have something to work with — but we clearly have issues."
We have multiple, multibillion-dollar brands under one roof that people would kill for. We have something to work with — but we clearly have issues.
— Bob Bakish, Viacom chief executive
He plans to reorganize Viacom's television networks around six flagship brands: Comedy Central, BET, Nickelodeon, Nick Jr., MTV and a newly minted Paramount channel. Bakish said he won't shutter smaller channels, however; the less prominent, such as Logo, VH1 and TV Land, will serve as a "flanker" to support a flagship channel. The main networks also will see their profile raised on social media and other digital platforms.
Bakish also aims to dramatically alter how Paramount Pictures operates. No longer will the Melrose Avenue studio offer filmmakers a vast, blank canvas. Instead, he said, Paramount will turn over about half of its film slate to movies that have tangible ties to Viacom's TV channels. There will be film spinoffs from Nickelodeon's children's shows and movies featuring talent from BET, MTV and Comedy Central.
Bakish's turnaround campaign will be closely watched by Wall Street. The New York entertainment company is coming off a bruising two years in which its stock has fallen 40%. The company has confronted the deteriorating health of its 93-year-old founder Sumner Redstone, his court battles with ex-girlfriends, a corporate coup engineered by his daughter, Shari Redstone, and an aborted plan to merge with CBS Corp. The Redstone family controls nearly 80% of the voting shares of the two media companies.
The roll-up-his-sleeves style of Viacom's new chief is a departure from its detached former chief executive, Philippe Dauman, who was sacked last summer following a showdown with Vice Chair Shari Redstone. Bakish enjoys the support of Shari Redstone, who abandoned the plan to merge Viacom with CBS, in part, because she and other board members wanted to give Bakish a chance at reviving the company.
"I was absolutely thrilled that [Viacom's] special committee decided not to do a deal" with CBS, Bakish said. "It's not to say that I don't believe in scale, I do.… What I didn't believe, was that it was appropriate to essentially sell the company so cheap."
Bakish is a 20-year Viacom veteran who spent the last decade running its international business, which has been Viacom's most successful division. Viacom's joint venture in India boasts one of that country's most popular TV networks. He advocated for the purchase of a British TV channel in 2014 and last fall made a deal to buy a network in Argentina.
The former management consultant, who earned an MBA from the Columbia Business School, has his work cut out for him.
"The new guy [Bakish] has to steady the ship, particularly when it comes to the core television networks," said Tuna Amobi, media analyst with CFRA Research in New York. "There is going to be a lot of heavy lifting, and there is going to be a transition period as the company adjusts to the pressures in the pay-TV landscape."
Viacom's biggest priority is to improve the ratings of MTV and Comedy Central to give the company more leverage in carriage negotiations with pay-TV distributors. Bakish has already tapped new leaders at MTV and domestic distribution.
He also dispatched the company's chief financial officer, Wade Davis, to assess Paramount's problems. That scrutiny was a departure for the studio, which has long enjoyed a special status under Sumner Redstone, who considered it his crown jewel.
"Paramount is very much an island," said Bakish, adding that is about to change. It should help that Viacom's new offices, at Sunset Boulevard and Gower Street, are just a few blocks from the film studio.
For much of last year, Viacom's board was divided over a plan to sell 49% of the movie studio to a Chinese company. The Redstones blocked the sale, and now Wall Street is demanding better performance from a studio that lost $445 million in its last fiscal year.
Paramount suffered from infighting among top executives and a lack of clear strategy, said Bakish.
"Candidly, the team was part of the issue," Bakish said. "It was amazing — we had a chief operating officer and the studio's [Co-Chair] that didn't talk to each other. It was very dysfunctional."
Those two executives now are gone, and former Sony executive Andrew Gumpert was brought in to bolster the team led by Paramount Chairman Brad Grey, who remains at the helm. Grey has run Paramount for more than a decade, but he became discouraged that Viacom didn't spend billions of dollars to buy huge franchises such as Marvel Entertainment or Pixar Animation Studios — a strategy employed by Walt Disney Co.
"Brad is very focused now," Bakish said. "He is out to prove that he can run a studio."
And Paramount shouldn't expect more money from Viacom's coffers. "There is plenty of money invested in Paramount," Bakish said. "Money is not the issue."
A bigger problem, he said, is that filmmakers are unsure what type of film to bring to Paramount. He believes that a distinct strategy, and closer collaboration with Viacom's TV networks, should help. For example, he expressed frustration that one of Comedy Central's biggest stars — comedian Amy Schumer — made feature films for a rival studio, Universal Pictures, rather than Paramount.
"That was a missed opportunity," Bakish said. "We have a tremendous asset, and a tremendous opportunity to define for the marketplace what kind of projects we're looking for."
Infusing a youthful edge to Paramount films could help attract younger audiences to theaters.
"Historically, Paramount was extremely populist in its world view — just think of 'Top Gun,' " said Paul Dergarabedian, senior media analyst with ComScore. "But [the industry] now is much more competitive and highly charged."
Bakish credited Shari Redstone for being the catalyst for change.
"A year and a half ago, she was the lone voice saying something needs to change at Viacom," Bakish said. "She was right. It took some courage and certainly persistence … but now the world recognizes that was the right thing to do."
At the party in late January, employees cheered Shari Redstone, who was flanked on the stage by Snoop Dogg and rapper Flo Rida.
"When I look at Viacom today I could not be more pleased to see the re-emergence of that wonderful culture that has always been the linchpin of our success," Shari Redstone told the crowd. "This is what it is all about. We are back!"
ALSO
Mike Tirico is taking over for Bob Costas as NBC's Olympics host
Time Warner posts strong earnings, helped by 'Fantastic Beasts,' TV production and HBO
Disney CEO Bob Iger says he's 'open' to staying on after his contract expires in 2018
---
Inside the business of entertainment
The Wide Shot brings you news, analysis and insights on everything from streaming wars to production — and what it all means for the future.
You may occasionally receive promotional content from the Los Angeles Times.