Jerry Perenchio, promoter of the first Ali-Frazier bout and Bobby Riggs vs. Billie Jean King, dies at 86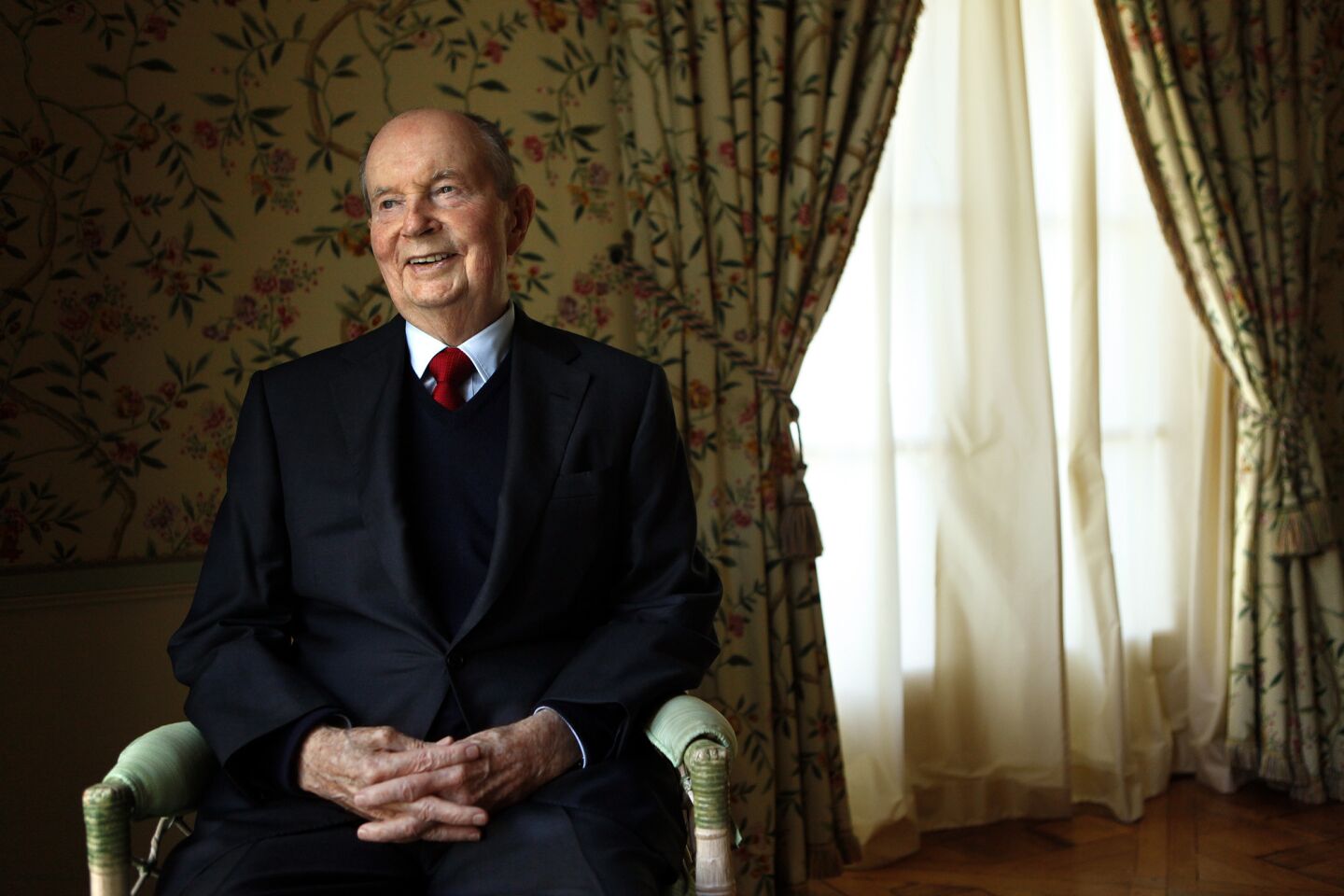 Jerry Perenchio at his home in 2014.
(Genaro Molina / Los Angeles Times)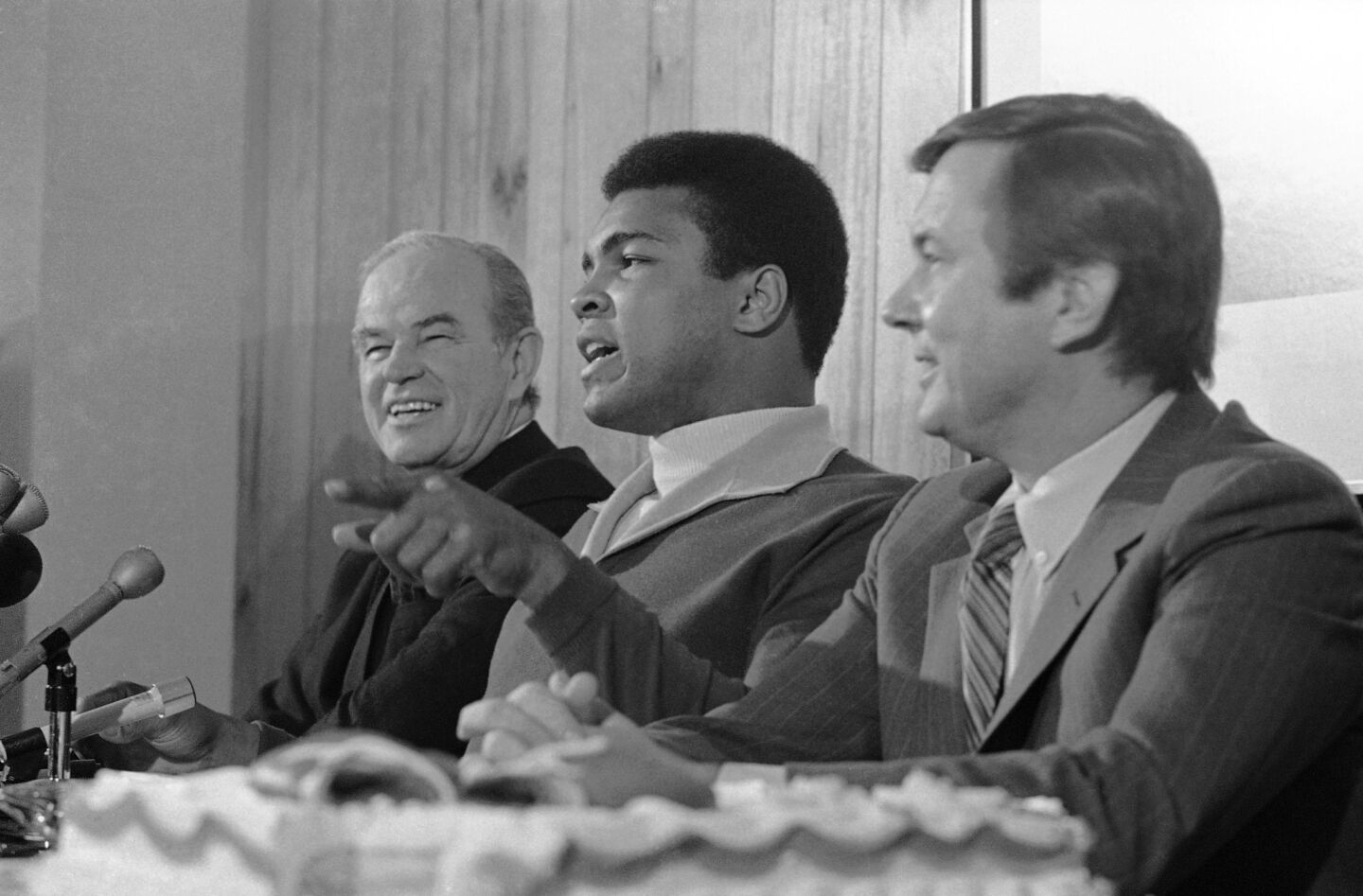 Muhammad Ali is flanked by Jack Kent Cooke, left, and Jerry Perenchio, financial backers of his title fight with Joe Frazier, at a news conference in L.A. in 1971.
(George Brich / Associated Press)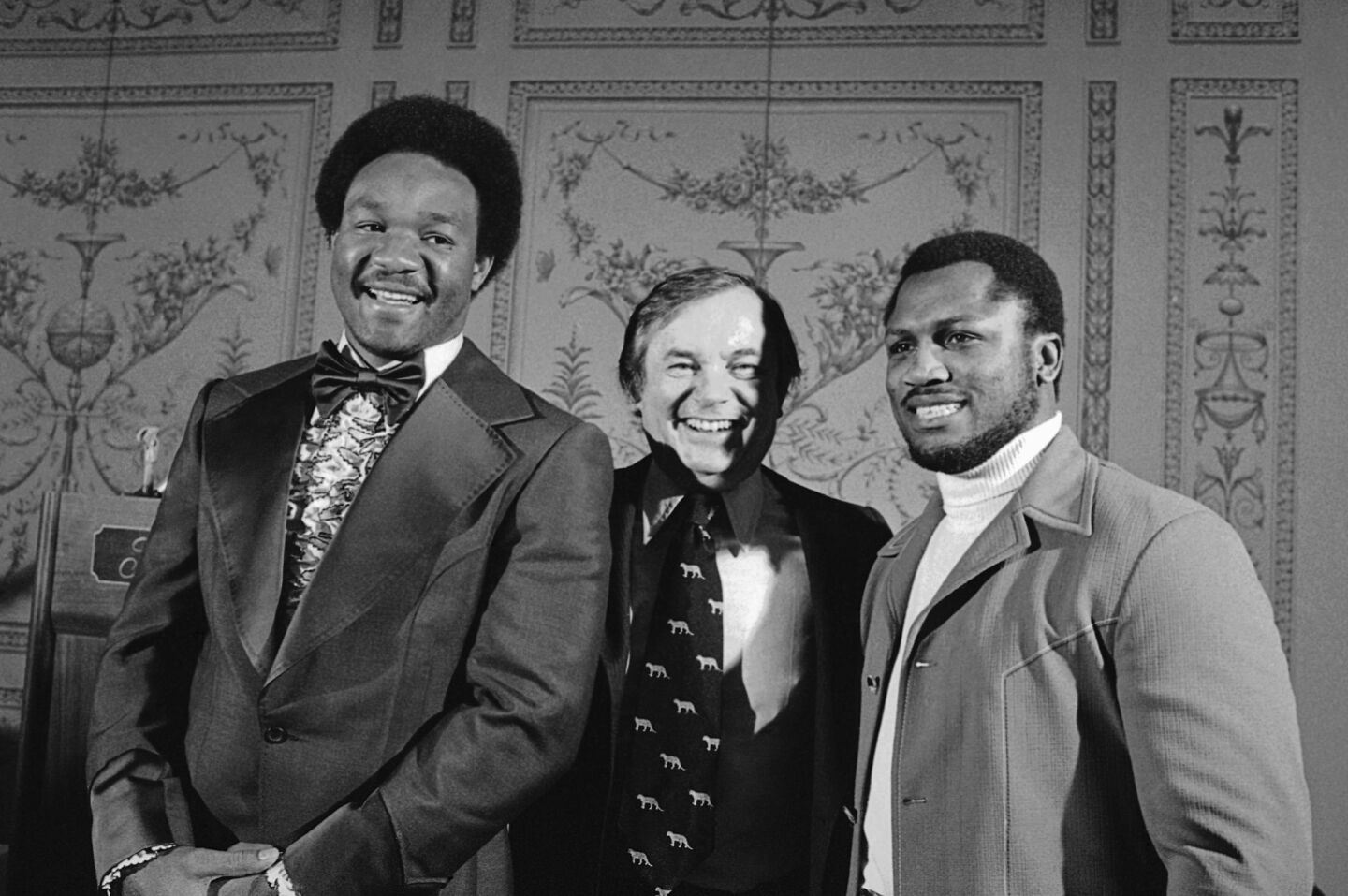 Former heavyweight champions George Foreman, left, and Joe Frazier, right, stand with promoter Jerry Perenchio in New York in April 1976 when it was announced they would meet that year in June for a boxing match.
(Marty Lederhandler / Associated Press)
British sports executive Jarvis Astaire, left, and Jerry Perenchio, CEO of Univision, sign a contract in 1971 giving Astaire the British closed-circuit television rights to the "Fight of the Century" between Muhammad Ali and Joe Frazier in New York City that year.
(Len Trievnor / Getty Images)
Los Angeles County Museum of Art trustee Lynda Resnick, left, Jerry Perenchio and LACMA CEO Michael Govan arrive at a news conference at LACMA in 2014 to announce Perenchio's bequest of artwork.
(Nick Ut / Associated Press)
Television producer Norman Lear, left, and Jerry Perenchio at a Walt Disney Concert Hall gala in 2013.
(Michael Robinson Chavez / Los Angeles Times)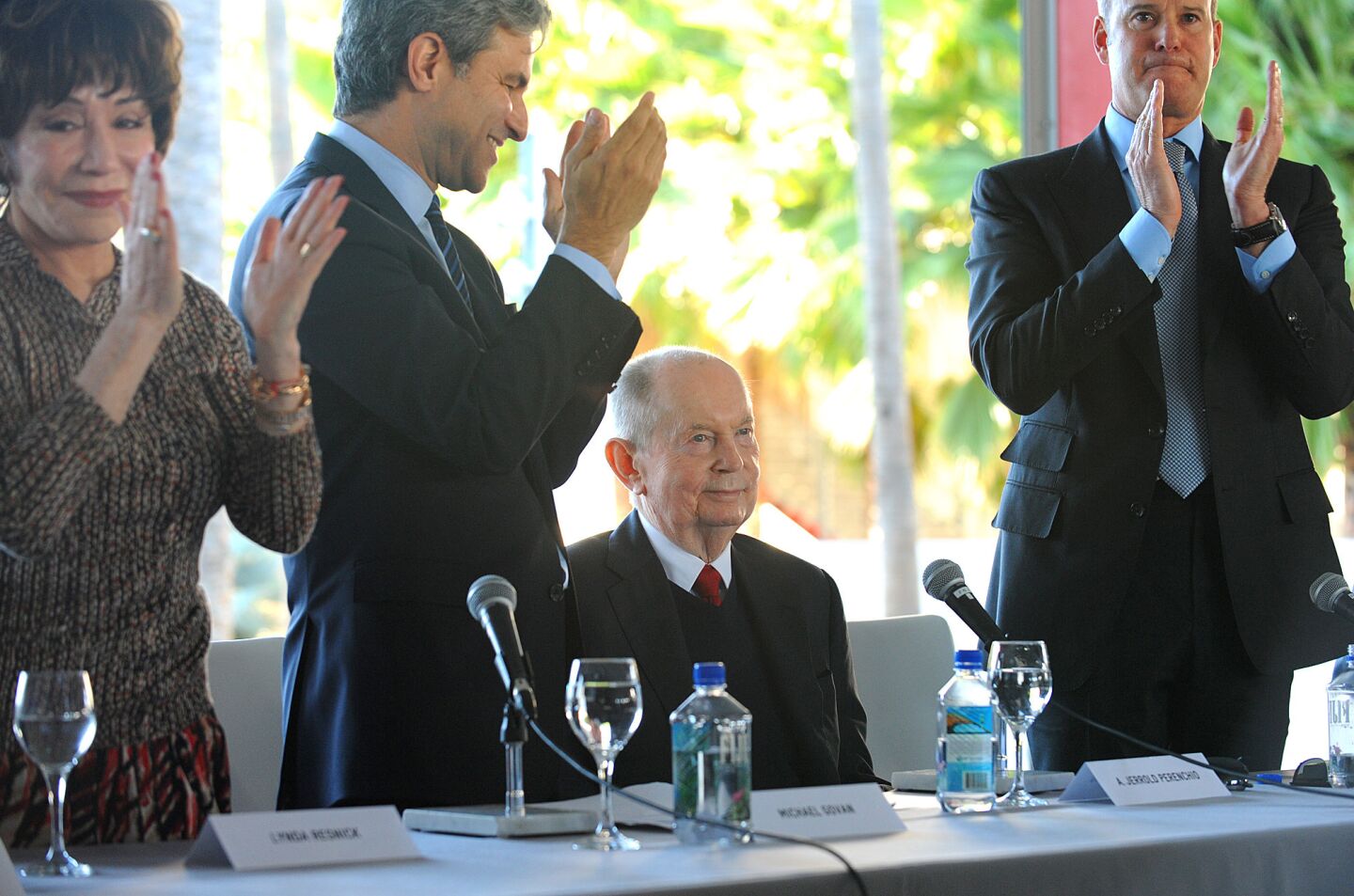 Jerry Perenchio, seated, gets a standing ovation during a 2014 news conference at LACMA to announce his bequest of artwork to the museum.
(Christina House / For The Times)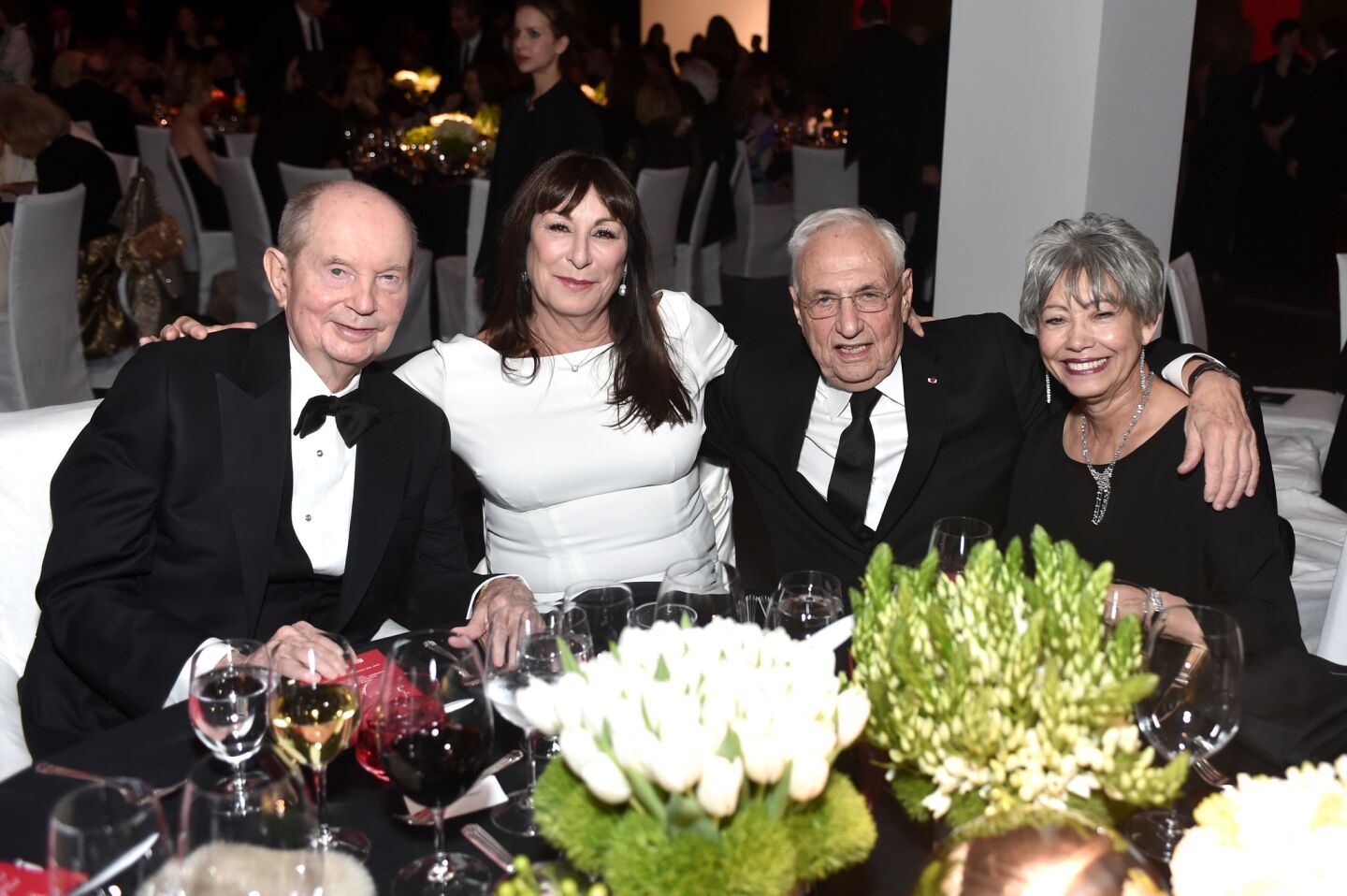 Jerry Perenchio, left, actress Anjelica Huston, architect Frank Gehry and Berta Gehry at LACMA's 50th-anniversary gala in 2015.
(Stefanie Keenan / Getty Images)
Jerry Perenchio, left, Pharrell Williams and Anjelica Huston attend a dinner honoring Elizabeth Taylor in Los Angeles in 2014.
(Tiffany Rose / WireImage)
Richard Donner, left, and Jerry Perenchio at a reception at the Art House in L.A. in 2010.
(Eric Charbonneau / Associated Press)
Jerry Perenchio called his business maxims "Rules of the Road," and when he was offered the chance to promote a boxing match between Muhammad Ali and Joe Frazier back in 1971, he followed No. 8:
"Take Options, Never Give Them."
He got Jack Kent Cooke, then owner of the Los Angeles Lakers, to bankroll the event and sold broadcast rights to concert promoters who booked local theaters for closed-circuit feeds. Frank Sinatra served as a ringside photographer for Life magazine and Burt Lancaster provided color commentary.
The event helped carve a new niche in TV sports — and delivered a $2-million profit, an enormous sum at the time.
Two years later, Perenchio drummed up another media event, the "Battle of the Sexes," by pitting Bobby Riggs, an aging male tennis champion, with feminist Billie Jean King, who was at the top of her game.
Andrew Jerrold Perenchio had "extraordinary instincts," said Alan Horn, his former underling who is now chairman of Walt Disney Studios. "He was always ahead of everyone else."
In his long career, Perenchio, who died Tuesday at his Bel-Air home, deftly pulled the levers of power to create culturally defining media events, propel political candidates, collect masterpiece artworks and become one of the richest men in Los Angeles. He was 86 and was diagnosed with lung cancer five months ago.
The enigmatic billionaire lived in a mansion that was familiar to millions of television viewers as the home of the fictional Clampett clan of the 1960s television sitcom "The Beverly Hillbillies."
Perenchio in late 2014 announced that he would leave much of his collection — at least 47 works valued at more than $500 million — to the Los Angeles County Museum of Art. His holdings include paintings by Claude Monet, Edouard Manet and Pablo Picasso.
"L.A. is my home, and I wanted to leave it to a museum here," he told The Times in 2014. The bequest was scheduled to go into effect after his death — but with a major string attached: The museum must complete construction of a new building and, in 2016, he promised $25 million to that effort.
In his more than 50 years in the entertainment business, Perenchio developed a shrewd sophistication that made him a giant in the industry. His vision and unerring gut instincts, once described as an ability to "see around corners," was legendary in an industry that now relies on marketing, research and digital data. He inspired a generation of top executives in Hollywood by placing big bets that almost always paid off.
As a talent agent in the late '50s and '60s, Perenchio's firm represented such stars as Andy Williams, Glen Campbell and Henry Mancini.
A successful film producer in the '80s, Perenchio helped bring to the big screen such iconic films as "Blade Runner" and "Driving Miss Daisy." He briefly owned the Loews theater chain and became Malibu's largest landowner. During the '90s, he transformed a cash-strapped TV company, Univision Communications, into the nation's dominant Spanish-language media conglomerate. When he sold Univision in 2007, Perenchio had parlayed his initial $33-million investment into a $1.3-billion payout.
Forbes recently estimated his net worth at $2.7 billion.
He did business on his terms – not anyone else's.
That was keeping with his "Rules of the Road," a list of business maxims that he demanded his executives follow. Typed single-spaced, in all capital letters, his 20 no-nonsense rules were quintessential Perenchio. They include:
No. 1: Stay Clear of the Press. No Interviews, No Panels, No Speeches, No Comments. Stay Out of the Spotlight – It Fades Your Suit.
No. 2: No Nepotism, No Hiring of Friends.
No. 3: Never Rehire Anyone.
No. 12: When you Suit Up Each Day it's to Play in Yankee Stadium or Dodger Stadium. Think Big.
No. 14: Loose Lips Sink Ships!
No. 16: A True Leader is Accessible — No Job Too Big, No Job Too Small.
No. 18: If You Make a Mistake, Admit It. Just Don't Make Too Many.
No. 20: Always, Always Take the High Road. Be Tough but Fair and Never Lose Your Sense of Humor.
Perenchio's penchant for privacy was particularly unusual in the land of high-octane egos and personal publicists. Until 2014, he refused to allow his photograph to be taken and The Times would publish the same 1982 file photo that depicted a robust man in his early 50s — even decades later when he had become a white-haired man in his 70s. The dated image, and the newspaper's plight, amused Perenchio, according to his lieutenants.
He gave money to scores of candidates and political action committees. He served on the board of directors for the Ronald Reagan Presidential Foundation & Institute. He contributed more than $3 million to assist Carly Fiorina's 2016 bid for president and was one of the earliest and largest financial backers of U.S. Sen. John McCain's 2008 presidential campaign. He also supported former Gov. Arnold Schwarzenegger, Sen. Dianne Feinstein and former L.A. mayors Richard Riordan and Antonio Villaraigosa. Over the years, he gave more than $30 million to candidates, political causes and the Republican National Committee.
Perenchio also donated tens of millions of dollars to charities, foundations and building projects, including Walt Disney Concert Hall and the Ronald Reagan UCLA Medical Center. His contributions to charitable organizations were nearly impossible to tabulate because most were given under the veil of "anonymous."
"He was one of the most generous people whom I've ever met, and yet, in a town where everyone wants to take credit for everything, he refused to take credit for a lifetime of achievements," Mark Gold, now an associate vice chancellor at UCLA, said in 2008. "He was really quite extraordinary."
Stay Out of the Spotlight – It Fades Your Suit.
— Jerry Perenchio
Perenchio was born into a Fresno family of vintners Dec. 20, 1930, the only child of Andrew and Dorothea Harvey Perenchio.
He adored his Italian-immigrant grandfather, John Batiste Perenchio, who was a fresh-fruit broker who founded the Fresno Grape Exchange and a winery in nearby Reedley. There he was schooled in the fine art of business.
Years later, Perenchio would reminisce to his subordinates about how he would help his grandfather fill orders by loading heavy baskets of freshly picked grapes into a truck bed.
"Sixty bushels, we stop now," said young Perenchio.
"No," said his grandfather. "We give them 63. They're our friends, the Mondavis."
His parents enrolled the 15-year-old Perenchio into an elite Los Angeles prep school called the Black-Foxe Military Institute. His two dozen classmates voted him "Biggest Showman and Promoter" and "Teller of Tall Tales." In 1949, he graduated from the Hancock Park school, which has since been razed.
His father, in the 1950s, helped manage the Greek Theatre in Griffith Park, which gave Perenchio a front-row look at show business. When he attended UCLA, he started his own business, "Party Management," which booked bands and catered celebrations. He graduated from UCLA in 1954 with a degree in business. That same year, he married Robin Gardner Green. They would have one son, John, and he adopted his wife's two daughters.
In 1955, Perenchio entered the U.S. Air Force as a second lieutenant. He earned his wings as a single-engine jet fighter pilot and became a flight instructor at Gary Air Force Base in Texas.
A year after his discharge in 1957, he began his long career in Hollywood. He joined the Music Corp. of America, the behemoth run by the powerful Lew Wasserman. The company had its tentacles seemingly everywhere: booking bands, producing movies, distributing TV shows and representing talent.
"He learned a lot from Lew Wasserman," singer Andy Williams, a longtime friend of Perenchio's, told The Times in 2006. "Jerry was an MCA man. He was always very well dressed and very well mannered."
Perenchio was decidedly old-school. Wasserman instructed his agents to promote the talent, not themselves, a mandate that Perenchio would later incorporate into his own "Rules of the Road." In 1962, under pressure from the antitrust division of the Justice Department, Wasserman was forced to divest MCA's talent agency from its booming studio business.
That would be a turning point for 31-year-old Perenchio.
He left MCA and opened his own talent agency on Sunset Boulevard after aggressively scooping up many of MCA's marquee musicians, including Williams, Campbell, Henry Mancini, Johnny Mathis, Sergio Mendes and the Kingston Trio.
A few years later, he merged Perenchio Artists with the Hugh French Agency, which represented such stars as Elizabeth Taylor and Richard Burton. Their boutique firm, Chartwell Artists, had plenty of pull. Perenchio arranged Elton John's first trip to the U.S. after he heard an early recording.
In 1969, Perenchio entered the big leagues of match-making. He introduced Clifford and Stuart Perlman, the owners of Lum's Inc., to the founder of Caesar's Palace in Las Vegas. The meeting led to the $60-million sale of the casino, and, for an afternoon's work, Perenchio collected an $800,000 fee. That whetted his appetite for a high-rolling life.
His most audacious deal was the 1971 matchup between Ali and Frazier in New York's Madison Square Garden. A Chicago boxing promoter had called Perenchio's office in New York, offering the fight.
A young agent working for Perenchio, Howard Rose, remembered tracking down his boss at a London hotel to ask. The offer had come with a catch. Perenchio would have to guarantee the $5-million purse if he wanted to be the promoter for the big fight. "He didn't even hesitate. He said, 'Tell them, I'm in'," Rose later recalled.
After getting Cooke to fund the purse, they sold rights to broadcast the "Fight of the Century" to regional promoters with closed-circuit TV feeds. Thousands of people poured into such venues as the Forum in Los Angeles, then owned by Cooke, to see the historic match.
"He created this aura of entertainment around the sport of boxing," Rose said. "He turned it into show business and took it to the masses."
Two years later, Perenchio orchestrated the "Battle of the Sexes" with the two tennis stars.
"He said, 'We've got to market this as a confrontation between male chauvinism and women's liberation,'" said Horn, who went to work for Perenchio in 1973. "He understood the trends in our society."
That year Perenchio joined legendary television producer Norman Lear, who introduced to America such enduring shows as "All in the Family," "Sanford and Son" and "Maude."
"Jerry was tough, terribly smart and terribly straightforward," Lear told The Times in 2006. Lear had been working with his producing partner, Bud Yorkin, but Lear said, "Neither of us were business people. But when Jerry joined us, he made it a business."
In 1974, with about $50,000, Lear and Perenchio formed a new production company, TAT, where they produced "The Jeffersons," "One Day at a Time" and "Mary Hartman, Mary Hartman."
"The world has lost a glorious, most generous man and an absolute original," Lear said Wednesday.
Perenchio experimented with "on-demand" television — a concept of home theater that has since become a reality. Nearly four decades ago, Perenchio tried to create such a service, called National Subscription Television. He began buying TV stations to form his network, but it sputtered because the technology wasn't advanced enough to deliver shows without rampant piracy.
He and Lear in 1982 put together $25 million to acquire a second-tier studio, Avco Embassy Pictures. Full of bravado, Perenchio told The Times that year that Embassy would become "a major company. We're going to model ourselves after ourselves."
They merged it with their TV businesses and sharpened their film credentials by distributing such movies as "Blade Runner," "This Is Spinal Tap" and "A Chorus Line." In 1985, he sold Embassy, with its rich library of Lear television shows, to Coca-Cola for $485 million. He and Lear became enormously wealthy.
Next he put together an investment group that paid $165 million to acquire the storied Loews theater chain. The group nearly doubled their money the following year when Perenchio sold the theaters to Tri-Star Pictures for $300 million. Perenchio's timing was perfect. The federal government had just relaxed rules that previously had prevented movie studios, including Tri-Star, from distributing pictures and owning theaters. With the restriction lifted, a new class of buyers was created.
Perenchio in 1986 bought the Kirkeby Estate in Bel-Air, the mansion seen in the CBS sit-com "The Beverly Hillbillies," for nearly $14 million. He spent millions of dollars more to buy adjacent lots and make renovations to create a Versailles-like palace that accommodated his growing art collection and a cellar for one of California's largest private wine collections. Last summer, he purchased for $15 million the Reagans' longtime home in Bel-Air after the first lady's death.
Perenchio was also one of Malibu's largest land holders through his ownership of the Malibu Bay Co. He bought 10 acres near the Malibu lagoon for a weekend retreat. Years later, he gained notoriety when environmentalists discovered that, instead of building a passive park as Perenchio had promised coastal regulators, he had actually constructed a mini-golf course without proper permits. Naturalists fretted that runoff from his property would pollute the bay.
To halt the controversy and end the legal wrangling, he said that he would donate his Malibu property to the state after both he and his wife were deceased.
Perenchio was always ahead of the curve.
His interest in Spanish-language media dated back 30 years, when it was a backwater business ignored by the major media companies. In 1986, President Reagan signed a landmark immigration reform and amnesty bill. Perenchio knew the number of Mexicans moving to the U.S. would surge, and he wanted to capitalize on the trend. He offered to buy several Spanish-language television stations, including KMEX-TV Channel 34 in Los Angeles. But when the station owners tried to start a bidding war, Perenchio walked away.
The world has lost a glorious, most generous man and an absolute original.
— Norman Lear
In 1986, Hallmark Cards Inc. acquired the company, which it named Univision Communications. But within a few years, Hallmark's operation was drowning in debt.
Perenchio saw his opportunity and wooed two Latin American media moguls, Emilio Azcarraga Milmo of Mexico and Venezuelan Gustavo Cisneros, to join him. In 1992, the trio bought Univision for $550 million — the same amount that Hallmark had paid six years before.
By using his U.S. citizenship as leverage, Perenchio became the senior partner of the group and Univision's chief executive. He persuaded Azcarraga to provide the hugely popular telenovelas produced by his company, Grupo Televisa, to Univision. The deal provided the foundation for Univision's profitability and eventual domination of U.S. Spanish-language television.
Because the Televisa telenovelas played first in Mexico, Univision knew which ones clicked with audiences. And with Televisa supplying so many hours of programming, Univision kept a lid on costs.
Univision also had demographics on its side. Two-thirds of the U.S. Latino population are Mexicans or of Mexican descent, and thus, many grew up watching Televisa in their homeland. Univision's programming was comfortable and familiar.
When Perenchio and his partners bought Univision in 1992, the company consisted of the Univision network. Over the years, Perenchio added music labels, radio stations and TV stations.
Buoyed by the rising tide of immigration and its popular programming, Univision is now a $2-billion-a-year business. The flagship Univision network is the fifth largest in the U.S., behind CBS, NBC, ABC and Fox, by attracting an average of 2 million viewers a night.
In 2006, Perenchio decided to unload the operation. The markets were flush with cash. Once again, Perenchio knew the timing was right.
Perenchio is survived by his wife, Margaret Perenchio; his three grown children John, Catherine and Candace from his first marriage; five grandchildren; and three great-grandchildren.
A private funeral service will be held next week. Memorial donations may be made to LACMA's building campaign.
Times staff writer David Ng contributed to this report.
---
UPDATES:
6:20 p.m.: This article was updated with additional details.
4:20 p.m.: This article was updated with additional details.
This article was originally published at 3:05 p.m.
---
Inside the business of entertainment
The Wide Shot brings you news, analysis and insights on everything from streaming wars to production — and what it all means for the future.
You may occasionally receive promotional content from the Los Angeles Times.