Red Building at Pacific Design Center getting tenants at last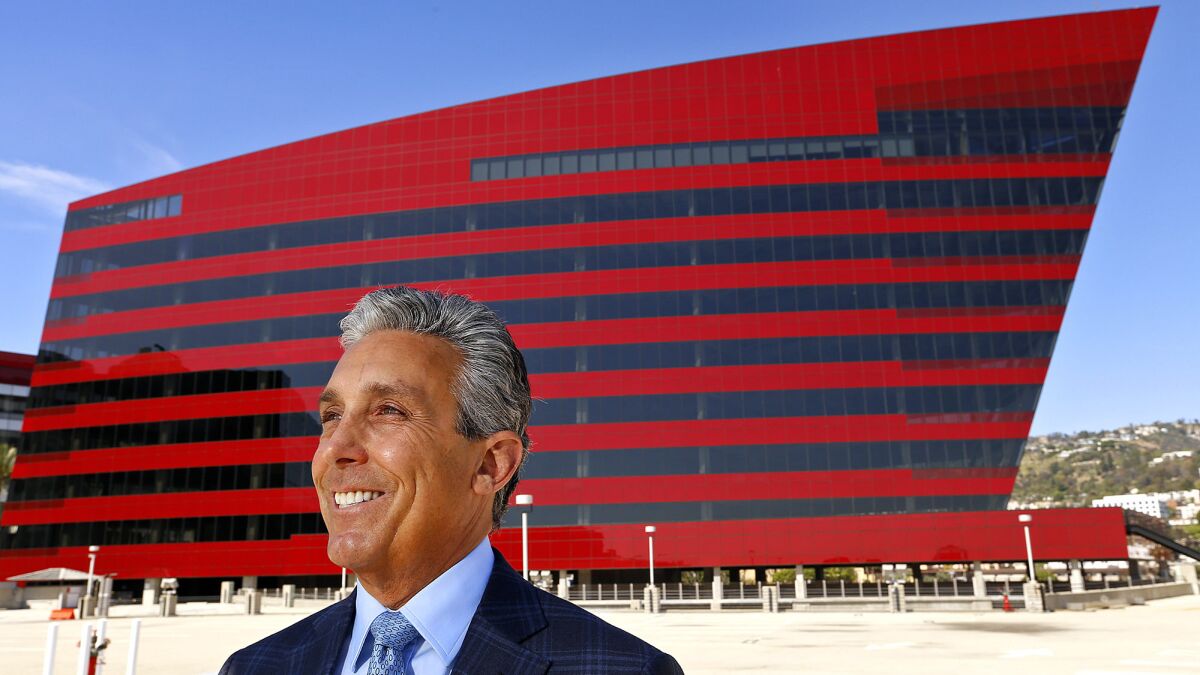 Internationally renowned architect Cesar Pelli envisioned three striking towers in West Hollywood — clad in bright blue, green and red.
They would flout convention in the commercial development world, where builders usually stick to conservative designs for fear of offending the firms targeted as tenants.
That was back in the 1970s. It only took him half a century to realize his vision on the skyline.
In the last step of that process, tenants will soon be moving into the Red Building, which was finished in 2013, finally taking its place next to the Green Building and the Blue Building at the intersection of Melrose Avenue and San Vicente Boulevard. Together, they are the Pacific Design Center.
"I have worked on this my whole life," said Pelli, now 88, speaking from his offices in New Haven, Conn. "It has become a very special baby for me."
The Red Building has been essentially unoccupied since it was completed as landlord Charles S. Cohen held out for the tenants and rents he wanted. Now Cohen has four signed tenants, including Whalerock Industries, a media and technology company that will move from Santa Monica.
Whalerock is headed by Lloyd Braun, former chairman of ABC and former head of Yahoo Media Group. He plans to move about 200 employees to the Red Building by the fourth quarter of this year, Braun said.
The unusual-looking curved structure drew him in.
"The building is stunning — one of the most beautiful I have seen in Los Angeles," Braun said. "It is daring, elegant, sophisticated and yet inviting."
Other new tenants are independent TV studio Gaumont International Television; the U.S. headquarters of high-end British clothing retailer AllSaints, which is moving from New York; and Web-based employment testing service Criteria Corp.
"It may have taken longer than we would have liked" to land the first tenants, Cohen said, "but some things are worth waiting for."
The four tenants will occupy a combined total of more than 65,400 square feet of offices in the 400,000-square-foot structure. Cohen said he's negotiating with other tenants who could move into an additional 90,000 square feet.
Cohen said he was determined to find tenants in creative fields who would fit into the spirit of the Pacific Design Center, as envisioned by Pelli four decades ago. Back then, Pelli came up with the concept for three primary-colored buildings that would house showrooms selling furniture and other home furnishings to interior decorators and other licensed tradesmen.
It turned out that the market wasn't big enough for three such buildings. The 750,000-square-foot building commonly known as the Blue Whale has been filled with showrooms since it opened in 1975, but the smaller Green Building completed in 1988 failed to fill with wholesalers.
Cohen, who acquired the Pacific Design Center in 1999, decided to turn the Green Building into offices as well as showrooms and went on to start construction on the Red Building in 2007 — the last boom period in the regional office market.
Argentina-born architect Pelli had meanwhile grown famous for designing numerous grand structures, including the 88-story Petronas Towers in Kuala Lumpur, Malaysia; Canary Wharf Tower in London; and the Mandarin Oriental hotel in Tokyo.
Pelli updated his original boxy design for the Red Building to a sleeker, more rakish set of two towers connected by a common lobby. During the long course of the Pacific Design Center's development, the neighborhood went though substantial changes.
"It was a place you went that was not surrounded by anything," Pelli said, recalling the 1970s. "Now it's wonderful."
West Hollywood emerged in the last century as a blue-collar neighborhood around a Pacific Electric Railway streetcar yard. It was an incorporated area of Los Angeles County until it became a city in 1984.
When the Blue Whale was completed in 1975, there was a tiny wooden shack in front of its main entrance occupied by a humble metal-plating business. Its proprietor — who refused to sell to the Pacific Design Center developers — refurbished old doorknobs, light fixtures and other home furnishings by dipping them in vats of heated nickel, brass and copper.
The shabby shack stood at Melrose and San Vicente until 1998, when the owners finally gave in and sold it to the Design Center for more than twice the going rate for local land at the time.
West Hollywood is now a thriving community known for its nightlife and dining along the Sunset Strip and Santa Monica Boulevard. The design industry remains a strong presence in the blocks near the Design Center.
The office market is also on the upswing, real estate broker Josh Wrobel of JLL said, as other neighborhoods nearby fill with tenants.
"It doesn't hurt that Beverly Hills is drum-tight," Wrobel said, "and Hollywood will be there shortly as well."
West Hollywood is a central location for entertainment companies doing business on the Westside, Hollywood and Burbank, he said, and the Red Building suits their sensibilities.
"It has a unique look that very much meshes with what the entertainment world likes," he said.
Developer Cohen, who is chief executive of Cohen Bros. Realty Corp. and is based in New York, now has his eye on the vast MTA bus storage lot on Santa Monica Boulevard next to the Design Center that was once a streetcar depot. It's large enough to hold multiple uses such as offices, apartments, a hotel, shops and restaurants.
"We're very interested in working with the county and the MTA to develop the site," he said.
Sign up for the California Politics newsletter to get exclusive analysis from our reporters.
You may occasionally receive promotional content from the Los Angeles Times.