Amazon wants Alexa in every home — so now it's getting into the home-building business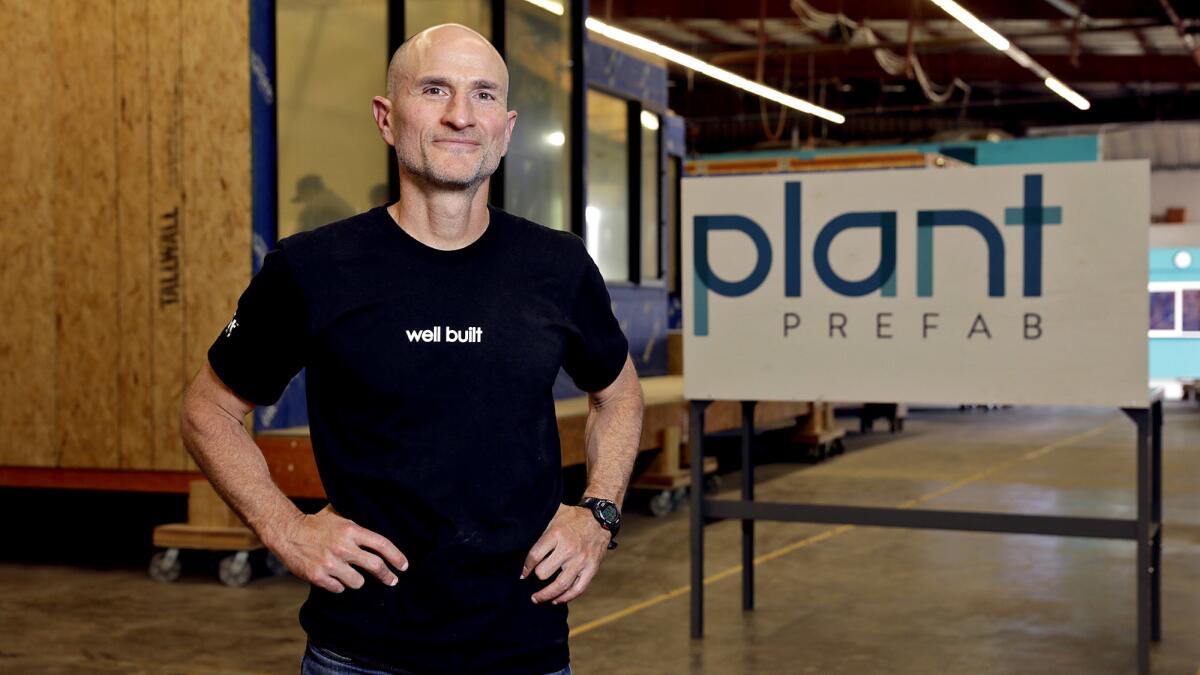 On a mid-September morning, six trucks pulled into an alleyway of Oakland's fast-gentrifying Golden Gate neighborhood, their oversize load wrapped in white plastic sheets — each truck carrying a piece of Jeff Stone's prefabricated home.
As the blocks were lifted by a crane and anchored in place by a small crew of construction workers, Stone, an assistant editor at Pixar Animation Studios, his wife, the couple's friends and neighbors stood watching. Module after module, the red barn house that the Stones had first sketched on a piece of paper a few years back — a nod to Oakland's farming past — began to take shape.
By the end of the workday, the 1,741-square-foot duplex still needed work. Plumbing, wiring and gas had to be connected, and finish materials had to be applied where the blocks came together. But an entire house was standing in place of an empty backyard.
The residence had been constructed in just a fraction of the time it typically takes for a custom home to be designed and rise from its foundations. And while not quite a magic trick, the streamlined process developed by Plant Prefab has drawn the kind of notice most young companies can only dream of — from Amazon.
Last month, the giant online retailer's Alexa Fund contributed to the Rialto-based start-up's $6.7-million Series A funding round. The fund promotes the development of applications for its Alexa voice-activated technology, including "smart homes" that would control all aspects of the residential environment — doorbells, lights and anything else you can imagine.
It's a huge business opportunity. With more than 600,000 new homes sold in the United States alone last year, there are billions of dollars to be made by anyone who can get a head start in dragging the industry into the tech age — something Amazon has accomplished in multiple businesses.
"The industry is ripe for disruption," said John Burns, an Irvine-based real estate consultant. "There's a huge competitive advantage for someone who has the capital."
Ever since introducing its Echo device in 2015, Amazon has dominated the U.S. market for artificial intelligence-powered speakers — the nerve center of an interconnected home. The tech giant controls 70% of the smart-speaker market, according to one estimate, with its next-closest competitor, Google, at 24% and Apple at 6%. But pressure has been growing on the Seattle company.
Earlier this year, Google surpassed Amazon in global smart-speaker sales, according to research firm Canalys. Google and Apple have also announced collaborations with home builders to incorporate Google Assistant and Siri in select residential communities.
To stay competitive, Amazon announced new home appliances and gadgets, including smart clocks and microwaves. Now, its investment in the prefab market is a chance to secure long-term relevance for its devices by influencing the way houses are built.
Prefabricated homes aren't new. Traditionally, they've been associated with trailers and other low-cost accommodations built with cheap materials for people who can't afford to live anywhere else. Plant Prefab has gone upscale with the concept, and while it isn't the first to do so, its focus on streamlining production for custom homes that can fit on small lots in urban areas is a promising niche.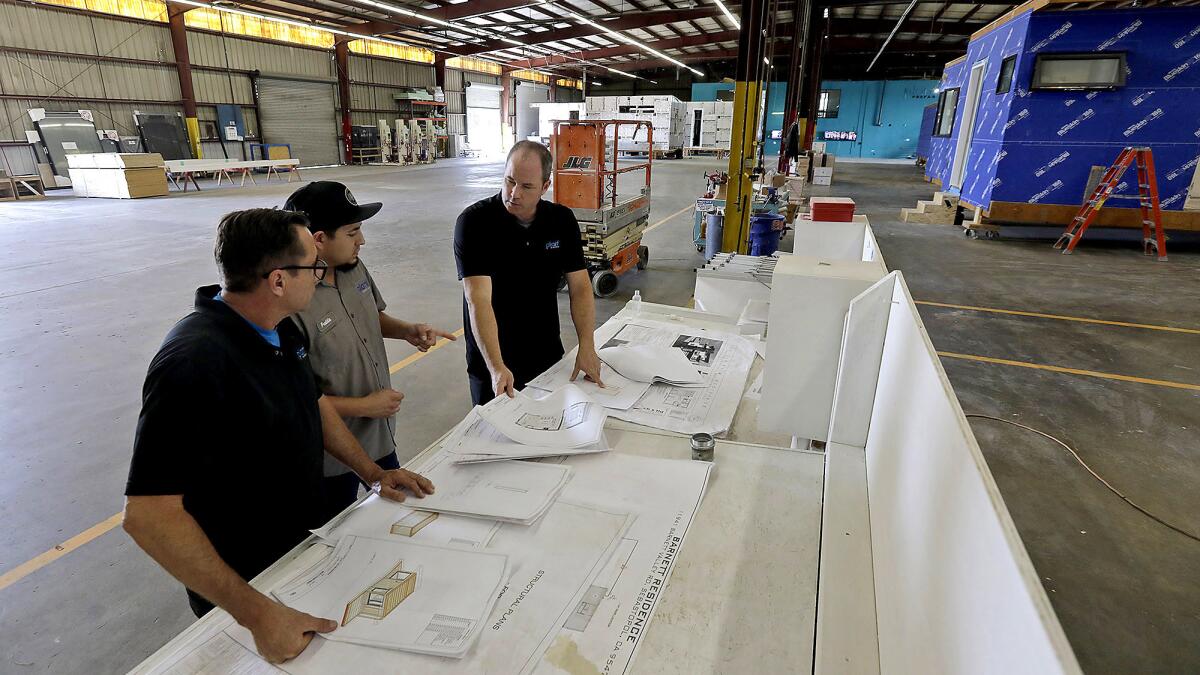 It took Plant Prefab less than two months to manufacture the Stones' Oakland house, and crane operators and contractors worked less than nine hours at the site to install the six components making up the barn. By contrast, it took the average contractor nearly 12 months last year to build a custom home from the ground up, according to government statistics.
To bring down costs, Plant Prefab located its factory in suburban Rialto, 50 miles east of Los Angeles, where land and labor costs are lower. The start-up also relies on 35 full-time employees rather than a number of subcontractors so it can better control the process. The company says it's able to not only sharply reduce construction times but also shave costs by 10% to 25%.
"When you're building in cities, you're dealing with some of the biggest challenges: higher labor costs, higher land costs and a higher cost of materials," said Plant Prefab Chief Executive Steve Glenn. "We can't do much about land and materials, but we can focus on reducing construction times and labor costs."
Glenn could not comment on the specifics of the Amazon investment, but said he's looking forward to spending some time with the company "to see how to integrate smart technology in homes."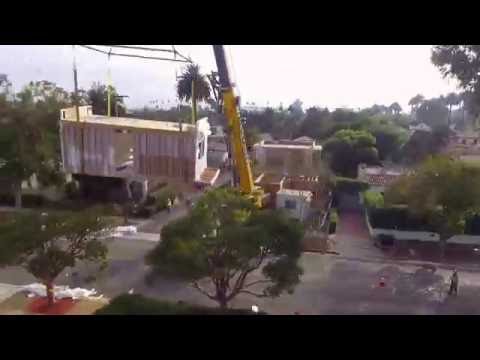 Companies receiving Alexa funding gain access to several non-monetary services such as development support, marketing assistance and "other resources that help them build successful businesses with Alexa," according to an Amazon representative, who declined to provide more details.
One of the country's largest home builders, Lennar Corp., has a partnership with Amazon that could shed light on how Plant Prefab's collaboration with the tech giant might look.
Earlier this year, a series of Lennar model homes were spruced up with smart speakers, intelligent video doorbells and other gadgets. They were dubbed Amazon Experience Centers, where visitors could interact with Alexa to control TVs, lights, thermostats and shades, and generally test out living in an interconnected home.
David Kaiserman, president of Lennar Ventures, said Amazon approached the home builder after a partnership with Sunnyvale, Calif.-based Ruckus Wireless to develop a wireless home with no dead spots — where devices work seamlessly together and can be controlled via the owner's voice in Alexa's natural habitat.
For now, only a select number of Lennar model homes incorporate the wireless technology. Buyers who choose to invest in one receive Alexa-enabled products and other smart devices as part of the package.
"The infrastructure is super-critical," said Kaiserman, who expressed little surprise over Amazon's investment in Plant Prefab.
"Prefab is a form of technology used across the industry to some extent, and it's increasingly looked at as we face affordability issues and labor shortages," he said, noting that Lennar prefabricates roof and wall components.
Other established home builders and start-ups are moving into prefabrication too.
Katerra, a Menlo Park, Calif.-based start-up that manufactures modules in factories for its multifamily and commercial buildings, received $865 million this year in a Series D funding round led by the SoftBank Vision Fund.
But unlike Lennar, best known for building large suburban tracts, and Katerra, whose projects are larger in nature, Plant Prefab focuses on finding solutions to the challenges of building homes in the urban housing market. They are the kind of homes that can fit in the nooks and crannies of large urban areas, where the shortage of land suitable for development means home builders have to find creative ways to redevelop lots that were once the sites of restaurants, churches and factories.
Real estate economist Gerd-Ulf Krueger said this business model is probably what attracted Amazon's attention. "It's a test to see if the model can actually bring down prices in cities with housing shortages," he said.
Glenn founded Plant Prefab in 2016, 10 years after starting Living Homes, a Santa Monica-based prefab company best known for its philanthropic work with Brad Pitt's Make It Right foundation, which installed modular homes in New Orleans' Lower Ninth Ward after Hurricane Katrina in 2005.
With Living Homes, Glenn was explicitly targeting, in his words, "the cultural creative," whom he identifies as the user of Apple products who drives a Prius, buys groceries at Whole Foods and values design and sustainability. One of Living Homes' first projects, featured in several glossy magazines, was built in Santa Monica and designed by Modernist architect Ray Kappe.
With Plant Prefab, Glenn wanted to develop a reliable manufacturing partner for Living Homes, which up until then had outsourced all production. But he also wanted to broaden his customer base by offering sustainable and aesthetically pleasing homes at affordable prices.
Living Homes was merged into Plant Prefab this year and now sells a $160,000 home that has one bedroom, one bathroom and totals 400 square feet, the kind of residence suitable for a backyard property. Still, at $150 to $230 per square foot excluding land costs — a range roughly equivalent to the cost of building a traditional custom property — Plant Prefab homes don't offer a realistic solution for people priced out of homeownership.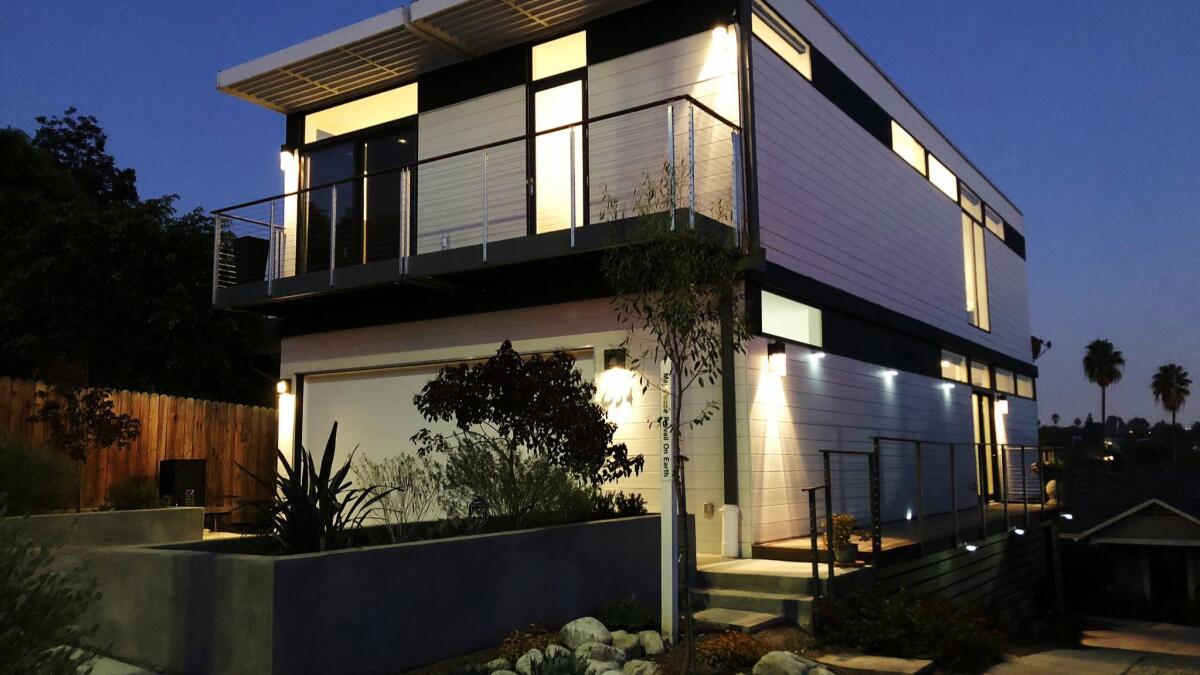 The company has completed preliminary design work on an affordable senior housing project in the Coachella Valley, but Glenn acknowledges that most Plant Prefab homes have been purchased by customers who are upper middle class or wealthy.
"We try to make the process as cheap as possible, but we make custom high-quality homes," he said. "We don't make mobile homes."
The Stones' barn was assembled in the back of a home that the couple had purchased in 2012, as house prices were beginning to soar in the Bay Area. To be able to afford the investment, Stone and his wife had decided to rent out the main property and live with their two kids in a trailer parked in the back, while saving enough money to build a second home.
The new house cost about $280,000, and the couple estimate that additional expenses such as permits, foundation work, landscaping, plumbing and electricity will add up to $300,000.
The total cost of nearly $600,000 would be high in some markets but was a bargain for Stone. He had sought quotes from traditional custom home builders and other prefab companies, but all were out of the couple's price range and some were "astronomical."
"Plant Prefab saved us at least $80,000. We would not have been able to afford this otherwise," Stone said. "If we didn't tell people it's a modular home, they wouldn't necessarily know. It doesn't feel like a house that was brought in on a truck or put together somewhere else."
Stone figures he could already sell the home for $1 million in a neighborhood where, according to Zillow, the median price reached $793,000 in August — although he said he has no intention of doing so.
With the money from the latest funding round, Glenn hopes to scale up the company's operations, investing in marketing and building more factories in other parts of the country. So far, the market for Plant Prefab homes has been limited. Despite having been in business for two years, the company has built fewer than 30 homes, mostly in California.
Yet, the opportunities are growing for innovative builders as urban areas continue to draw more residents and housing prices rise.
Los Angeles is among the cities considering adopting new rules that would make it easier for homeowners to build extra units in their backyard, and it recently updated regulations that allow the construction of detached single-family homes on land zoned for commercial and multi-family use.
It costs about $300,000 — including land — to build a home in the United States, and more than $500,000 in California, noted Burns, who is a consultant to major U.S. home builders.
"If anyone can halve that, they could be the winners in this space," he said.
aurora.percannella@latimes.com
Twitter: @auropercannella