Amazon to open 2nd physical bookstore, this one in Southern California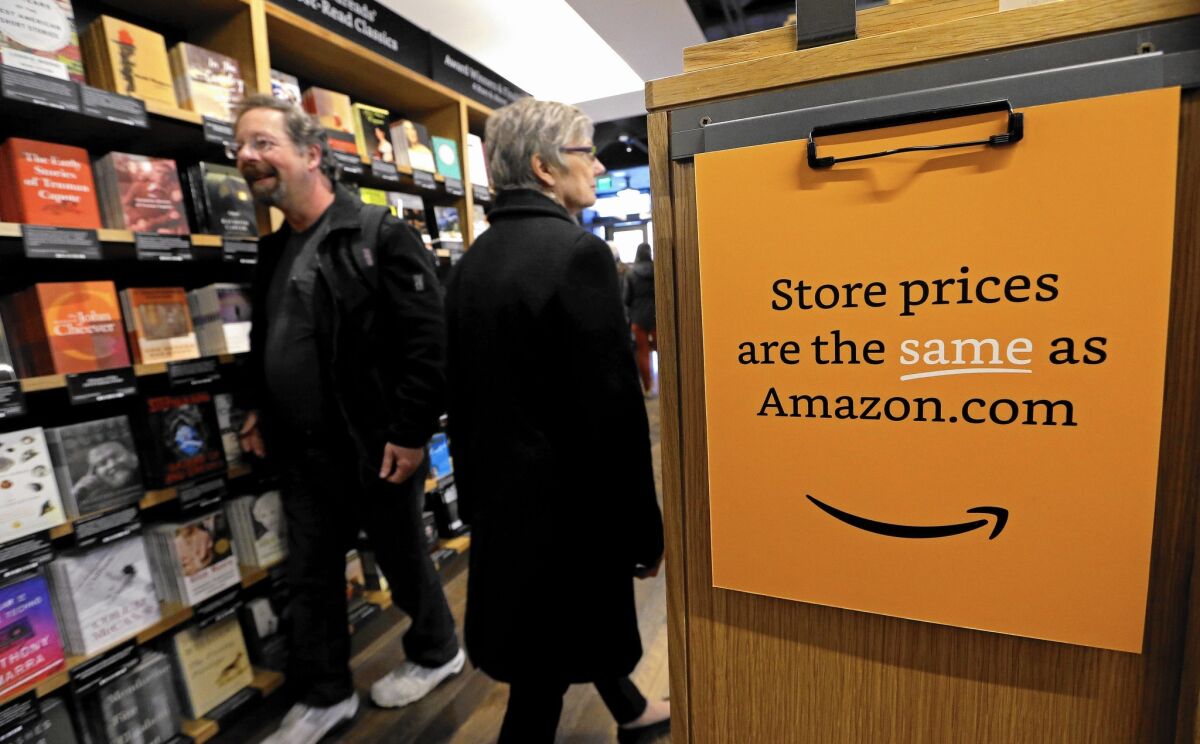 Amazon will open its second physical bookstore in the summer — this time in Southern California — venturing further into the business that it squeezed over two decades.
Called Amazon Books, the store will be located at Westfield UTC mall near UC San Diego. New signs posted in front of the e-commerce company's future bricks-and-mortar location confirm what's been expected since early February, when Amazon advertised online for Amazon Books store managers, booksellers and device enthusiasts.
The Seattle company already operates a bookstore in an upscale shopping center in its hometown and could eventually open up to 400 bookstores, according to a recent earnings call from mall operator General Growth Properties Inc.
See more of our top stories on Facebook >>
"We are excited to be bringing Amazon Books to the University Towne Center Mall in San Diego and we are currently hiring store managers and associates," Amazon spokeswoman Sarah Gelman said. "Stay tuned for additional details down the road."
Amazon is jumping in at a time when many independent bookstores are enjoying an upswing after titanic shifts in the industry, including the boom in buying cheap books online and the rise of e-books.
Many small booksellers are seeing sales increases, buoyed by the "shop local" movement that has pushed many customers to patronize their neighborhood shops instead of buying online. Some bookstores are even investing in new branches and finding buyers when their original owners retire, said Oren Teicher, chief executive of American Booksellers Assn.
In 2015, the group had 2,227 bookstores on its membership roster, up nearly 35% from 2009. Members also reported a more than 10% rise in unit book sales from 2014.
Many booksellers are worried about the effect Amazon's offline efforts will have on bookstores.
Amazon "dominates the book market," said John Mutter, editor-in-chief of Shelf Awareness, an online newsletter for booksellers and librarians. "In some ways it feels like they want to get into brick-and-mortar book retailing to try and disrupt the one part of the business they don't dominate."
Analysts say that Amazon could also be experimenting with using physical stores as smaller versions of distribution centers, which it has been aggressively opening in recent years to ensure speedy delivery times. Orders can be shipped directly from the stores, while the locations themselves can serve as convenient places for shoppers to browse products and return items in person, industry watchers said.
The San Diego store will presumably resemble the Seattle location, which sells a limited selection of Amazon's best-reviewed books. That venue also doubles as a showroom for the e-commerce brand's expanding hardware lineup, which includes its Kindle, Fire TV, Fire tablets and Echo. The Echo, the company's latest gadget, is an in-home personal assistant powered by artificial intelligence.
Mutter, who has been to Amazon's Seattle store, said he was surprised by its sparse book inventory. The shop seemed to be more a showcase for devices, he said, than books.
"For a store of that size, they don't have that many books compared to what an independent would have," Mutter said. "I had this distinctive reaction," he joked, "that cash flow is bad, so they can't afford inventory."
In some ways though, Amazon's first two bookstores will mimic the formula of many traditional bookstores — opening up shop where affluent shoppers are.
The San Diego store will be located in an upscale mall adjacent to a Tesla store and across from an Apple store. In the same mall, other e-commerce companies such as menswear retailer Bonobos and trendy eyeglass company Warby Parker have also put down physical roots.
The shopping center matches the style and retailers of University Village, the Seattle-area mall where Amazon's first bookstore opened in November. That location spans 7,500 square feet, with approximately 5,500 square feet of retail space.
SIGN UP for the free California Inc. business newsletter >>
The Westfield UTC mall represents a great "showcase" location for Amazon, said Miro Copic, a branding expert and marketing lecturer at San Diego State. San Diego's demographic makeup presumably matches that of the e-tailer's online customer base, he said.
Copic anticipates that Amazon will use the San Diego venue to sell its entire brand — not just books — and teach shoppers about the perks of Prime membership, such as music and TV content, or educate them on the advantages of owning an Echo.
"It will be a way to have the Amazon experience at the mall," Copic said.
Both stores are near big colleges, which could provide a boost from students curious to check out Amazon in person after regularly ordering from the website.
It remains to be seen whether Amazon will undertake a serious expansion into real bookstores.
"I suspect it's a test," Forrester analyst Sucharita Mulpuru said. "Two small stores aren't going to change the fortunes of a company" that has topped $100 billion in annual sales.
jennifer.vangrove@sduniontribune.com
MORE BUSINESS NEWS
Internet fame often comes with hate and harassment
Gamergate's Anita Sarkeesian has a new focus: History's overlooked women
How would a Donald Trump presidency affect the stock market?
---
Sign up for the California Politics newsletter to get exclusive analysis from our reporters.
You may occasionally receive promotional content from the Los Angeles Times.