At the historic downtown L.A. Tower Theatre, Apple plans a store and event space unlike any other
The Tower Theatre was the place in 1927 where Angelenos first heard the wonder of "talkie" movies when it hosted the premiere of "The Jazz Singer," starring Al Jolson.
Now, the aging former movie palace in the Broadway Theater District will host a more modern wonder — an Apple store the tech giant says will be one of the world's most prominent.
It may also serve as a declaration that Apple intends to compete as a major Hollywood content creator.
Apple's forthcoming takeover of the theater was long expected, but the company is only now revealing details of the transformation planned for the cinema, which has been mostly closed for decades.
The theater was one of the first air-conditioned buildings in the city and originally sported windows on the underground level that patrons could look through to marvel at the cutting-edge cooling equipment.
Apple was intrigued by those firsts the Tower garnered nearly a century ago, said architect BJ Siegel, senior director of retail design at Apple.
"All of that cool technology inspires us because we are a technology company and we are bringing new technology to the place," Siegel said.
Apple has more than 500 stores, but it envisions making the downtown Los Angeles location something special.
The company expects to file plans with the city this week in hopes of securing approval for its proposed renovation that would turn the Tower not only into a retail outlet but an outpost with programs, classes and other events for audiences of many ages.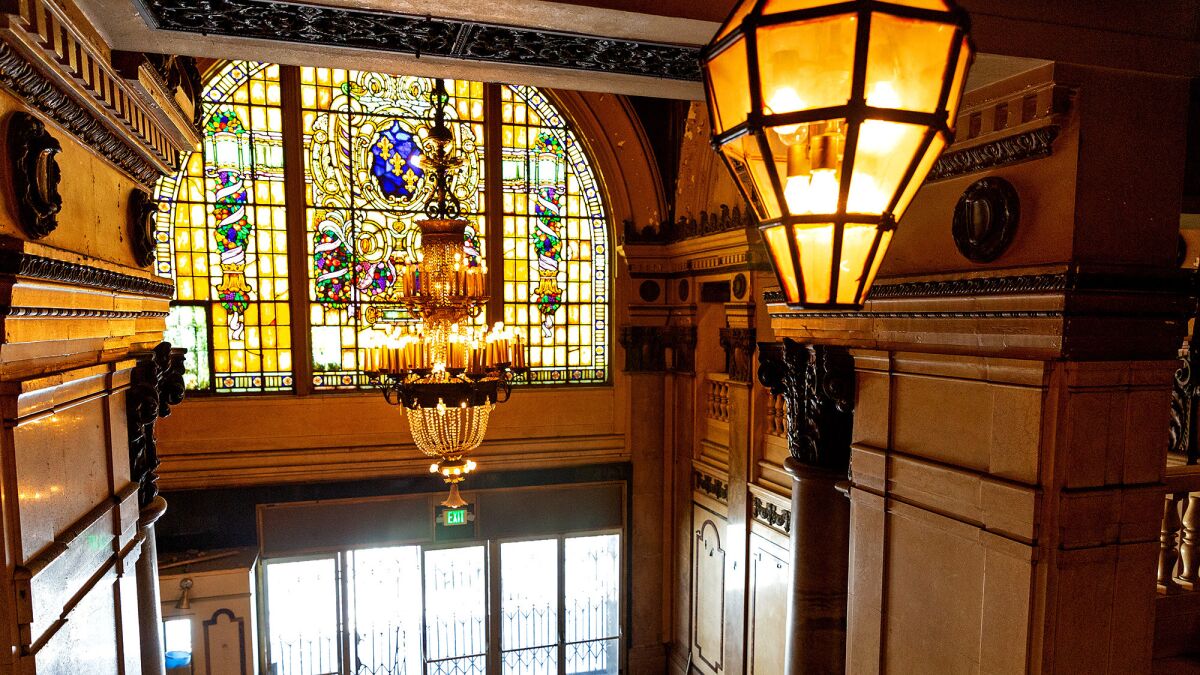 "Most people think of our stores as the big glass boxes," Siegel said, but that is not entirely true.
There are a few in restored historic buildings, including a former bank across the street from Paris' famous opera house and a 19th century warehouse in London's Covent Garden. A former Carnegie Library built in 1903 in Washington, D.C., is being converted to an Apple store.
The Tower Theatre will be "in the upper echelon of what Apple does," Siegel said. "It very much differs from the other Apple stores you see in L.A."
Apple did not reveal a timeline for completion of the project.
Most Apple products are purchased online, so Apple uses its stores to build its brand, tech analyst Daniel Ives noted.
The splashy Los Angeles store may be intended to make a statement to the entertainment industry as Apple gears up to create original content that will compete with Netflix, Amazon and other streaming entertainment providers.
"Apple is really going to get into the Hollywood arms race," said Ives, head of technology research for GBH Insights. "I think this [store] is part of a shot across the bow from Apple saying, 'Look, we are starting to expand our content and services footprint.'"
The Tower building is run-down now, but its pedigree is significant. It was developed by film exhibitor H.L. Gumbiner, who went on to build the elaborate Los Angeles Theatre nearby. The interiors of both theaters were designed by architect S. Charles Lee to mimic the Paris Opera House.
The exterior of the Tower is Renaissance Revival style with French, Spanish, Moorish and Italian elements executed in terra-cotta, according to the Los Angeles Conservancy.
"It's a full menu of European influences," conservancy President Linda Dishman said, and "one of the treasures of Broadway."
Apple declined to say how much the renovation of the Tower will cost. Apple is a tenant of the Delijani family, which also owns the Los Angeles Theatre and two other historic Broadway movie houses.
Apple's bid to bring the Tower back to life was too appealing to pass up, because the theater will return as a performance venue in addition to being a store, said Shahram Delijani, whose late father bought the theater years ago.
The big tech company's pending arrival also marks a new phase of development for Broadway, where property owners can now be more choosy picking tenants, he said.
"Before, we were just trying to attract businesses," Delijani said. "Now we can be much more selective and actually curate the street."
Broadway near Olympic Boulevard has been on the upswing since the Ace hotel and theater complex opened there in 2014 in the former United Artists building and became a popular destination for lodging and entertainment.
The 1.1-million-square-foot Broadway Trade Center across the street from the Tower is being redeveloped into an office, hotel and retail complex. Neighbors include historic Clifton's Cafeteria and Urban Outfitters, which occupies the former Rialto Theatre.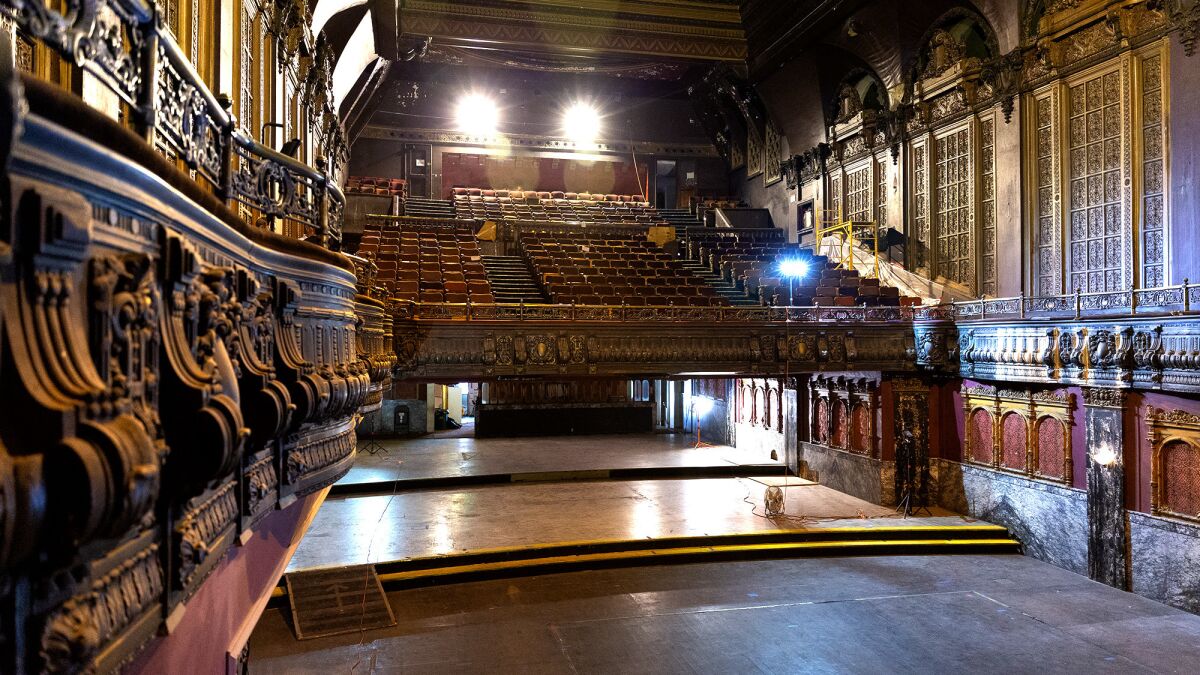 Next door to the Tower, shoemaker Vans will open an outpost early next year in a former music store that was erected in 1930 and will have high-end residences upstairs, broker Andrew Turf of CBRE said.
City Councilman Jose Huizar, who launched the Bringing Back Broadway economic initiative a decade ago, said he expects Apple to draw new crowds to the street that was once the movie theater capital of Los Angeles.
"Our whole goal was to reactivate the theaters as assets that could bring masses of people," he said.
"This is a beautiful street that was just stale for a long time," Huizar said. "Now one of the top companies of the world is going to be part of Broadway."
Some events at the Apple store will draw hundreds of people, Siegel said, while others will be meant for small groups. For example, people will meet at the Tower to be tutored in how to take pictures with an iPhone and then head out into the neighborhood to take their own shots. Upon their return, discussion will take place while examples of the students' pictures are shown on a big video wall where the theater's movie screen used to be.
There will be seminars on shooting videos, art, design and music. There will be programs for children, including classes teaching them some fundamental computer code-writing tricks. Downstairs from the theater will be the "Boardroom," where small-business entrepreneurs can meet and get guidance on how to improve their businesses, Siegel said.
Prominent events will include talks by experts in the fields of movies, television and music, he said, which could be recorded for later broadcast in other Apple stores.
"This will be a mecca" for creating programs, Siegel said, "because of all the talent that is around Los Angeles."
Apple has the original blueprints for the Tower and will use them along with photographs and other records to restore original theater highlights such as murals, decorations and a leaded-glass window over the entrance. The building will also be seismically upgraded.
Twitter: @rogervincent