California prosecutors accuse 2 manufacturers of selling toddler formulas with high levels of lead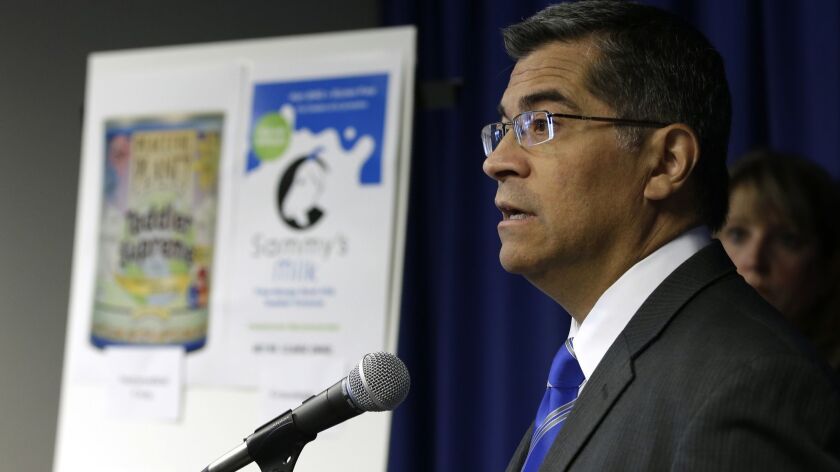 California's attorney general on Thursday filed a lawsuit accusing two food manufacturers of selling toddler formulas with illegally high levels of lead.
Graceleigh Inc. and Nutraceutical Corp. are accused of violating Proposition 65, which requires businesses to warn customers about exposure to toxic chemicals. The complaint also accuses them of violating the state's unfair competition and false advertising laws.
"There is nothing more important than ensuring the safety of our children," California Atty. Gen. Xavier Becerra said at a Sacramento news conference. "It's a parent's worst nightmare to learn you may be feeding your child something that may actually threaten their health."
Graceleigh, a Newport Beach company, operates as Sammy's Milk and sells a goat milk formula for toddlers called Sammy's Milk Free Range Goat Milk. The formula contained lead levels more than 15 times the allowable level, Becerra said.
Nutraceutical, based in Park City, Utah, sells a variety of products, including body washes and vitamins. The company's Peaceful Planet Toddler Supreme, a rice protein powder for young children, contained lead levels greater than 13 times the allowable level, Becerra said.
The milk and powder formulas also exceeded the U.S. Food and Drug Administration's more lenient acceptable exposure levels, Becerra said.
The two companies pulled the products out of California after cease-and-desist letters were sent last week, the Justice Department said. Ten California district attorneys joined the lawsuit.
Neither company returned emails and calls for comment.
Violators of Proposition 65 are subject to a $2,500 fine per day, and violating the unfair competition and false advertising laws carries a fine of no more than $2,500 per violation, according to the suit.
Graceleigh was accused in 2016 by the U.S. Food and Drug Administration of not properly testing one of its Sammy's Milk Baby Food products for a type of bacteria that could be fatal in infants. The company recalled the product.
High levels of lead adversely affect a developing child's brain and have been linked to attention deficit hyperactivity disorder and aggressive behaviors, said Dr. Daniel McCrimons, a Sacramento-based pediatrician who spoke at the press conference.
Dr. Timur Durrani, an associate professor at UC San Francisco who also spoke at the conference, recommended that parents who had bought the products stop using them and take their children to their primary care providers.
Durrani said providers occasionally use medication to treat lead exposure, but medical treatment isn't usually necessary.
Twitter: @MillmanEthan
---
Must-read stories from the L.A. Times
Get the day's top news with our Today's Headlines newsletter, sent every weekday morning.
You may occasionally receive promotional content from the Los Angeles Times.