Bird races to become the first scooter billion-dollar 'unicorn'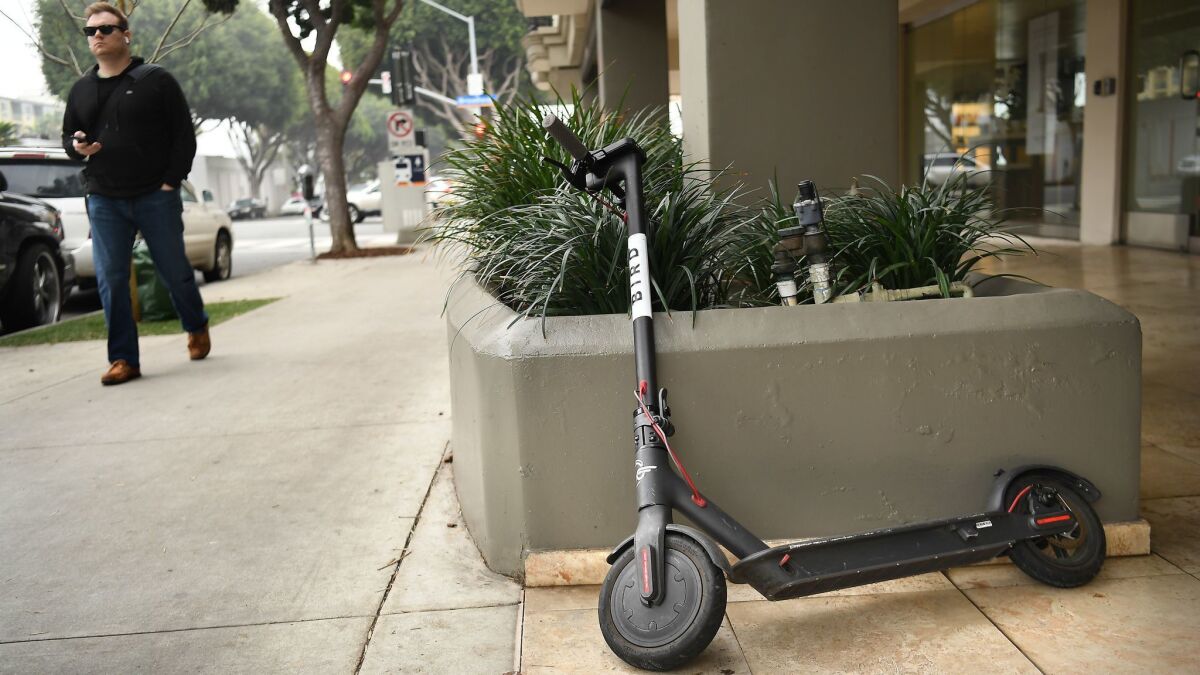 Bloomberg
Bird, the Santa Monica-based electric scooter-sharing start-up, is raising $150 million in a funding round led by Sequoia Capital that will value the company at $1 billion, people familiar with the matter said.
This is the first batch of money in this new round, and the company plans to raise more, said one of the people, who asked to remain anonymous while discussing the private transaction.
The funding comes as venture-backed start-ups, including Lime and Spin, race to raise money and to saturate U.S. city sidewalks with small electric scooters. The companies allow users to download an app to unlock the scooters and ride them for a small fee.
It's a business that is poised to be fiercely competitive and costly to grow. Both major U.S. ride-hailing companies could enter the fray. Uber Technologies Inc. purchased electric bike company Jump in April.
"If the unit economics and the technology is there, our appetite to invest is infinite," Uber Chief Executive Dara Khosrowshahi said this month. Meanwhile, Lyft is reportedly eyeing the electric scooter business.
Lime, one of Bird's primary competitors, has already raised $132 million and is closing another round of financing. But unless that round closes sooner than expected, and for more than $1 billion in valuation, Bird will soon become the first so-called unicorn among scooter companies.
A spokesman for Bird declined to comment.
The flurry of activity comes as city governments are scrambling to figure out what to do about what many view as a sidewalk scourge. The city of San Francisco said it will ban scooters starting June 4, pending further permitting. Uber's electric bike company has city approval to operate.
Scooter investors, keen on remaking the future of transportation, see an Uber-sized opportunity. Elite venture capital firm Sequoia, which is leading Bird's fundraising round, has a complicated history with Uber. One of its partners, Alfred Lin, was an early Uber angel investor, and angel investor Jason Calacanis made an early investment in the company as part of Sequoia's scout program, an effort to identify promising young start-ups. But the firm didn't take a major stake in the ride-hailing giant until the company's valuation had already soared.
Sequoia invested in Uber as part of the SoftBank round this year. A spokeswoman for Sequoia declined to comment.
Benchmark general partner Bill Gurley, one of Uber's first major investors, has expressed skepticism about the scooter-sharing business, arguing that maintenance, charging and in particular insurance could prove costly.
"This is the United States of Litigation," he warned on Twitter.
Travis VanderZanden, Bird's chief executive, was formerly an executive at both Lyft and Uber.
---
Sign up for the California Politics newsletter to get exclusive analysis from our reporters.
You may occasionally receive promotional content from the Los Angeles Times.