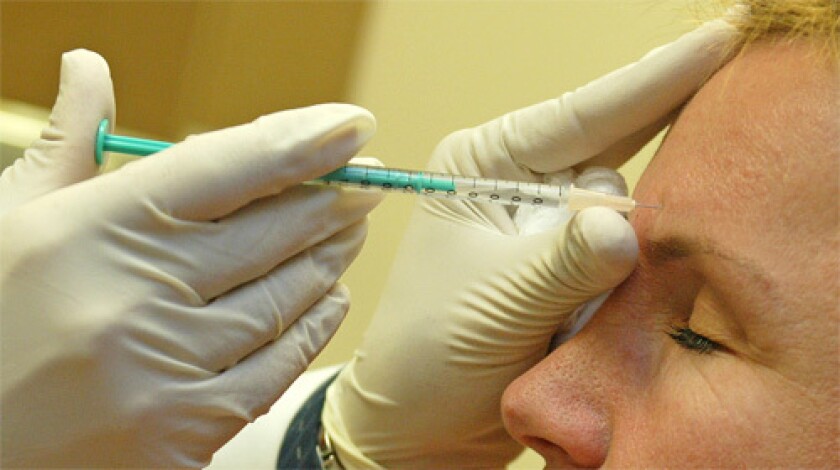 Los Angeles Times Staff Writer
Concerns about the widely used anti-wrinkle treatment Botox and a similar drug arose Friday as federal regulators said they were reviewing reports of at least one death and other serious reactions among some patients.
Food and Drug Administration officials said they were not aware of any deaths among cosmetic users of Botox, the trade name for the blockbuster wrinkle buster made by Irvine's Allergan Inc.
The FDA said it had reports of at least one death among patients who received a botulinum-based drug and what one official described as a "a relative handful" of serious side effects in which the toxin spread beyond the injection site.
The most serious of the reported problems occurred in children who had cerebral palsy and who were treated for arm and leg spasms with doses many times those used for cosmetic treatments -- and in some cases at levels higher than recommended guidelines. The agency did not identify which drugs were involved in any of the problems.
Still, the development raised eyebrows among at least some of the millions of people who have made Botox a huge beauty treatment.
"Any time Botox is in the news, they become concerned and call," said Jessica Wu, an aesthetic dermatologist in Los Angeles who has given and taken Botox injections since 1996. "I personally have had no patients who have had serious side effects."
Las Vegas plastic surgeon Tracy Hankins said he too was bracing for calls from patients. But, he said, the FDA advisory contained no information that would "change my recommendation to patients or my personal use."
Some regular Botox users said they wouldn't give a second thought to going in for their next injection.
"I get so many compliments," said a West Los Angeles woman who gets a Botox treatment three or four times a year. "I don't want to stop."
The FDA said that no product defect had been identified and suggested that the problems might have been related to overdosing.
Russell Katz, director of the FDA's division of neurology drugs, told reporters in a conference call that the agency's focus was on those larger doses, where the risk appears higher than in the quantities used to smooth facial wrinkles.
"We don't rule out the possibility that it may happen with cosmetic use, but we think the real message today is about pediatric patients with spasticity," Katz said.
Allergan said it welcomed the review and noted that neither Botox nor any other botulinum product had been found to be the cause of any patient's death.
Allergan Chief Executive David E.I. Pyott said the FDA review was routine and was met by scant concern among the small community of specialists who treat children with cerebral palsy. Only one called Allergan on Friday, he said. "There is no concern within the neurological community," Pyott said.
Although it is best known as a wrinkle buster, Botox is approved for more than 20 uses in more than 60 countries. One of its oldest uses is stopping muscle spasms in young cerebral palsy patients, allowing them to walk and move around.
Although not officially approved for that use in the United States, Botox is used to help these children because it has fewer side effects than Valium and other systemic drugs and is safer than surgery. And, at the proper dose, it has a well-established safety profile, said Dr. Hank Chambers, a pediatric orthopedic surgeon at Rady Children's Hospital in San Diego.
He estimated the use of Botox has cut in half the number of surgeries performed on cerebral palsy victims at his hospital.
"It's changed lives," he said. "It's a spectacular treatment."
Chambers, whose son has cerebral palsy and has been treated with Botox, was one of the original investigators of its use in such patients in 1991. He said he has given 20,000 Botox injections and has never had a complication.
But he said he was concerned that some physicians might inject too much with the idea that if some Botox is good, more must be better.
But, he said, at a certain point the muscle being injected can't absorb all the botulinum and the toxin spills into the bloodstream. From there, it can cause breathing and swallowing problems.
"I have seen complications from other people who end up in our cerebral palsy center at Rady who had injections by someone else who didn't understand what they were doing," Chambers said. The patients "were weak and had trouble talking."
The upper limit of safety for Botox has not been established because of the danger such a study would pose to patients, he said. But physicians who use it confer regularly and have established guidelines, said Chambers, who is the incoming president of the American Academy for Cerebral Palsy and Developmental Medicine, one such forum.
One complication in determining the risk associated with Botox in children with cerebral palsy is that many of them already have difficulty swallowing because of muscle control problems, Chamber said.
The FDA review was announced two weeks after the Health Research Group at Public Citizen, an advocacy group, petitioned the agency to increase its warnings about the risks of Botox and Myobloc, the trade name for another botulinum toxin product made by Malvern., Pa.-based Solstice Neurosciences Inc.
On Friday, Public Citizen urged the FDA to require drug makers to send out warning letters to all doctors who use Botox and Myobloc.
"The FDA could -- and should -- do more than send out a press release about their concerns," said Sidney Wolfe, director of the group. "Every doctor who is injecting botulinum toxin needs to know about the dangers of the toxin spreading to other parts of the body."
It was too early to say whether the news would have any effect on sales. The drug accounted for more than $1 billion in sales for Allergan last year, a third of its revenue. Allergan shares closed Friday $63.30, down almost 6%.
Wu, the Los Angeles dermatologist, said there was a lesson in the news for cosmetic Botox users.
"It is a reminder that Botox is still a medical procedure," she said.
"It should be performed by a board-certified doctor in a medical setting -- not in a salon, not in a spa, not in someone's kitchen."
---