California's jobless rate fell below 5% in October as employers added 31,700 jobs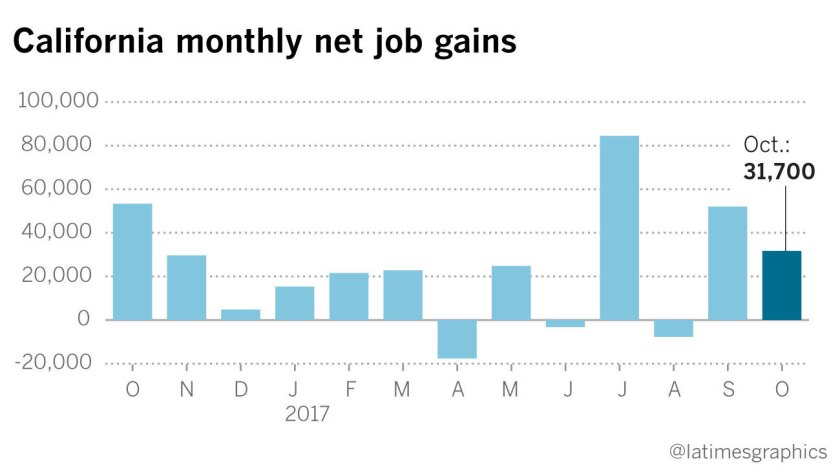 California posted strong job gains in October, as the Golden State's economic engine pushed the unemployment rate down to 4.9% from 5.1% a month earlier.
In all, the state added 31,700 net new jobs last month, according to data released Friday by the Employment Development Department.
The report marked the first time since March that employers added jobs in consecutive months, boosting confidence in an economy that has slowed somewhat from last year.
"It signals that the prospect is well alive to continue this expansion," said Michael Bernick, who was director of the employment department from 1999 to 2004.
Bernick, who is now an attorney at the law firm Sedgwick in San Francisco, said the report was particularly positive because gains were seen across many industries.
Six of California's 11 sectors saw increases last month. The leisure and hospitality sector and the educational and health services sector saw the largest gains, adding 15,300 and 8,500 jobs, respectively.
The government, construction and trade, transportation and utilities sectors also posted job increases.
Employers in the information and manufacturing sectors were among the few who cut jobs last month.
Wage growth also slowed, with average hourly earnings rising 3.2% in October from a year earlier, compared with 3.8% in September, according to data from the federal Bureau of Labor Statistics. Still, that's better than the national 2.4% earnings increase last month.
Southern California employers continued to add jobs. In the Inland Empire, 12,400 jobs were added. In Orange County, payrolls grew by 2,100, while L.A. County added 300 net jobs on a seasonally adjusted basis.
Economists said the strong gains in Riverside and San Bernardino counties were likely the result of two factors: The area was hit harder than elsewhere during the recession and housing is more affordable than in coastal counties.
Sky-high housing costs have been cited as one reason the economy has slowed this year, as employers have trouble recruiting workers from out of state.
Between October 2016 and October 2017, California added 119,000 fewer jobs than during the year-earlier period.
The San Jose metro area also saw job losses in August and September, but rebounded last month to add 5,900 jobs.
"That is good news because we were worried housing prices were pushing jobs out of Northern California," said Lynn Reaser, chief economist of the Fermanian Business & Economic Institute at Point Loma Nazarene University.
Economists say job growth could be stronger if housing was more affordable, but they note a slowdown in growth is also to be expected as the state's recovery matures.
Bernick said the current expansion is now the third largest since World World II.
The larger question, he said, is "when is this going to end?"
Reaser doesn't see that happening soon, noting the unemployment rate last month dipped even as more people entered the labor force.
"There is still slack in this labor market that suggests companies have job openings that can be filled," she said.
Please consider subscribing today to support stories like this one. Already a subscriber? Your support makes our work possible. Thank you. Get full access to our signature journalism for just 99 cents for the first four weeks.
---
UPDATES:
3:15 p.m.: This article was updated throughout with comment from economists and additional information on regional job gains.
This article was originally published at 10:10 a.m.
---
Your guide to our new economic reality.
Get our free business newsletter for insights and tips for getting by.
You may occasionally receive promotional content from the Los Angeles Times.