Once a den of prostitution and drugs, the Cecil Hotel in downtown L.A. is set to undergo a $100-million renovation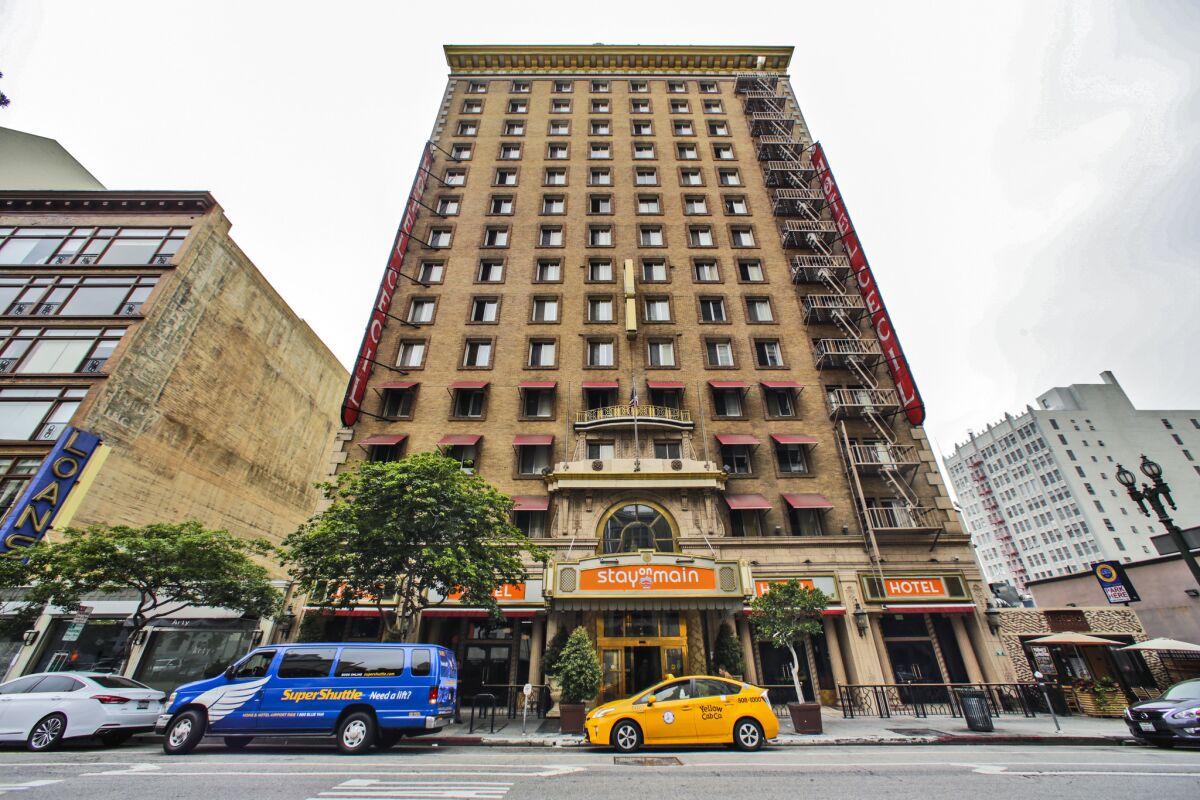 The Cecil Hotel in downtown Los Angeles is set to undergo a $100-million renovation by a New York City developer, which aims to transform the former den of prostitution and drugs into a hip boutique hotel and micro rental units.
The plan for the hotel is yet another example of the development boom sweeping downtown, where old buildings are being revamped and new hotel and condo towers erected.
"We are gutting the entire building," said Matthew M. Baron, president of Simon Baron Development, which this month signed a 99-year ground lease with the building's owner, 248 Haynes Hotel Associates. "We are going to redevelop it from the doorway to the roof and everything in between."
But the transformation of the hotel – which served as an inspiration for a season of "American Horror Story" – could prove controversial.
NEWSLETTER: Get the day's top headlines from Times Editor Davan Maharaj >>
The Cecil, a 600-room tourist and residential hotel, has been the subject of litigation in recent years as housing advocates looked to preserve cheap residential hotel units in an increasingly gentrifying downtown.
An effort was also launched to turn most of the building into housing for the homeless, though the plan collapsed amid opposition from downtown business leaders.
Today, the 1920s building is home to Stay on Main, a 299-room low-budget tourist hotel, where travelers can grab a private room with a shared bathroom for $75 a night.
The building's remaining 301 rooms are small residential hotel units subject to preservation under a city ordinance and court settlements.
Only about 30 are occupied, and tenants will be eligible for temporary or permanent relocation benefits, according to Barbara Schultz, an attorney for the Legal Aid Foundation of Los Angeles.
Baron said the company isn't planning to convert units into full-fledged apartments. But depending on how expansive the renovations are to residential units, the developer could be forced to add affordable units within the property or nearby, said Schultz, who was involved in the court settlements.
Baron said his company plans to abide by any such requirements and called the company's transformation of the largely vacant building "wholly good" for the neighborhood.
While an exact mix count isn't final, Simon Baron plans to have more residential units than tourist hotel rooms.
For tourists, Baron said he aims to create a hotel on par with other boutiques downtown, including the popular Ace Hotel a few blocks away, where a standard room starts at $199 a night.
In addition to extensive room renovations, Simon Baron plans to add a rooftop pool, fitness club and lounge – amenities available to both residents and hotel guests.
Construction is set to begin in spring 2017, with work wrapping up about two years later.
"We really think it's a fantastic location – the center where everything is happening," Baron said.
Rick Cocoa, a spokesman for Councilman Jose Huizar, who represents downtown, said plans have yet to be filed with the city. Once they are, he said, any necessary approvals will be identified.
A new Cecil would join a plethora of recent renovations in an area once widely considered part of skid row.
In late 2014, a revamped Regent Theater opened up on Main Street, and a luxury apartment complex is underway a few blocks over at the former location of the Union Rescue Mission.
Other boutique hotels are also coming nearby, including two set to open near the Ace, located off Broadway and 9th Street.
Alan Reay, president of Atlas Hospitality Group, described downtown Los Angeles as "probably the hottest hotel market in the United States." If the area's revival continues unabated, the market should absorb the flood of upcoming units, he said. But that's not a sure thing.
"The big question would be: How deep is the market?" Reay said.
Simon Baron is betting there's plenty of growth left.
For its residential portion, the company brought on co-living firm Stage 3 Properties, of which it is an investor, to offer fully furnished micro-units with a heavy dose of shared experiences.
A live-in community manager, for example, will organize events that could include travel opportunities, guest lecturers and rooftop group meals prepared by local, up-and-coming chefs.
Chris Bledsoe, co-founder of Stage 3's co-living brand Ollie, said that young adults in particular are willing to shed living space for such amenities in an urban environment at a relatively low cost.
The units – from about 150 square feet to 325 square feet — will come with beds that fold into sofas and restrooms, though they won't have kitchens.
"It allows a 200-square-foot space to function like a 400-square-foot space," Bledsoe said.
The small units allow rents lower than the typical urban studio, Bledsoe said, though he acknowledged they would be higher than the residential units there now.
Based on the current market, Ollie's rents – which include Wi-Fi, cable and housekeeping services — would be under $1,500 a month, he said.
A search Tuesday of real estate website Zillow.com found only four downtown units below $1,500.
While the rooms will lack kitchens, Bledsoe said his company is looking to add some sort of food-preparation option in the units, though burners will not be available – a result of restrictions aimed at preserving the rooms as residential hotel units.
A revamp of the Cecil would be a dramatic turn for a hotel that, while a destination for the rich and famous in the 1930s and 1940s, became a haven for drugs and prostitution in the following decades as downtown fell on hard times.
Serial killers Jack Unterweger and Richard "Night Stalker" Ramirez also occasionally stayed there.
By 2008, the Cecil was involved in a renovation effort and the LAPD said calls had dropped dramatically.
LAPD Sgt. Michael Flanagan said Tuesday that he couldn't even recall a recent report of prostitution.
"It's definitely gotten a lot better," he said. "We have minor issues like disputes, but nothing like it used to be."
Still, in 2013, the body of a Canadian tourist was found in one of the large metal water cisterns on the roof – a case that reportedly provided inspiration for "Hotel," a season of "American Horror Story."
Baron said he doubted that gruesome history would deter people from a newly upscale Cecil.
"Quite frankly," he said, "a lot of people already come there out of curiosity."
ALSO
'Sexier' ballot titles for judicial candidates spark court battles, claims of deception
Here's one reason there's only one Chinese cop patrolling Monterey Park: Chinese mothers
Will Sacramento cavalry ride to coast's rescue?
Follow me @khouriandrew on Twitter