For Solowheel maker, a patent rights nightmare in China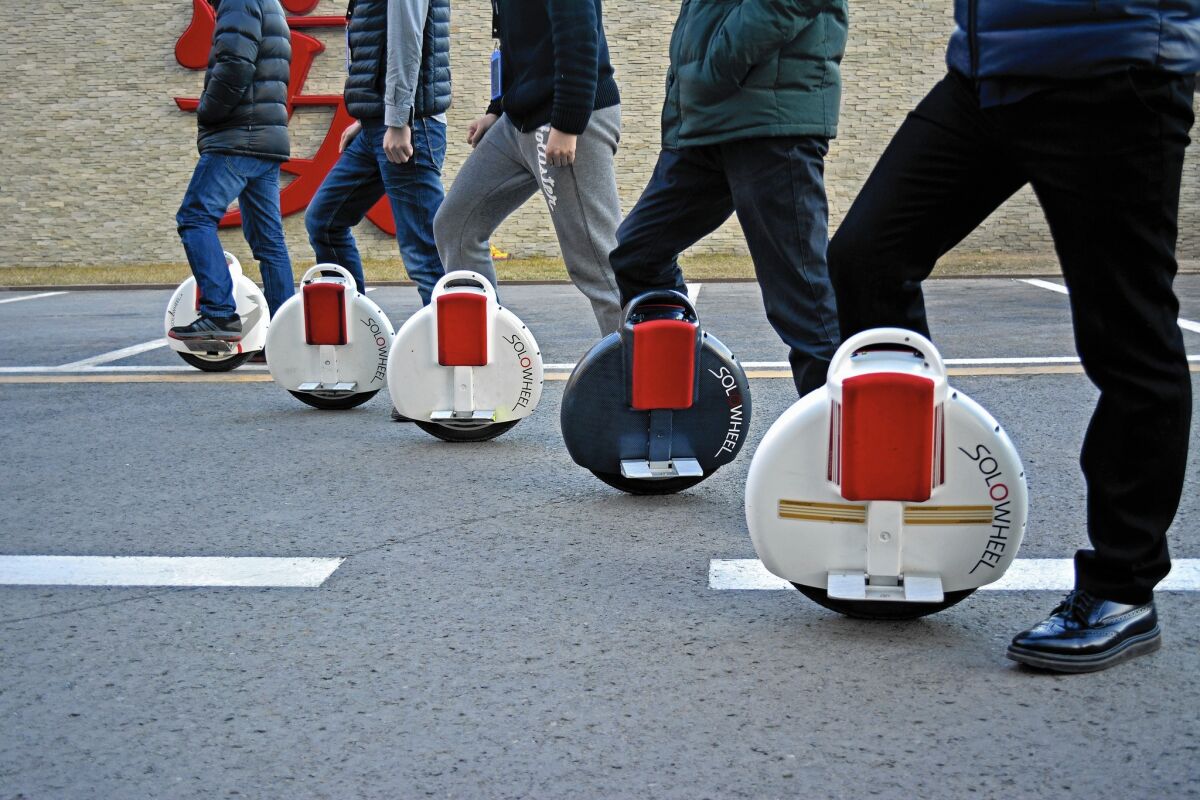 It's unclear when the Solowheel conquered Beijing.
The personal transport device is a self-balancing electric unicycle with a hubcap-sized wheel and footholds on either side — a sort of Segway but on one wheel and without a handle.
Over the last few years, China's capital is seeing more upright commuters zipping through traffic like minnows among migrating trout. That should be cause for celebration to Shane Chen, a Camas, Wash., businessman who invented the Solowheel in 2010.
But his "dream of creating the simplest mode of transportation meant for everyone" has left Chen, 58, neck-deep in the country's fledgling intellectual property rights system, rife with lawsuits, counter-lawsuits and so many knockoff brands that he's lost count.
"There were a few [knockoffs] in the beginning. Then last year, all of a sudden there were over a hundred," he said. "Then there were 150 of them. Now they're not even copying us — they're copying the copies. And they're selling them worldwide.
"It's unbelievable," he said. "No other countries do this."
China has long been notorious as a hotbed of counterfeit consumer goods, from fake Chateau Lafite wine to fake Ikea stores, and in recent years, the Chinese government has begun an earnest campaign to overhaul its image.
Beijing began encouraging domestic companies to file patents in 2010, and by 2013 — when Chen first brought his Solowheel to China — patent applications had tripled to more than 600,000 a year, more than twice as many as in the U.S.
Last year, authorities opened the country's first intellectual property courts in Beijing, Shanghai and the southern city Guangzhou.
And in April, Chinese Prime Minister Li Keqiang told a visiting delegation of American executives that "the protection of intellectual property rights plays a vital part in the mainland's efforts to encourage industrial growth."
Yet experts said the law remains incomplete and selectively enforced.
James Zimmerman, chairman of the American Chamber of Commerce in China, said the trade group representing U.S. business interests has a dim view of Chinese efforts to honor intellectual property.
Though most of the chamber's members praised the development of China's intellectual property laws, only 21% of the group's members in the latest annual survey described the enforcement of the laws and regulations as "effective or very effective," he said.
Dan Harris, a Seattle lawyer specializing in Chinese business, said that despite high-profile government crackdowns on some counterfeit products such as DVDs and apparel, the problem's true scope and potential consequences are impossible to gauge.
In some cases, counterfeit products might even be dangerous to consumers.
"Here we are talking about DVDs, but we have no idea what's going on with things like fake airplane parts being shipped around the world, or fake medication, or fake wine," Harris said. "That could still be thriving."
U.S. Secretary of Commerce Penny Pritzker, who led an American delegation to China in April, warned Li that weaknesses in the regulations and their enforcement made some U.S. companies wary of fully jumping into the Chinese market.
"The real conversation needs to be not just about the laws on the books but also about the court system and the broad and consistent application of these rules," she said, according to the Financial Times.
Chen's misadventure in China is a case in point. Chen moved from China to California in 1986 after he attempted to start a lab equipment company in Beijing and quickly grew disillusioned by the city's inchoate business environment.
"I just wanted to have my own business and invent things," he said.
Since then, he developed an obsession with how people get around. Besides the Solowheel, Chen also invented a jointed, electric skateboard called the Hovertrax and a waterborne bike-like device he named the Aquaskipper.
Chen's company, Inventist Inc., just north of the Oregon border in Camas, began struggling with Chinese counterfeiters in September 2013, when the Solowheel was featured on a Chinese television show called "Happy Camp."
"There were different waves" of counterfeiters, said Kelvin Lo, a managing director at Invanti, Inventist's Beijing subsidiary. The first were primarily electric bike manufacturers.
"They'd just reverse engineer the thing," he said. "They'd buy it, they disassemble it and they make their own."
Inventist first decided to take its grievances to China's courts. The company sued its two biggest Chinese imitators, AirWheel and IPS. Both companies then countersued, claiming that Inventist's patents were themselves problematic.
"We can sue, but it takes a year to sue, then they start a new company in that time," Chen said. "So basically there's no way we can do anything."
Chen said that Inventist won both cases. AirWheel and IPS declined to comment for this article.
In recent months, Chen has been ensnared in a bizarre dispute involving Segway Inc., the manufacturer of the two-wheeled self-balancing vehicles, and Ninebot, a 3-year-old Beijing company whose flagship product, the Ninebot-E, looks like a pared-down Segway.
On March 31, Ninebot acquired Segway Inc. for an undisclosed sum.
When Chen first read about the acquisition, he was astounded. Segway had been like an ally in his crusade against Chinese counterfeiters. Last fall, it had filed a complaint with U.S. trade authorities alleging that Ninebot and other Chinese firms duplicated the "design and operation" of Segways.
Chen, too, had clashed with Ninebot. A year ago, Ninebot executives flew him to China, gave him a tour of their factory and offered him $5 million for a majority stake in Inventist, he said. After mulling it over for three days, Chen refused.
"They're not like regular businesspeople — they're like gangsters," he said. "They said, 'We're just going to get around you anyway.' They threatened me. It's a different way to talk business. It was kind of scary to work with them."
Two months later, Ninebot unveiled its own self-balancing electric unicycle: a shiny white disc called the Ninebot One.
In an interview, Ninebot Chief Executive Gao Lufeng denied all allegations of intellectual property theft. He then accused Chen of using Segway's intellectual property — its gyroscopic self-balancing technology — to develop the Solowheel.
"Segway didn't file any complaints against Inventist," Gao said. "But that doesn't mean Ninebot will not do the same in the future."
Harris said that the Segway acquisition, and even Inventist's court battles with counterfeiters, may in fact speak to the growing strength of China's intellectual property protections.
"Legitimate Chinese companies don't want to be labeled counterfeiters," he said. "They understand that they need to pay something to use other companies' intellectual property, and they don't want to be sued because they realize they have a lot to lose."
In mid-May, long after Segway put its dispute with Ninebot aside, Chen flew back to Beijing. He had another date in court.
Sign up for the California Politics newsletter to get exclusive analysis from our reporters.
You may occasionally receive promotional content from the Los Angeles Times.