Facing Trump's immigration ban, corporations can't risk keeping silent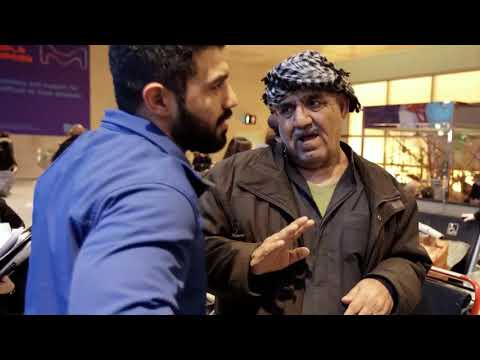 Trump's 90-day ban affects U.S. entries from seven Muslim-majority countries.
Corporate America generally prefers to stay quiet about partisan politics. Pick one side of a hot-button issue, the thinking goes, and you'll risk losing customers on the other side.
But like so many norms before it, President Trump has turned this one on its head.

For the record:
2:48 p.m. June 29, 2019A previous version of this article misspelled the word "uncharted" as "unchartered" in a quote from crisis public relations executive Michael Gordon.
A growing number of companies are deciding it's a bigger risk to their investors and bottom line to stay quiet than it is to protest Trump's ban on refugees and travel from seven Muslim-majority nations, betting vocal opposition to the executive order scores them a moral and fiscal victory.
While it was possible for companies to take a wait-and-see approach leading up to Trump's inauguration, many firms can no longer ignore the White House's policy given the effect the order is already having on employees either stranded or fearful of traveling.
Only a week ago it seemed foolish to speak out against a president who has admonished individual companies on social media such as Carrier, Boeing and General Motors. Now the pendulum has swung the other way. Companies, mostly in technology but increasingly in other sectors, have decided that it's not enough just to speak out against the immigration order. They believe that they must also take headline-grabbing action.
"We're in uncharted territory," said Michael Gordon, chief executive of Group Gordon, a corporate and crisis public relations firm in New York. "What we're starting to see is the polarization of our politics is now leading to partisanship in everything, even bland topics like transportation, shoes and coffee."
One of the first shots came Friday when Google Chief Executive Sundar Pichai wrote a memo slamming Trump's executive order and urging employees overseas to return to the U.S. The search engine giant also revealed it was raising $4 million in donations for organizations defending immigrants' rights.
In a letter to employees Sunday, Starbucks Chief Executive Howard Schultz said the "conscience of our country" was being questioned as a result of Trump's executive order and said he planned to hire 10,000 refugees over the next five years across the globe.
And on Monday, Ford Executive Chairman Bill Ford Jr. and Chief Executive Mark Fields criticized the refugee ban, saying in a statement: "We do not support this policy or any other that goes against our values as a company."
Other executives who have spoken out against the White House include Apple Chief Executive Tim Cook, Netflix Chief Executive Reed Hastings and, to some astonishment, Lloyd Blankfein, the head of Goldman Sachs, who told employees over voicemail the executive order was at odds with the company's diversity practices.
High-profile companies that are seen siding with Trump or that fail to give anything short of a full-throttled rebuke of the executive order risk a backlash.
Uber was already in the crosshairs of Trump's critics when its founder, Travis Kalanick, agreed to sit on the president's economic advisory panel. Despite issuing a statement criticizing the order on Saturday afternoon, the bad PR metastasized that evening into a boycott, with the hashtag #DeleteUber trending after the ride-hailing giant publicized its continued operations at Kennedy International Airport in New York following a taxi strike protesting the immigration order.
Uber's chief rival, Lyft, pledged to donate $1 million to the American Civil Liberties Union and saw its downloads surpass Uber's on Apple's iOS for the first time ever on Sunday, according to App Annie.
Elon Musk, chief executive of Tesla Motors, has also faced no shortage of criticism for his presence on Trump's economic advisory panel, and more recently, his support of Rex Tillerson for secretary of State. On Sunday, Musk asked his nearly 7 million Twitter followers for ideas on how to improve Trump's immigration order. Predictably, that too was met with criticism that the order was fundamentally flawed and unfixable.
A day earlier, Twitter tweeted from its main account that it stood by immigrants. Rather than praise, it was met with a sizable number of calls to kick Trump off the platform.
To be sure, there are many companies that are eager about a Trump presidency, most notably in the banking and energy sectors, where deregulation is expected.
But the manner in which the White House is introducing policy is sowing uncertainty and geopolitical risk that's worrying American businesses on the global market. The Dow Jones' 122.65 point decline Monday — its biggest since October — seemed to reflect that unease, one that could conceivably grow if the White House continues to shun norms and lash out at its biggest trading partners.
"America's role in the world is more tenuous," said Ian Bremmer, president of Eurasia Group, a political risk consulting firm. "So some companies are incredibly nervous. But what we're seeing today will be nothing compared to what happens if the U.S.-China relationship gets ugly."
It's not unusual for companies to protest issues that could affect their bottom line. Sometimes they're heated political issues such as North Carolina's bathroom bill, which resulted in a boycott of the state last year by companies that consider the law discriminatory against transgender people.
Sometimes companies respond to protest movements, such as when Coca-Cola left South Africa to oppose apartheid. But rarely have these moves by businesses been aimed at the federal government, and when they are, they haven't included such a mix of companies from different industries.
With today's corporations so reliant — and so reachable — on social media, there's a growing expectation they use the platforms to say something of substance to express their values.
That led to something of a bandwagon effect over the weekend and into Monday in which company after company released statements against the executive order (trade groups such as the Motion Picture Assn. of America have also recently joined the chorus of concern over the immigration rules).
Beyond just the public, executives are also listening to their employees, who often push their firms to take a firmer stance.
On Monday, more than 2,000 Google employees reportedly walked out of their workplace to protest Trump's immigration plans.
Earlier in the day, TripAdvisor President and Chief Executive Steve Kaufer was met with tears and a standing ovation at a companywide meeting in which he reiterated his condemnation of the refugee ban, which he described in a LinkedIn post as standing "against the principles that make our country great."
Kaufer, seeing commonality between his travel company and migrants journeying across continents, has championed refugee causes for more than a year and felt compelled to speak out. The executive is now urging other CEOs to donate money to refugee advocacy groups.
"You want to be as bipartisan as possible to not alienate people," said Desirée Fish, head of global communications for TripAdvisor. "But for us, it really goes back to what is the right thing to do."
Times staff writer Russ Mitchell contributed to this report.
Follow me @dhpierson on Twitter
ALSO
Amazon CEO Jeff Bezos says company will support lawsuit against Trump's immigration order
Trump's travel ban leaves global businesses and entrepreneurs hanging
Trump's botched weekend threatens impressions of presidential competence